The oil boom's climate effect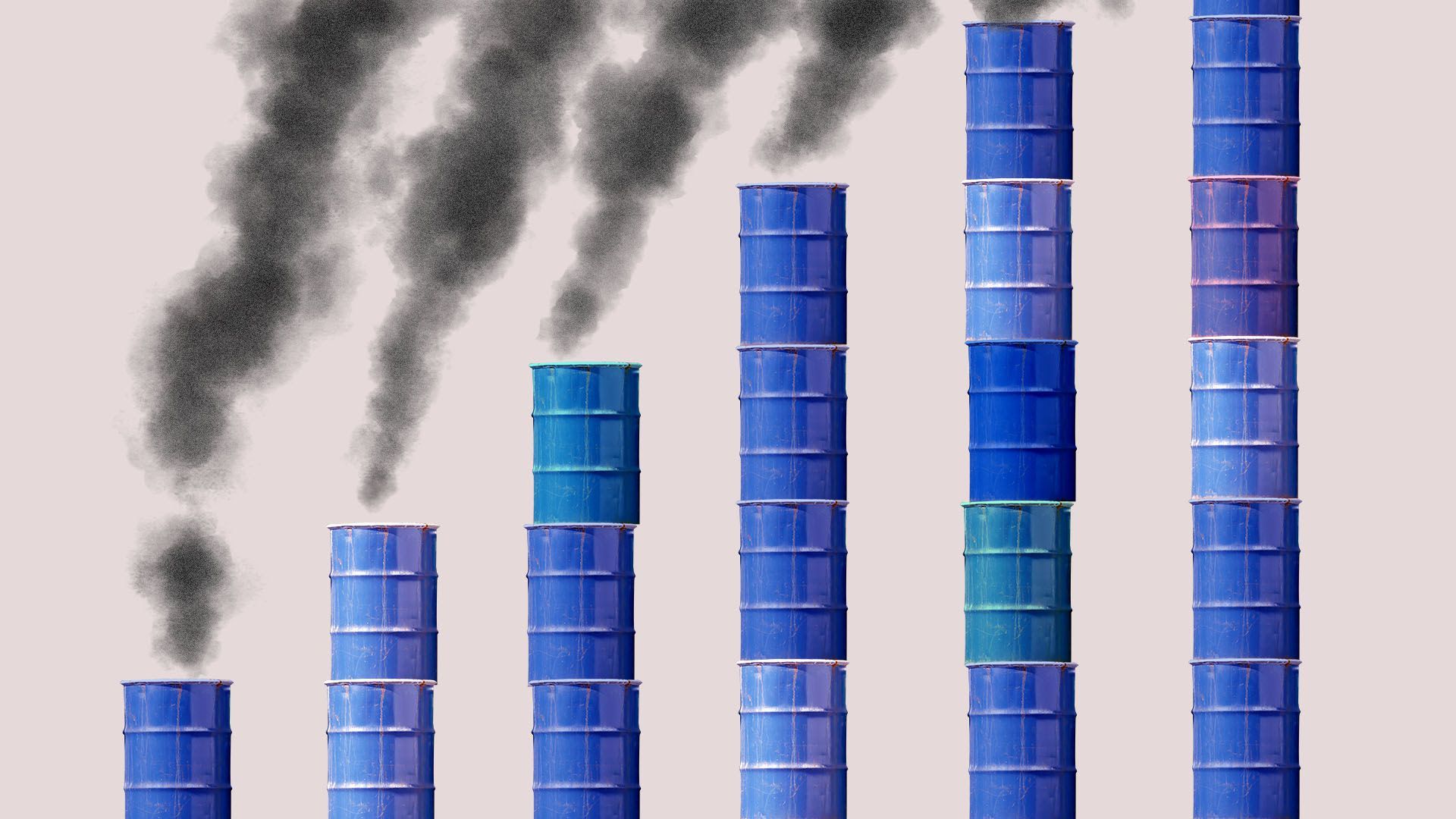 The U.S. oil-and-gas production surge could boost domestic and global greenhouse gas emissions in the future, a new study released via the nonpartisan think tank Resources for the Future shows.
Why it matters: Senior research associate Daniel Raimi's analysis takes a broad, global look at the shale boom's climate effects in the years ahead and focuses in-depth on the role of higher oil production.
This is in contrast to many prior discussions, which tended to emphasize how higher gas production has cut U.S. carbon emissions over the last decade as the fuel has shoved coal aside in power markets.
What they did: Raimi explores a range of oil-and-gas production levels over the next dozen years based on last year's version of the Energy Information Administration's Annual Energy Outlook.
He overlays those projections with emissions estimates for the potent GHG methane associated with shale development.
And from there, the study explores how the rise in oil output will reduce global prices as more U.S. crude enters the market and how those price changes may increase global oil consumption.
What they found: There are several reasons to think that what's been the climate benefit of gas replacing coal could become a different story going forward, including these possibilities...
High gas output starts to act as a drag on the speed of U.S. renewables' growth and speeds up the closure of nuclear plants.
U.S. methane emissions increase from rising oil-and-gas production.
And the biggest: Higher oil production lowers global prices and increases its use.
The big picture: There could be a substantial increase in emissions if production rises substantially, climbing on the oil side to 15 million barrels per day by 2030, the study concludes.
That's EIA's projection in their so-called high oil and gas resource and technology case, in last year's AEO, and it's not crazy — domestic output has soared in recent years and is now pushing 12 million daily barrels already.
Here are some topline conclusions:
"Due primarily to lower oil prices and increased non-U.S. oil consumption, global greenhouse gas emissions under the high production scenario are roughly 700 to 1,200 [million metric tons] higher in 2030 than under the low production scenario," it states.
"For reference, 2016 CO2 emissions from fossil fuel combustion were 417 MMT for Brazil and 1,184 MMT for the entirety of Central and South America," he writes.
Yes, but: The study also openly acknowledges that it rests on a range of limitations and unknowns. It's about the future! For instance, one thing that's not modeled is how OPEC and other producers could engage in more strategic market interventions to prop up prices.
The bottom line: "Because of the global nature of oil markets and the scale of U.S. oil production, the oil effects of the shale revolution [on the climate] are likely to be substantially larger than the natural gas effects moving forward, and not in a good way," Raimi tells Axios.
Go deeper:
Go deeper