Virginia Lt. Gov. dismisses sexual assault allegation as a "smear"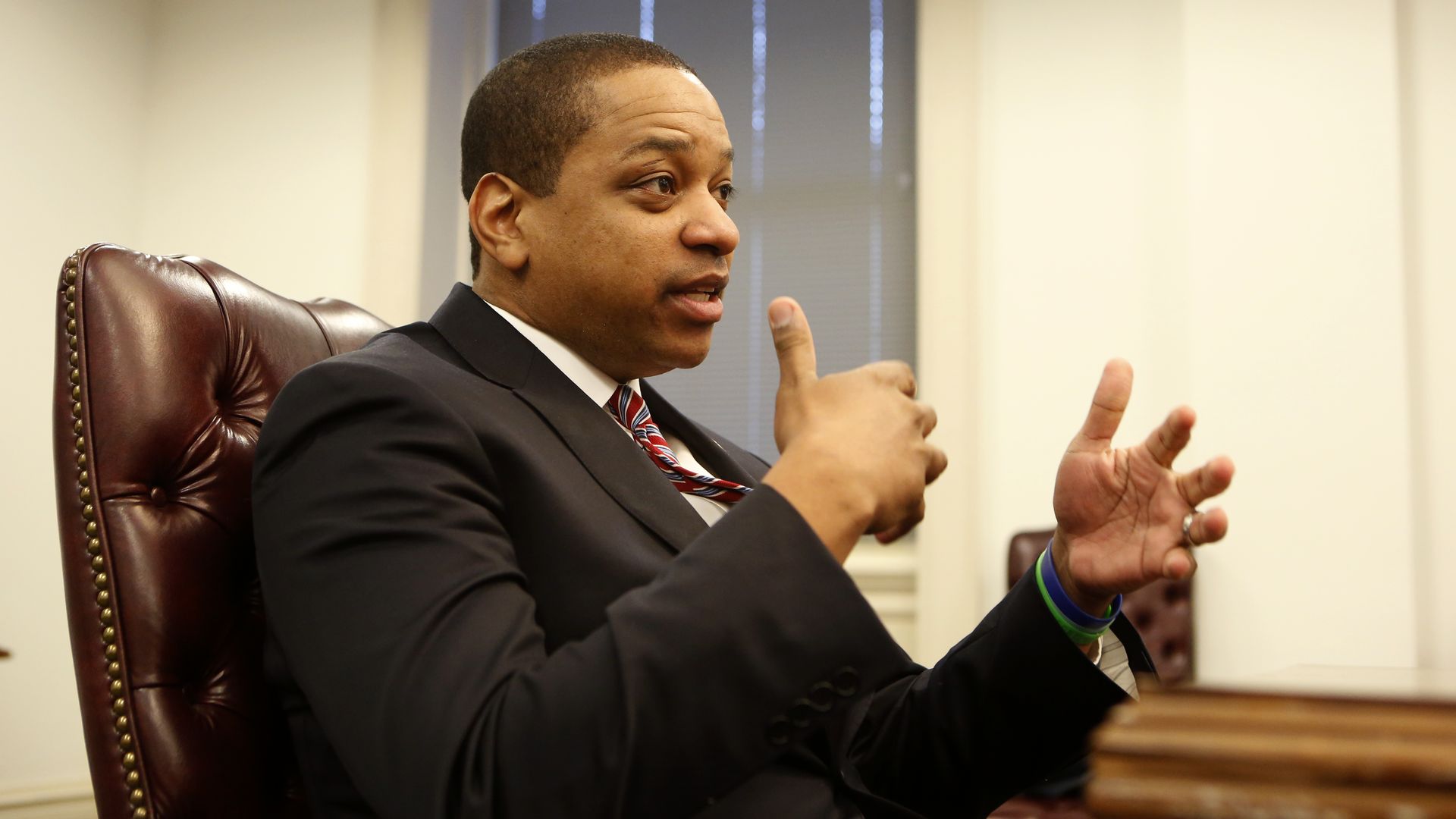 Democratic Virginia Lt. Gov. Justin Fairfax on Monday unequivocally denied uncorroborated 2004 sexual assault allegations against him, suggesting that it's not a "coincidence" that they resurfaced at this time.
"I don't know precisely where this is coming from ... but here's the thing: Does anybody think it's any coincidence that on the eve of potentially my being elevated that that's when this uncorroborated smear comes out? Does anybody believe it's a coincidence?" I don't think anybody believes that's a coincidence, again, particularly with something — this is not the first time this was brought up.
Details: Fairfax's remarks came hours after his office issued a statement early Monday denying the assault allegation, which was published Sunday by right-wing Big League Politics, the same outlet that originally published Virginia Gov. Ralph Northam's yearbook photo, and was based on a private Facebook post that it claimed had been written by Fairfax's accuser. Both events have pulled the state further into a mounting political chaos.
Between the lines: Here's Fairfax's response when asked whether allies of embattled Northam were behind efforts to block his possible ascension to the state's governorship.
Aides to Fairfax — who's next in line to become governor should Northam resign — said in the statement that the allegation is "false" and that he's considering legal action against "those attempting to spread this defamatory and false allegation."
The statement also said the Washington Post probed the claim for several months around the time of Fairfax's inauguration in January 2018 and declined to publish a story "[a]fter being presented with facts consistent with the Lt. Governor's denial of the allegation, the absence of any evidence corroborating the allegation, and significant red flags and inconsistencies within the allegation."
The Post acknowledged that it had investigated the claims against Fairfax, which allegedly took place at the Democratic National Convention in Boston, but disputed that it had found "significant red flags and inconsistencies within the allegations."
"Fairfax and the woman told different versions of what happened in the hotel room with no one else present."
"Fairfax, who was not married at the time, has denied her account through his attorneys and described the encounter as consensual."
"The woman described a sexual encounter that began with consensual kissing and ended with a forced act that left her crying and shaken."
"The Washington Post, in phone calls to people who knew Fairfax from college, law school and through political circles, found no similar complaints of sexual misconduct against him. Without that, or the ability to corroborate the woman's account — in part because she had not told anyone what happened — The Washington Post did not run a story."
Go deeper: Full list: Everyone who has called for Ralph Northam's resignation
Go deeper