Exclusive: Ocasio-Cortez, Markey to unveil Green New Deal bill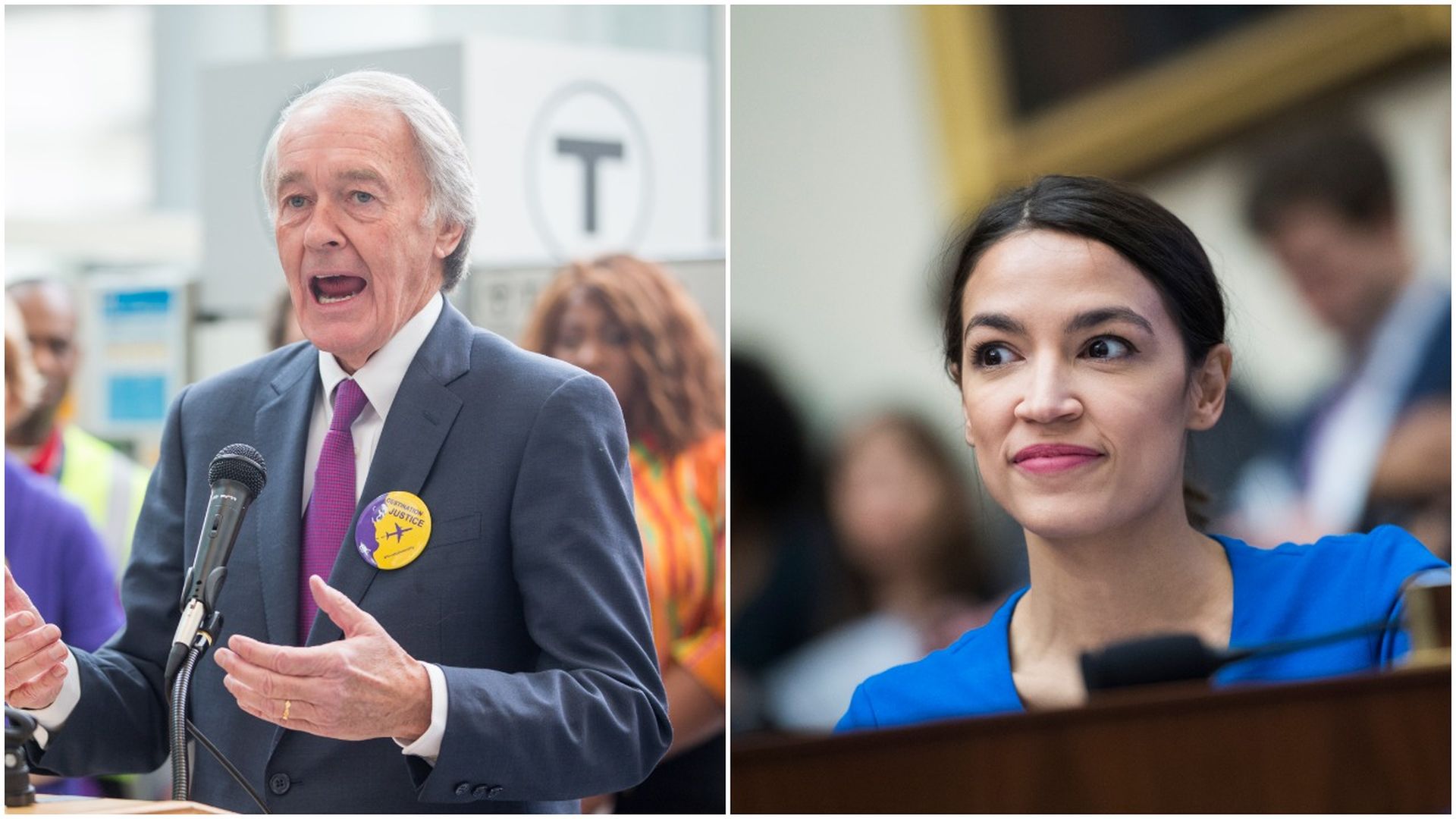 Rep. Alexandria Ocasio-Cortez (D-N.Y.) and Sen. Ed Markey (D-Mass.) are set to unveil legislation laying out a "Green New Deal" as soon as next week, Axios has learned.
Driving the news: A spokeswoman for Markey confirmed the offices are working on legislation, but said there is no final text and timing isn't final yet for next week. A request to Ocasio-Cortez's office wasn't immediately returned. Varshini Prakash, co-founder of the Sunrise Movement, also said legislation is due as soon as Wednesday or Thursday of next week. The youth-led group has been at the forefront of the Green New Deal movement.
The big picture: The Green New Deal is a set of vague, but broad progressive policy goals seeking to transform the economy in the name of fighting climate change. It has risen from obscurity to prominence since the November election, with Ocasio-Cortez, a rising progressive star, leading the charge. Democrats eyeing presidential runs — including Sens. Elizabeth Warren and Kamala Harris — are backing the general concept of the Green New Deal, which is sure to play a role in the 2020 primary.
Details: It's unclear to what extent the proposal will adhere to a draft legislative document circulating that describes the policy, which dates back to Ocasio-Cortez's campaign website.
That document includes a goal of 100% renewable electricity within 10 years (up from 17% today), a federal jobs guarantee for people working in the low-carbon transition, and universal healthcare.
It's light on details on how that would be funded and is also silent on whether the policy includes a price on carbon dioxide emissions, long considered central to climate change policy.
Between the lines: The two Democrats leading the proposal represent a bridge between the old and new guard progressives. Markey was co-author of the last big climate-change legislation Congress considered a decade ago, while Ocasio-Cortez is the highest profile member of a new crop of House progressives.
Go deeper:
Go deeper