2020 Dems are showing more climate cards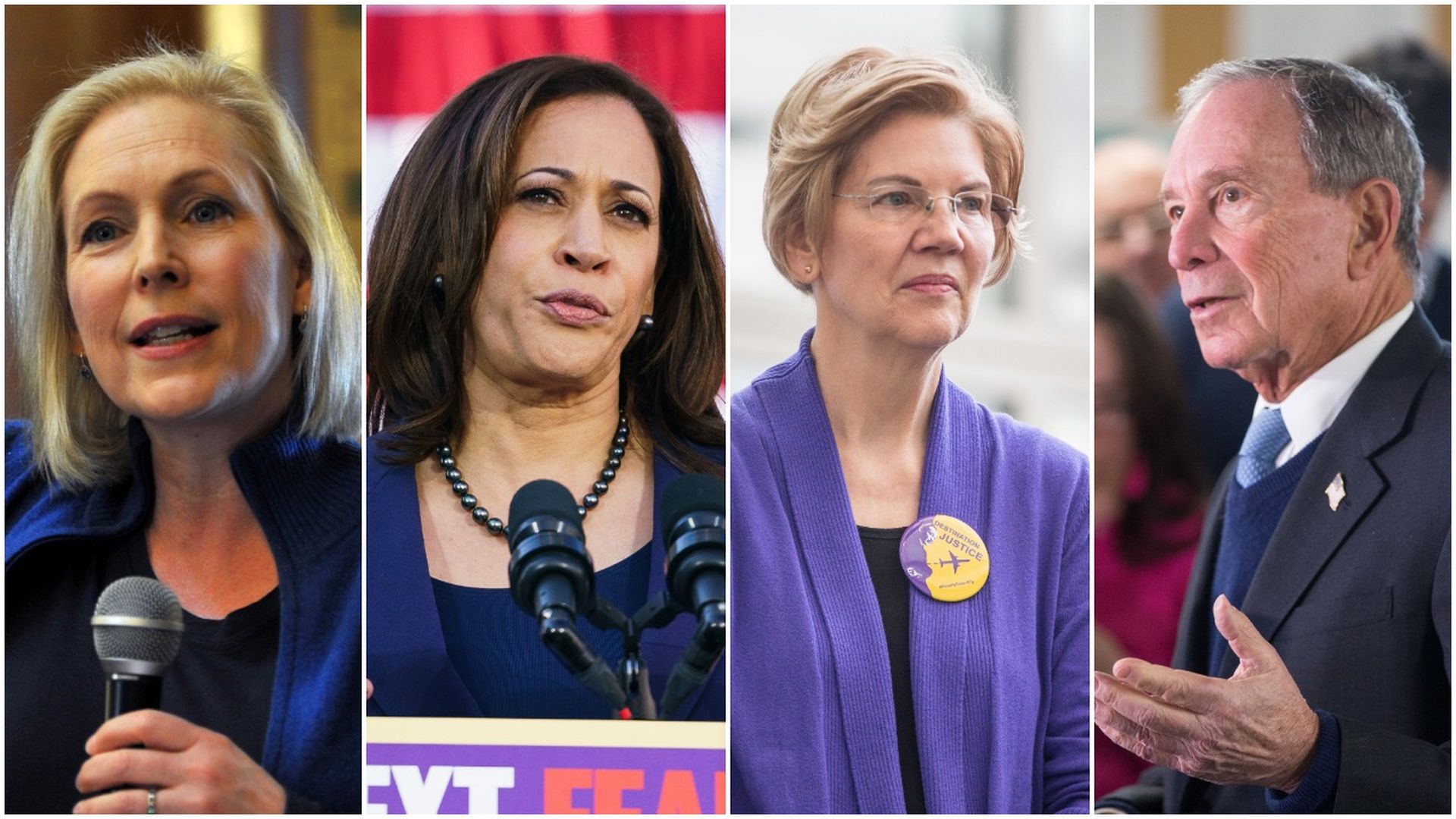 The last day or so has brought more hints of what the crowded field thinks about the topic and the policy response.
What's new: Sen. Kamala Harris has offered full-throated support for the Green New Deal, using phrasing that's less equivocal than prior statements from her office.
"I support a Green New Deal. Climate change is an existential threat to all of us, and we have got to deal with the reality of it," she said on Twitter late Monday night.
The tweet echoed her comments at a CNN town hall event in Iowa earlier that night.
Meanwhile, potential candidate Michael Bloomberg said in New Hampshire yesterday that regardless of whether he runs, "I've already begun working on putting together the details of what I believe is a Green New Deal."
NBC News reports that Bloomberg, who has long been active on climate and funded the Sierra Club's anti-coal work, laid out some basic principles in his speech...
"Comprehensive investment to create jobs and increase economic growth in coal regions and other areas."
Moving away from fossil fuels "as quickly as possible."
Helping state and local governments do more.
Quick take: Both of their remarks were fairly standard messaging. On CNN, Harris talked up the growth in renewable power jobs and hitting "policymakers who are in the pockets of Big Oil and Big Coal."
And there's something of a cart-before-the-horse aspect to all this, because right now the GND means basically whatever a given supporter wants it to mean.
But her support is nonetheless relevant for several reasons...
It's a sign that Harris and some other backers are comfortable weaving energy and global warming into the fabric of their economic pitches. Even the term is a nod to the left with its callback to FDR.
It also raises pressure on candidates as they begin to craft their actual policy platforms. Right now the plans of top-tier hopefuls who have entered the race like Harris, Sen. Kirsten Gillibrand and Sen. Elizabeth Warren are protoplasm.
Progressive activists looking to influence the primaries won't be happy — or quiet — if a candidates' specifics look like a climbdown from the big ideas that Rep. Alexandria Ocasio-Cortez has floated.
The intrigue: What's unclear is which candidates will embrace some of the biggest concepts in the AOC proposal, such as a federal job guarantee for people working in the low-carbon transition.
Bloomberg signaled that he's not ready to go as big as some of the advocates, even as he called for a plan that's "bold and ambitious."
"I'm a little bit tired of listening to things that are pie in the sky, that we never are going to pass, are never going to afford," he said, per NBC and other outlets. "I think it's just disingenuous to promote those things."
Go deeper