U.S. military threat looms over Venezuela's power struggle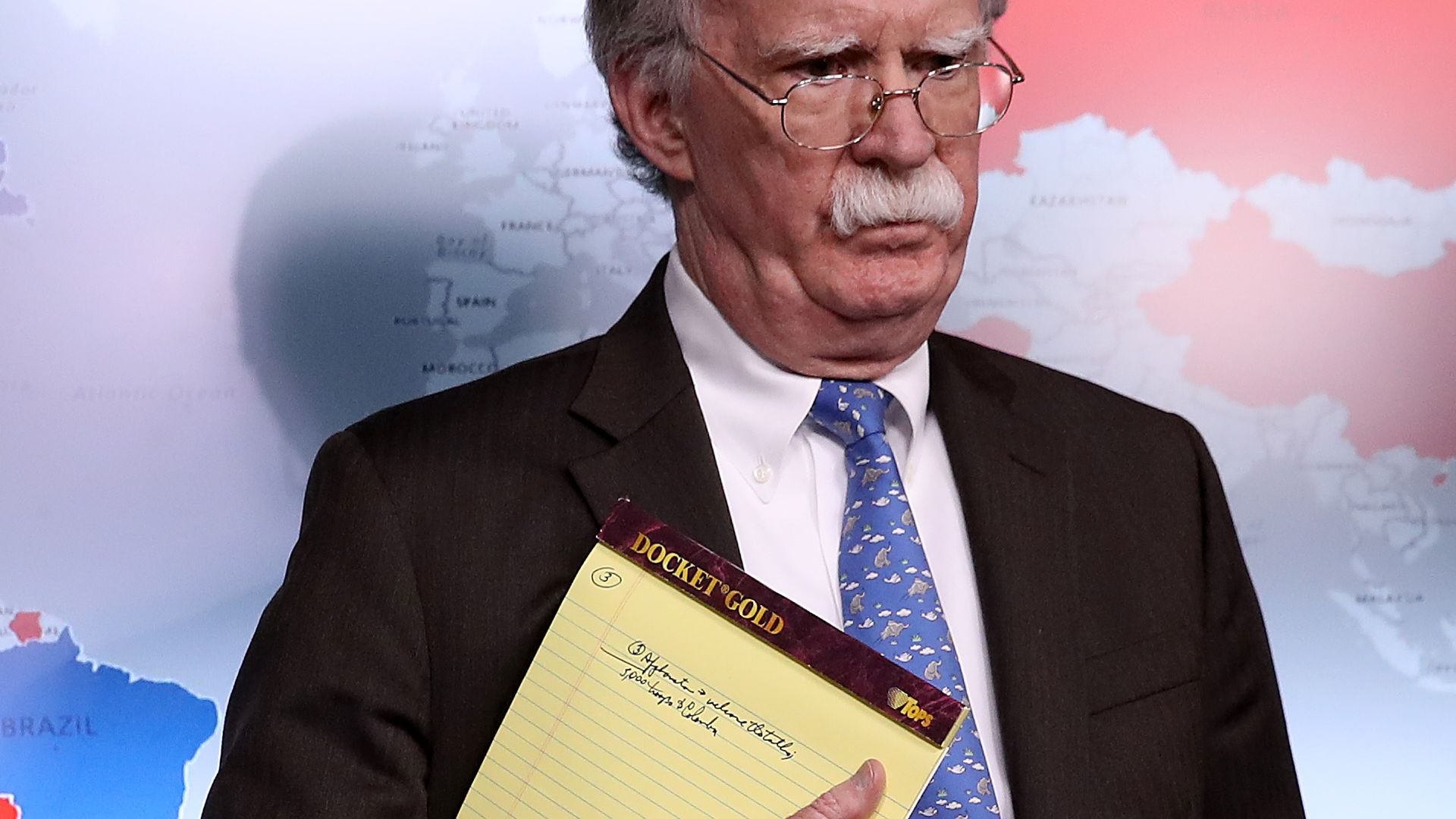 National security advisor John Bolton took the podium in the White House briefing room today with a notepad containing a striking sentence: "5,000 troops to Colombia."
Between the lines: Bolton's announcement had nothing to do with troops — it was about sanctions on Venezuela's state-owned oil company, PDVSA. Asked hours later about the significance of the message, captured by AP photographer Evan Vucci, a White House spokesman said only: "As the President has said, all options are on the table." Rhetoric like that has kept the possibility of U.S. military intervention looming over the power struggle in Caracas.
Catch up quick:
The new sanctions are an indication the Trump administration will use all economic and diplomatic levers at its disposal to undercut Nicolás Maduro's regime and boost his rival for power, National Assembly President Juan Guaidó, whom the U.S. and several other countries have recognized as interim president.
Treasury Secretary Steven Mnuchin said proceeds from the sale of Venezuelan oil to U.S. companies will not be allowed to flow to Maduro's government, unless and until PDVSA recognizes Guaidó.
Maduro denounced the move, saying Trump "will have blood on your hands," and calling on PDVSA to seek legal recourse.
What to watch:
"Venezuela is very reliant on the U.S. for its oil revenue. The country sends 41% of its oil exports to the U.S. Critically, U.S. refiners are among the few customers that pay cash to Venezuela for its oil ... because shipments to China and Russia are usually taken as repayment for billions of dollars in debts," per AP.
The White House is hoping that if it deprives Maduro of cash, the Venezuelan military will have no reason to stay loyal to him, Axios' Jonathan Swan reports.
The Trump administration had avoided oil sanctions in the past, out of concern they'd deepen the suffering of the Venezuelan people, raise oil prices and hurt U.S. companies.
The move could also strengthen the argument, made repeatedly by Maduro, that Venezuela is "the victim of a US conspiracy." Maduro, who claimed Sunday that Trump "despises Latin America," clings to his anti-U.S. credentials as one of his few remaining sources of support.
That brings us back to Bolton, who stated again today that the U.S. "will hold Venezuelan security forces responsible for the safety of all U.S. diplomatic personnel, the National Assembly and President Guaidó. Any violence against these groups would signify a grave assault on the rule of law and will be met with a significant response."
Bolton refused to define what a "significant response" might look like saying only, yet again: "The president has made it very clear on this matter that all options are on the table."
Go deeper