Brazil's deadly dam collapse could shock emerging markets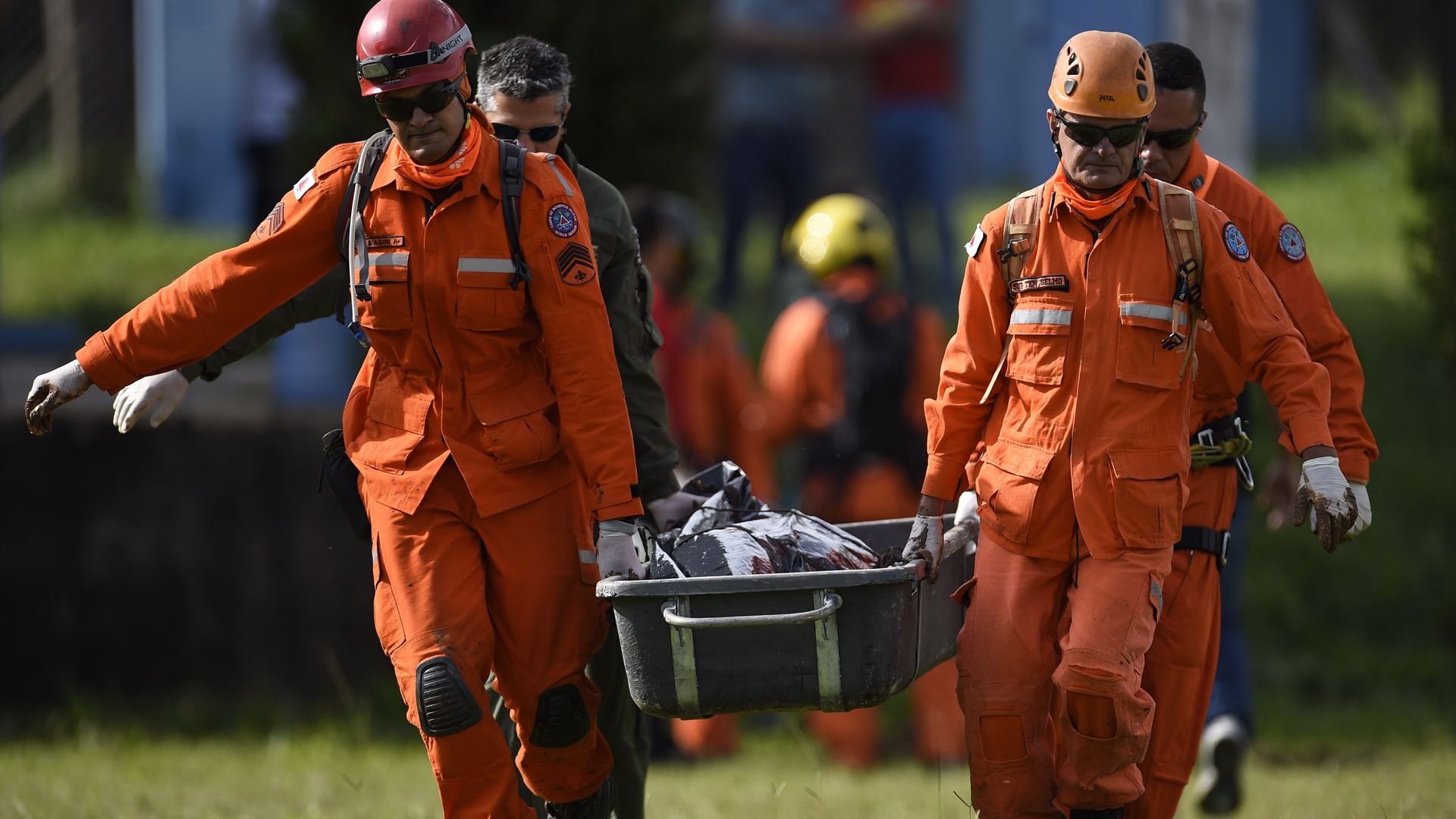 So far 58 people are dead and more than 300 others are missing — and the death toll could continue rising — after a dam collapsed at Vale's Corrego do Feijao mine in what looks like Brazil's worst environmental disaster on record.
Why it matters to the market: In addition to Brazil being the world's No. 1 producer of iron ore, the strong performance of its assets helped power emerging markets indexes late in the year.
What they're saying: "From now, the odds are minimal (to find more people alive) and it is most likely we will recover only bodies," Minas Gerais Gov. Romeu Zema told reporters late Friday.
Brazil's environmental protection agency fined Vale an initial $66.5 million over the disaster, and the mayor of the affected town has blasted the company as "careless and incompetent." He has vowed to fine Vale an additional $26.5 million.
Authorities initially obtained a court order blocking $270 million of Vale funds in bank accounts to use for victim relief. The Brazilian government has since ordered Vale to stop operations at the mining complex and frozen nearly $3 billion of the company's assets.
The big picture: A fall by Vale that's even marginally similar to what's happened with California utility company PG&E — currently facing liability charges for wildfires in 2017 and 2018 that left dozens dead — could send ripples through emerging market equities.
And it's the second dam collapse involving Vale in four years.
Vale shares sank 8% on the New York Stock Exchange Friday. With U.S. markets about to open Monday, shares were down another 9% in pre-market trading. Its bonds have cratered and iron ore prices climbed in Asian trading as investors speculate global supply could be interrupted.
This impact of the environmental tragedy could be felt in a number of ways.
President Jair Bolsonaro made opening up Brazil's protected natural resources to companies and slashing regulations a tenet of his presidential platform.
Vale is a major part of Brazil's benchmark Bovespa stock index, holding a weighting of more than 10%. The Bovespa was the best-performing major index in the world in 2018, outperforming the S&P 500 by 18%.
The bottom line: "This calls into question the financial viability of Vale going forward because of the sheer scale of their potential liabilities," Tom Goodhead, a lawyer at SPG Law, told Reuters.
Go deeper: Stock market hails Bolsonaro, but his economic vision remains unclear
Go deeper