The Koch network says it wants to pivot to bipartisanship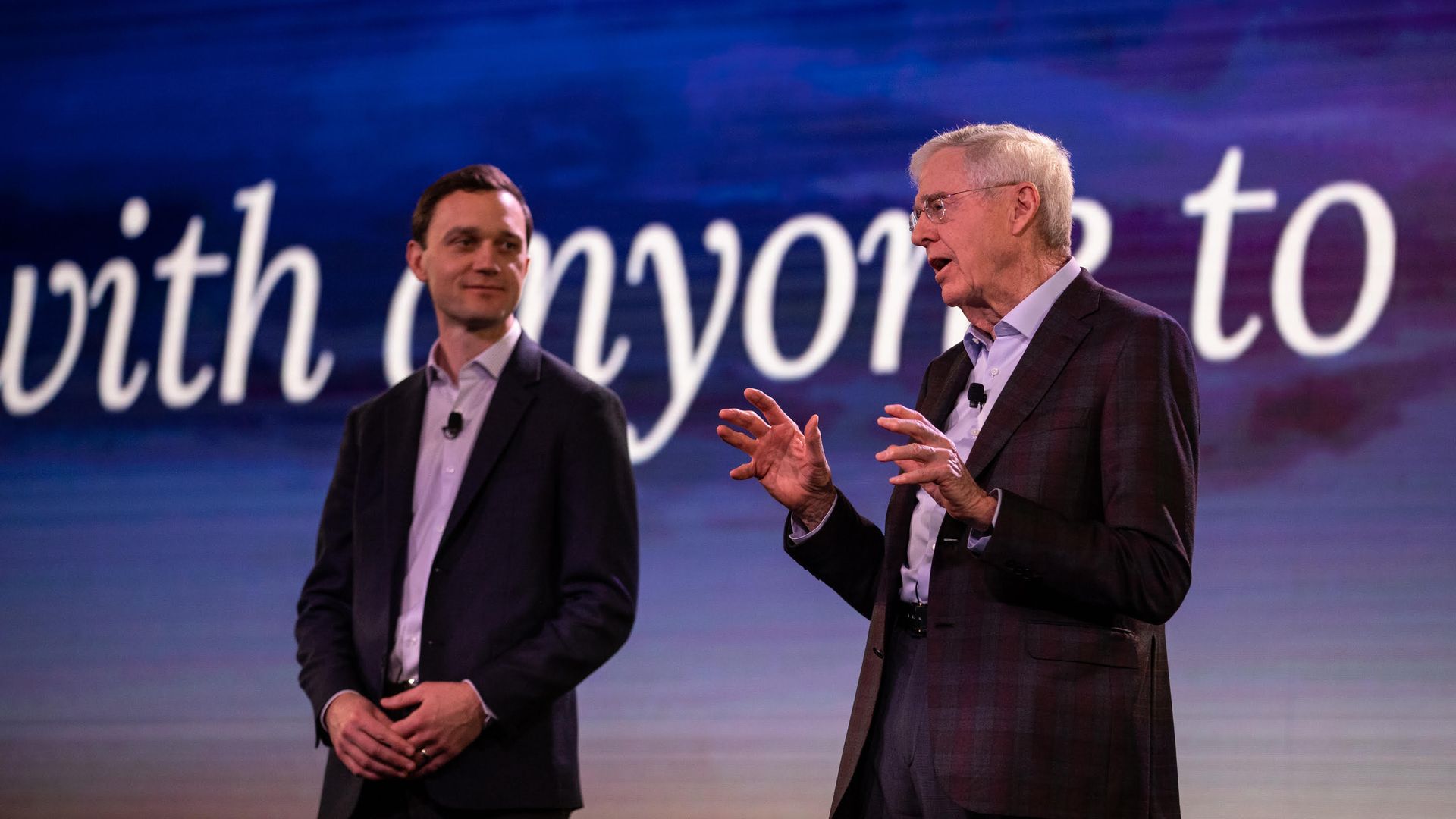 INDIAN WELLS, Calif. — Top staffers for billionaire Charles Koch's conservative influence operation say it can leave its past political brawling behind to build bipartisan coalitions attacking major policy problems.
Why it matters: They offered very little about their political targets for the next two years — and didn't engage in much criticism of President Trump — as the network tries to reinvent itself in a changing political landscape.
Details: Hundreds of the network's top donors have gathered at a resort in this Coachella Valley town, which is bisected by a highway with opulent gated communities on either side, to hear from network staff about the work they're funding.
Three Republican elected officials are at the California gathering: Sen. Mike Lee (Utah), Sen. Ben Sasse (Neb.) and Kentucky Gov. Matt Bevin.
Reporters who attend the event agree not to identify donors without their permission.
What they're saying: Koch, a Kansas industrialist whose last name became synonymous with right-wing political giving during the last administration, told donors at a Saturday night reception that the network had been successful in part because it had "learned how to unite with people across the whole spectrum of viewpoints, different ideas, including those who have been adversaries in the past."
"This attitude of holding against others who have different beliefs is tearing our country apart," Koch said.
An evening event focused on the problem of political polarization featured Lee and Charles Koch's son Chase, viewed as a rising star in the network.
Earlier in the day, officials said that they remained interested in many of the network's long-term policy goals, including aiding DREAMers and criminal justice reform.
But they declined to offer specific targets or plans. "As we look at the broad work uniting different coalitions, we recognize it's a lot of work, and we're going to have to identify those opportunities as they come along," said James Davis, a spokesperson for the network.
Koch network chief Brian Hooks said that it was "in a position to take the next big step forward in our evolution," which in some cases would "mean some pretty big changes" to its approach.
The big picture: The changes come as the Koch groups, which vary from political to philanthropic, sometimes find themselves out of step with Trump on issues like trade.
The group didn't back Trump as a candidate in 2016, and it will do the same in 2020, according to the Washington Post. It will continue to be involved in races for other federal offices.
Some of the network's donors, who for years funded a crusade against liberal policies like the Obama-era Affordable Care Act, reportedly wish it would back the president.
Davis said that the Indian Wells event had record attendance this year, including 643 donors in total and 181 first-time contributors.
Yes, but: The network's plans for bipartisanship may face other headwinds.
Although the groups have partnered with left-leaning organizations on issues like criminal justice and tech policy, many liberals have long pointed to the Koch operation as a negative example of money in politics.
Go deeper: Koch network reportedly plans to stay out of 2020 presidential race
Go deeper