Davos welcomes Brazil's Bolsonaro with open arms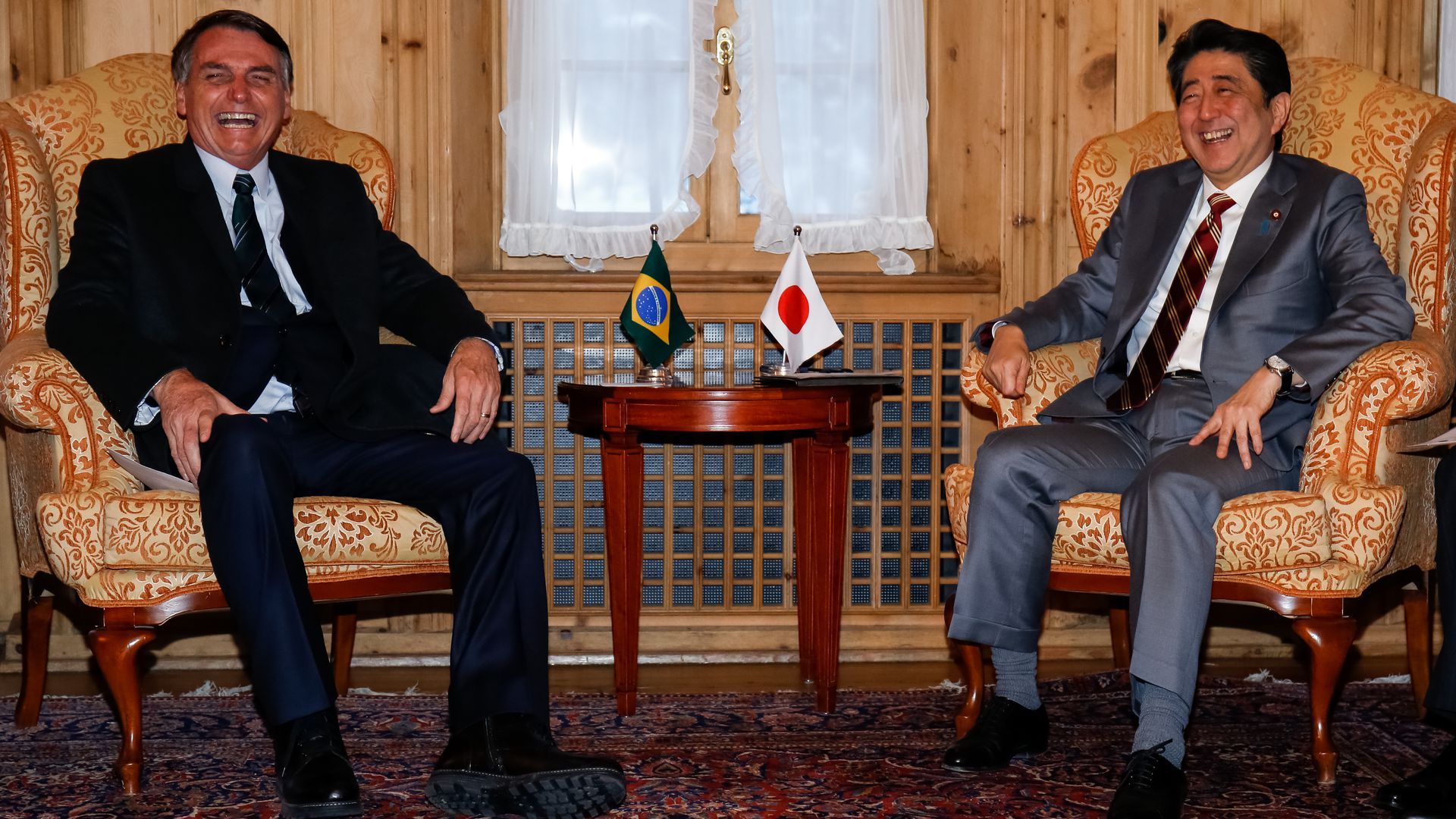 Strikingly, Brazilian President Jair Bolsonaro has been this year's foremost addition to the World Economic Forum's loftiest circles.
The big picture: There has so far been little worry about his fondness for dictatorship, his plans to ravage the environment or threats to jail or exile political adversaries.
Why it matters: Davos is a small town, where plutocrats and heads of state eddy around each other, each with their own gravitational attraction. Look to the very center of attention and fascination, and you will very frequently find a strongman president.
In prior years, both Russian President Vladimir Putin and President Trump have been feted by WEF head Klaus Schwab. This year belonged to Bolsonaro.
Bolsonaro was seated at Schwab's top table on Tuesday, along with Tim Cook and Satya Nadella, the CEOs of two of the most valuable companies on the planet.
Bolsonaro's Flickr feed is full of photo-ops with the likes of Japanese Prime Minister Shinzo Abe and former U.K. Prime Minister Tony Blair. If Bolsonaro was at all concerned that his far-right rhetoric would make him a persona non grata in Davos, his first day in town will have put all such worries to rest.
Bolsonaro also gave a high-profile speech to the Davos crowd. Schwab introduced him by gushing that "Brazil is going, and will go, through a period of decisive transformation under your leadership."
The bottom line: The WEF might be a high-minded nonprofit, but it runs on money and power, both of which are fundamentally amoral. After the Davos globalists embraced Trump in 2018, it comes as no surprise to see them doing the same with Bolsonaro.
Go deeper: Arrival of Brazil's Bolsonaro draws praise from Trump, fear from critics
Go deeper