Trump seizes chance to ratchet up pressure on Venezuela's Maduro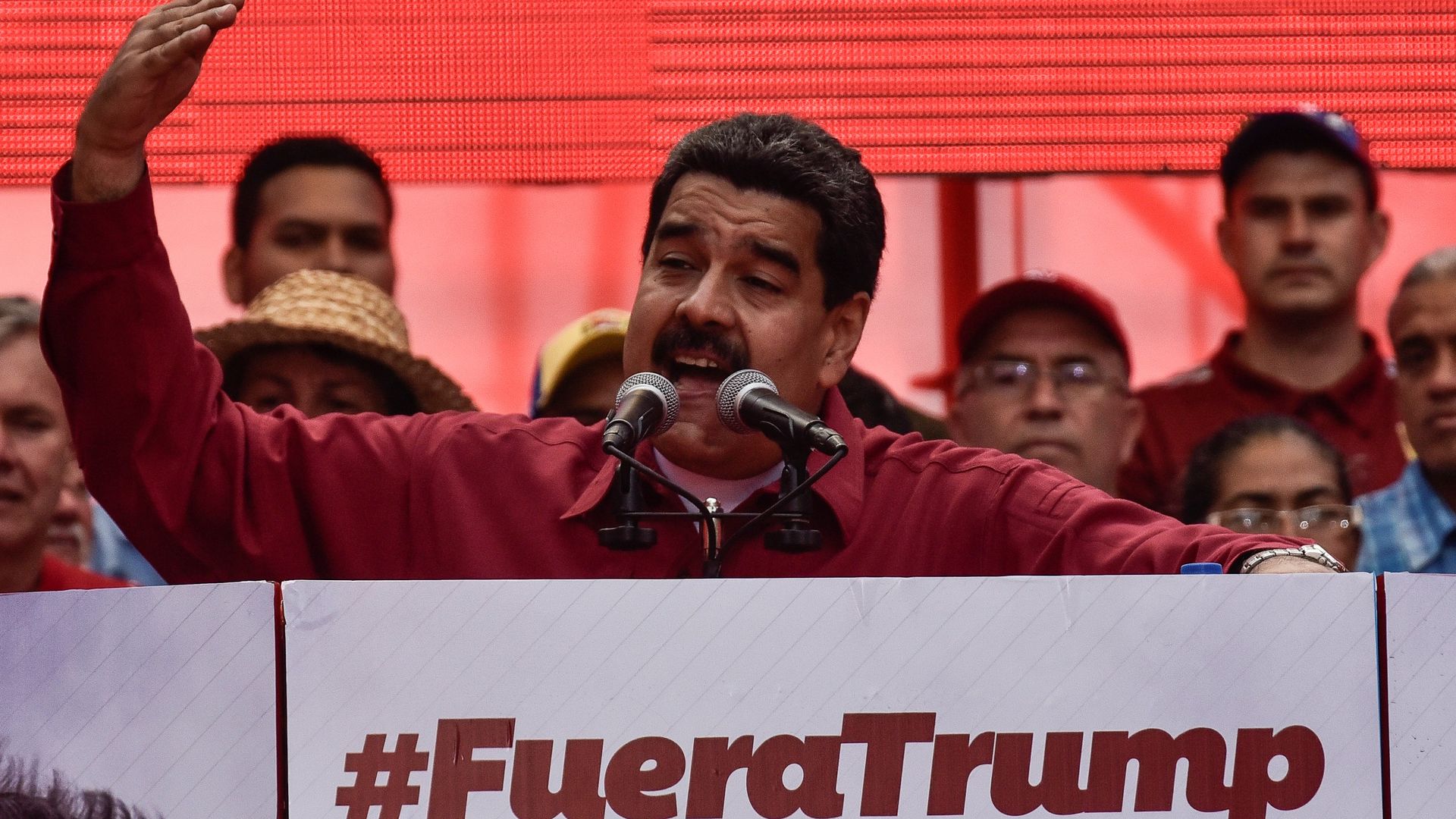 The Trump administration is hoping to capitalize on popular outrage in Venezuela — along with burgeoning consensus among regional leaders opposed to the regime — to help loosen President Nicolas Maduro's grip on power.
Driving the news: President Trump huddled at the White House Tuesday with Vice President Pence, National Security Advisor John Bolton and Florida politicians — Sens. Marco Rubio and Rick Scott, Gov. Ron DeSantis and Rep. Mario Díaz-Balart — to discuss Venezuela. Pence, meanwhile, delivered a video message to the Venezuelan people declaring Maduro "a dictator with no legitimate claim to power," and "recognizing the National Assembly as the last vestige of democracy" in the country.
Maduro responded by ordering what he called a "revision" of diplomatic ties with Washington.
Rubio and Scott left the meeting hopeful that Trump would soon go one step further:
"Venezuela has a constitution. The guy who claims to be president now was not elected under that constitution and under their constitution, when there's a vacancy in the presidency, the rightful president is the president of the National Assembly, pending a new election. And we encouraged the president today to follow through with what he's already declared, which is that Maduro is illegitimate. The next logical step is to recognize the president of the National Assembly as the rightful president."
— Rubio to reporters
The backdrop: In the midst of a devastating economic recession that has forced three million Venezuelans to leave the country, Maduro was sworn in earlier this month for a new six-year term after a sham election. That only compounded the fury of opposition supporters, which Juan Guaidó, president of the National Assembly, has channeled through a series of open-air meetings.
"The opposition has called in a large number of such meetings for protests to be held around the country on January 23rd, a symbolic date that marks the overthrow of a past Venezuelan dictator," notes Harold Trinkunas of Stanford University's Institute for International Studies.
The demonstrations are expected to be large and widespread. They come just two days after an early morning revolt, apparently by military officers, was put down.
The regional picture: Latin America is shifting to the right and support for Maduro's Socialist regime is drying up, Trinkunas says. "In addition, migration outflows are having a more pronounced impact on South America states, and regional leaders are under pressure to do something in the face of a growing backlash."
Brazil's new right-wing president, Jair Bolsonaro, said Tuesday at the World Economic Forum in Davos that his election and those of like-minded leaders were a sign that "left-wing ideology will not prevail in the region." Paraguayan President Mario Abdo Benítez was more direct, saying: "Anything that will help liberate Venezuela has our support," including recognizing Guaidó as president.
Michael McCarthy, a research fellow at American University, says Maduro has survived perilous moments in the past, but "what's different this time is he has just never dealt with headwinds this strong internationally," particularly after an election that served as a "formal confirmation of his status as a dictator."
"Everyone is convinced that the armed forces are the key swing player in terms of the power struggle," he says. In an attempt to tip the scales, the opposition is promoting the idea of "granting amnesty on a broad basis" and making clear the military is "part of the country's future."
What to watch: Martin Aguirre, editor-in-chief of Uruguay's El Pais newspaper, tells Axios there's a growing sense that "something might happen soon," fueled in part by "rumors" about "internal movements in the army."  
"Some people say they might get rid of Maduro to try to release some of the pressure, while keeping power for themselves," Aguirre says. "But no one knows for sure what could happen."
McCarthy says one big question is whether the Trump administration will "stay committed to this crisis as a top priority." He adds: "To me it's about endurance, because I'm not ready to say, 'the end is here'" for Maduro.
Go deeper...
Go deeper