MLK on economics: A brief primer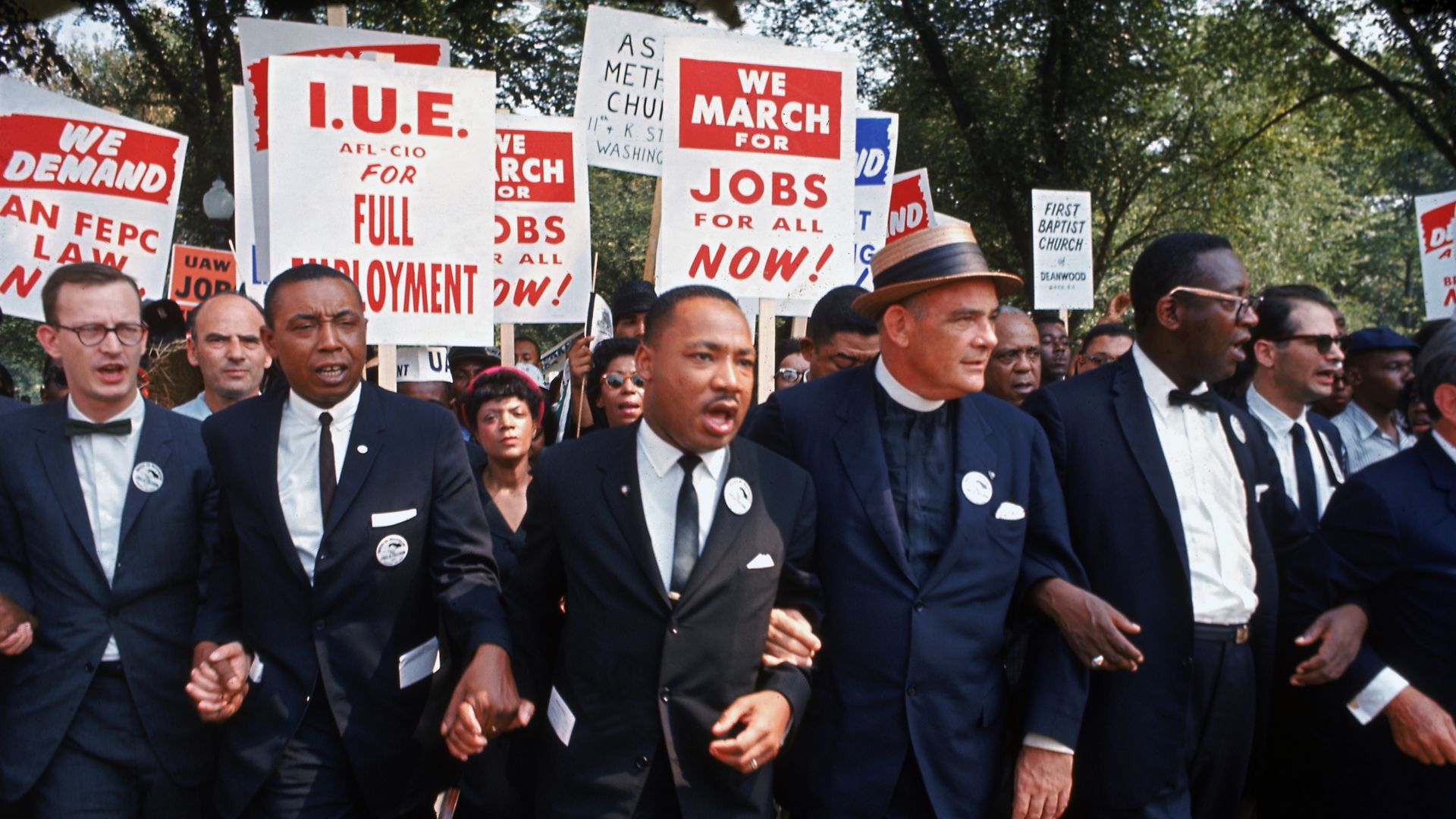 Remembered as a great orator and a champion for human rights, Martin Luther King, Jr. also was a deep thinker on economics.
Between the lines: King's philosophy has often been painted as a socialist because he advocated for the redistribution of wealth, referenced Karl Marx and even called for a "guaranteed annual income." But King repudiated socialism and communism, noting in his 1967 speech "Where Do We Go From Here" that when it came to communism, "I have to reject that."
"What I'm saying to you this morning is communism forgets that life is individual. Capitalism forgets that life is social. And the kingdom of brotherhood is found neither in the thesis of communism nor the antithesis of capitalism, but in a higher synthesis."
King's economic philosophy would find him with few ideological allies in today's political climate. He argued forcefully there was "something wrong with capitalism" — a sentiment gaining popularity among today's Democrats.
"It is a well known fact that no social [institution] can survive when it has outlived its [usefulness]," King wrote in notes at Crozer Theological Seminary. "This, capitalism has done. It has failed to meet the needs of the masses."
But he also warned against traditional government welfare programs, saying that there was an inherent value to work and that a job could not be replaced with government handouts or jobs for jobs sake — a popular talking point among today's Republicans.
"It is the work of men who somehow find a form of work that brings a security for its own sake and a state of society where want is abolished," he said in "Where Do We Go From Here?"
"Work of this sort could be enormously increased, and we are likely to find that the problem of housing, education, instead of preceding the elimination of poverty, will themselves be affected if poverty is first abolished."
The big picture: King was for sweeping government reforms. But he also lauded the successes of the market economy, while warning of its "dislocations," and against the belief that a rising tide would lift all ships.
"There are 40 million poor people here, and one day we must ask the question, 'Why are there 40 million poor people in America?' And when you begin to ask that question, you are raising a question about the economic system, about a broader distribution of wealth."
Go deeper