One planet, divided under global warming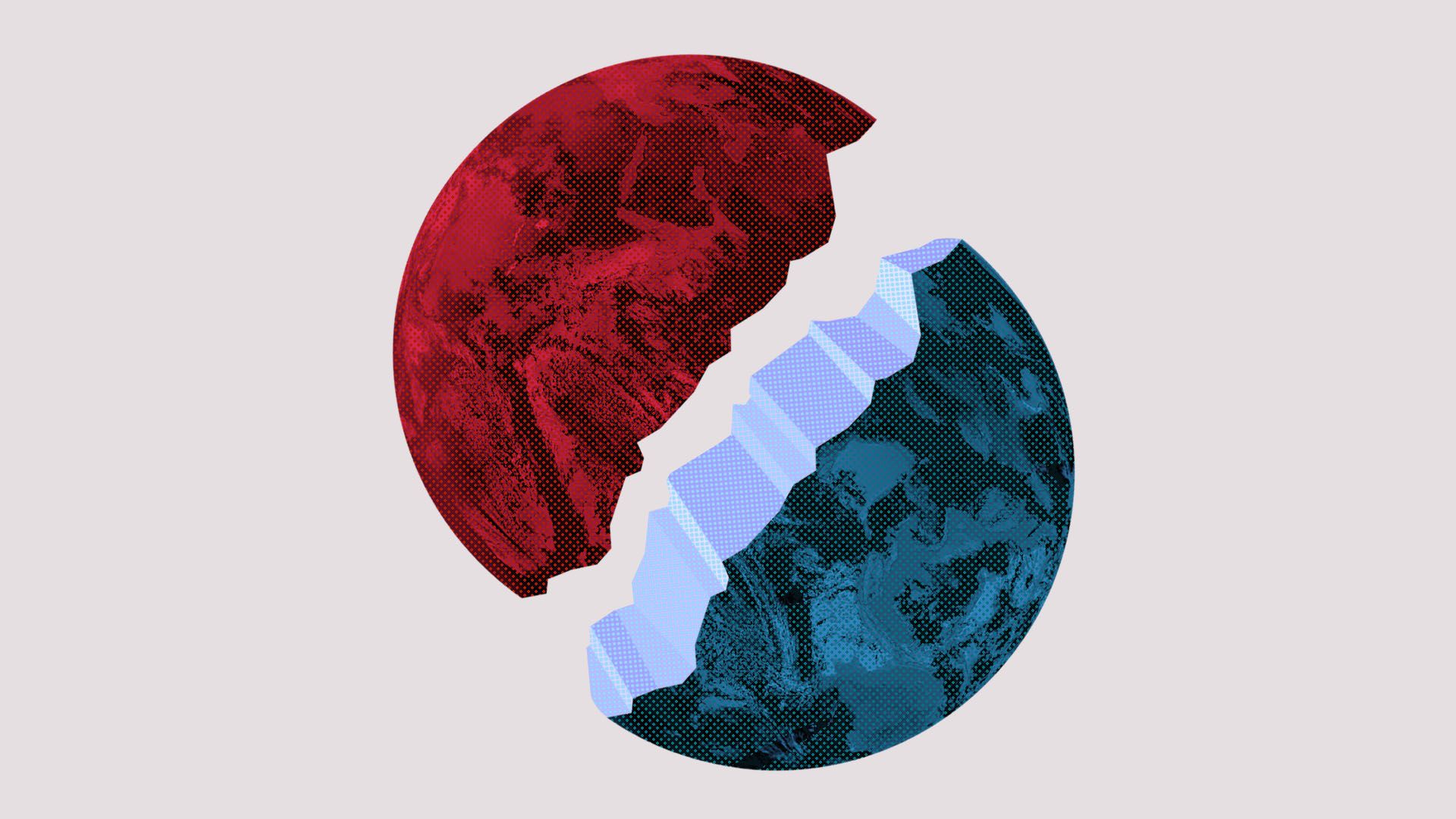 Sure, we all share this one planet. But the warming Earth is poised to divide — not unite — us.
The big picture: One cornerstone of the 2015 Paris Climate Agreement is that nations have a shared responsibility to address global warming. But the reality is that climate change won't affect everyone the same way. The impacts, while immense, aren't shared evenly around the world, and the solutions will affect some nations more than others.
Driving the news: Two reports out last week show the uneven effects of a warming world and a transition to cleaner energy sources. Certain regions, particularly those with economies based on fossil fuels, are set to lose under the Paris deal while others, particularly China, are poised to gain.
The reality of a warmer world and government policies aiming to slow that warming are no longer a matter for the future. They're both happening now. And the convergence of those two turning points is exacerbating tensions that have been simmering for years.
Two main splits exist:
The most well-known division is between developed nations that have emitted the most greenhouse gases in the past and those still developing their economies like China and India, which are increasingly emitting the most today.
Those fault lines are well-documented, but others emerged more forcefully at a United Nations climate change conference last month in Poland between nations that produce fossil fuels and those that don't.
In an interview at the conference with Carbon Brief, a United Kingdom-based climate news website, a senior climate-change negotiator for the Saudi Arabian government said:
"As a matter of fact, we are impacted by climate change, perhaps more than anybody else. We are a desert country that heavily relies on this single source of income. We have such a vulnerable economy, fragile economy, and with oil, we eat, we feed, we travel, we educated our people, we have medical care and everything."
— Saudi climate negotiator Ayman Shasly
That may seem like an unconvincing thing to say, given that some low-lying island nations are projected to literally disappear beneath rising sea levels within 80 years thanks to emissions from other nations' fossil fuels, including Saudi oil.
But actually, Shasly has a point:
As a desert nation, Saudi Arabia is set to face the impacts of a warmer world with more intense droughts and heatwaves. But it's also set to face the brunt of the economic pain from transitioning away from fossil fuels — if the world follows through with the Paris deal ambitions (a big if).
"You can see their concern is legit," said Adele Morris, an economist who in her role at the Brookings Institution co-wrote one of the reports released last week on this topic.
That report found two regions — Australia and the nations in the Organization of Petroleum Exporting Countries (OPEC) cartel, including Saudi Arabia — would be worse off under the Paris deal in 2030, in part because they're big fossil-fuel exporters. All other regions, including China and even Russia, would be better off.
"Even if countries like Australia or the OPEC countries take very modest [climate] targets, they're still going to experience the spillover from what everyone else does, and there's nothing they can do about it," Morris said.
The report considered economic effects and domestic environmental benefits of reducing emissions, but it excludes the costs of a warming planet itself, both in monetary terms and public health and safety.
The latest science from the UN and others suggest those costs are likely to be significant in both Australia (i.e., worsening wildfires) and Saudi Arabia (droughts and heatwaves).
President Trump, who has vowed to withdraw America from the Paris deal, is providing political openings for nations concerned about a shift away from fossil fuels.
At an event the Trump administration hosted at the conference in Poland extolling fossil fuels, an Australian government official was a last-minute addition to the panel.
Also there, the U.S. joined Saudi Arabia and Russia in refusing to "welcome" a recent landmark UN report on climate change that called for drastic cuts in emissions.
What's next: As the world warms more and the renewable-energy transition increases, other divisions could emerge:
Several colder-climate nations, including Russia, are set to benefit or already are benefiting from warmer temperatures, such as with better agricultural output, according to a 2018 UN report. Scientists say these benefits are temporary and are offset by negative impacts. Temporary in climatic terms is still a matter of decades, which is a lifetime in politics.
Nations with clean-tech manufacturing and patent dominance could have geopolitical leverage over those that don't, according to the other report released last week that was coordinated by the International Renewable Energy Agency. That makes China, a leader in both, a clear winner.
Go deeper