Kim's resignation could tee up non-U.S. leadership at World Bank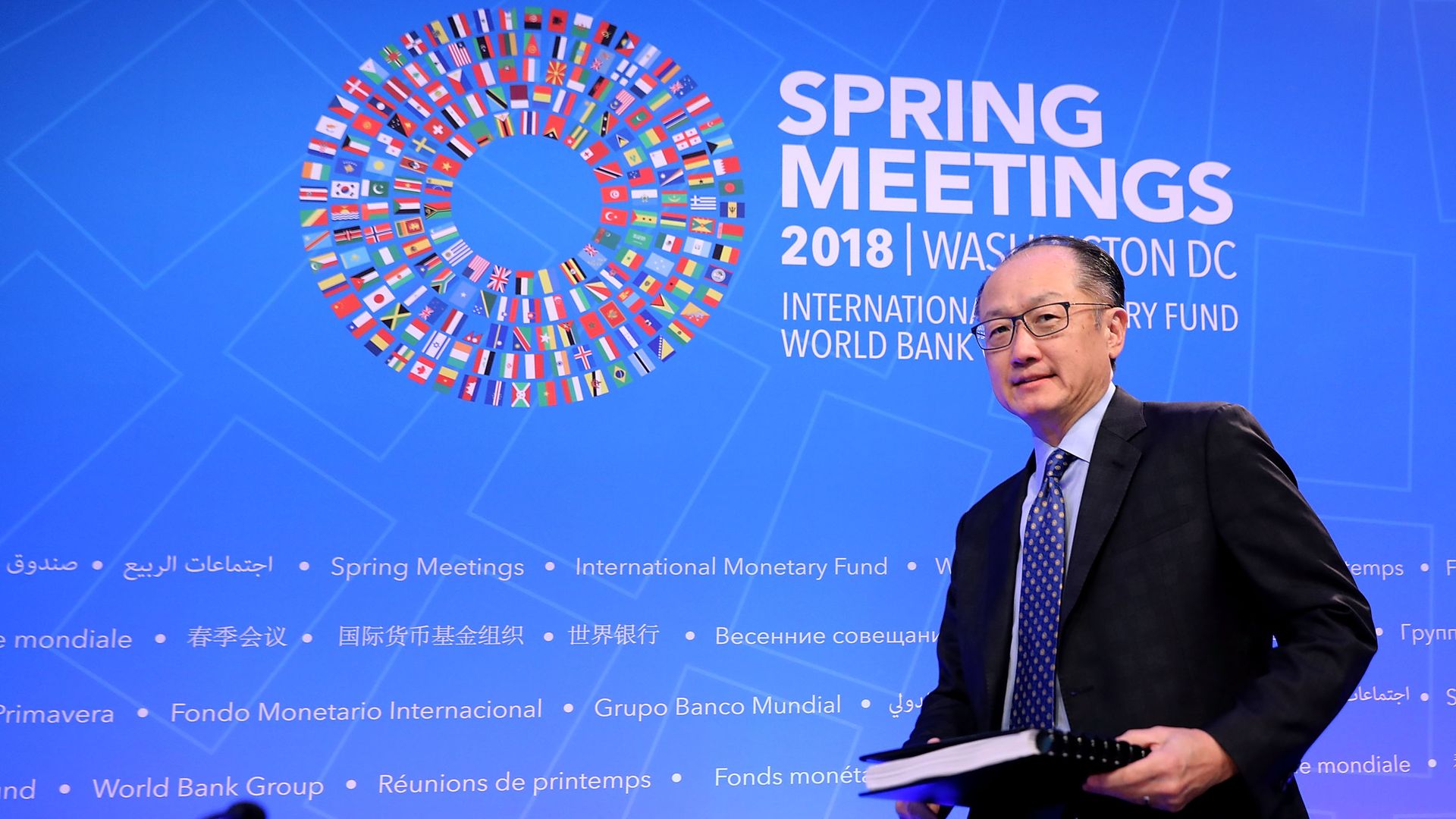 Jim Yong Kim suddenly stepped down Monday as president of the World Bank, 3 years ahead of the end of his second 5-year term. Kim's resignation is expected to spark a heated debate over leadership of the World Bank.
The big picture: At issue is whether the presidency should reflect the needs of donors or recipients. While the U.S. candidate has always been picked as president — an informal tradition since the bank's founding in 1944 — the board of directors, made up of donor countries, is likely to challenge a U.S. candidate because of growing opposition to historical U.S. dominance of the institution. Given that Sub-Saharan Africa is one of the largest recipients of bank funds, the timing could be ripe for an African leader.
Between the lines: An African president would better understand the finance needs of Sub-Saharan Africa.
Over the next three fiscal years, the World Bank has earmarked $57 billion for the region, with three-fourths of the funds coming from the International Development Fund (IDA), which is dedicated to the world's poorest countries.
Over half of IDA funds are expected to flow to Sub-Saharan Africa.
Why it matters: Economic growth in Sub-Saharan Africa, the world's least-developed region, has especially great geopolitical implications. As long as economic opportunity remains scarce on the continent, Africans will migrate elsewhere, particularly to Europe. Rising migration levels have led to the rise of populist parties in Hungary, Austria, Germany and elsewhere, undermining liberal democracy and posing an existential threat to the EU.
In the years to come, demographics and climate change could further exacerbate migration flows:
Africa's population is predicted to surge, doubling in size to reach 2.5 billion by 2050, making it the youngest population in the world.
Unpredictable weather patterns and environmental degradation resulting from climate change in the arid Sahel and Horn will worsen food insecurity and jeopardize livelihoods.
What's next: The race for the World Bank presidency will be hotly contested in the coming months, with many donor and recipient countries rallying against a Trump appointee. Sub-Saharan African countries will push to advance a candidate who is receptive to their needs.
Paulo Gomes is the founder of Constelor Investment and a co-founder of New African Capital Partners.
Go deeper