Former GOP Rep. Ryan Costello pushes carbon tax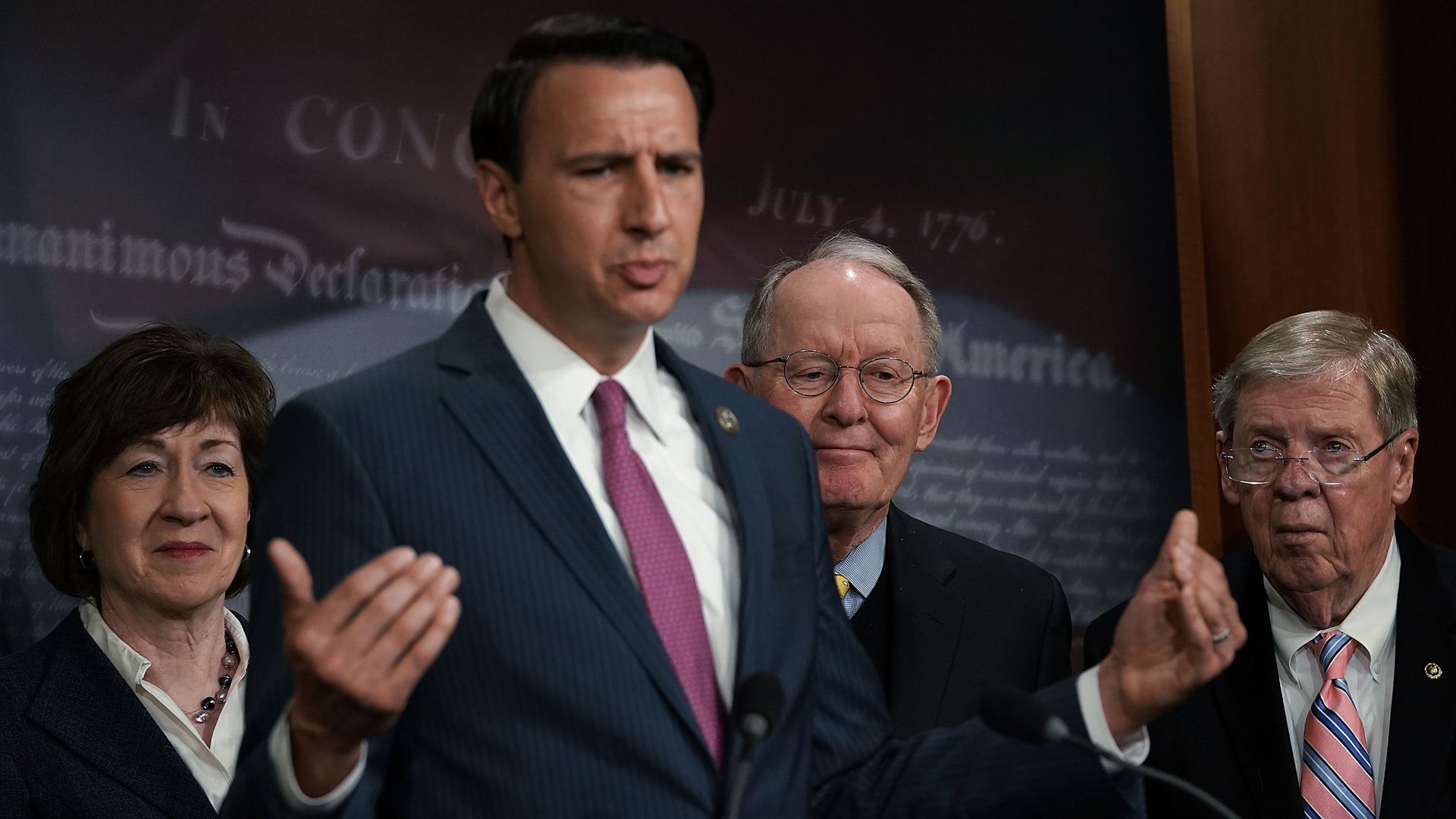 Former Rep. Ryan Costello (R-Pa.) is joining a political advocacy campaign pushing a carbon tax in Washington where the money goes back to Americans.
Why it matters: The 42-year-old Costello, who just retired after last Congress, represents a younger mold of Republicans more willing to buck GOP orthodoxy on issues like climate change. While most elected Republicans continue to ignore or dismiss the issue, this move shows cracks in that mindset are (slowly) growing.
Details: Costello, who spent four years in Congress, will be managing director of Americans for Carbon Dividends, a political advocacy group launched last year that now has two big oil companies funding it.
He announced his new gig in an opinion piece in Tuesday's The Wall Street Journal, where he called on Republicans to shift on several issues, including climate change, otherwise the 2018 midterm results where GOP lost control of the House "could be just the tip of the iceberg."
Costello can't lobby Congress for a year, but in the meantime he'll be building grassroots support for the policy outside of Washington and may "engage in some political campaign-related activity for the 2020 cycle," he said in an interview Monday.
"I do think as a Republican, the days of saying climate change is a real issue and patting yourself on the back have come to an end. There needs to be a specific policy proposal."
— Ryan Costello
One level deeper: Ted Halstead, CEO of the group who also coordinates a connected initiative called the Climate Leadership Council, says a goal is to have up to seven senators from both parties introduce a version of the plan in Congress by year's end.
The plan, which also has backing from other former Republican politicians, includes a $40 price on carbon emissions that rises over time, with the proceeds sent back to Americans via quarterly dividend checks.
While details of the plan are still being flushed out, two points are particularly controversial among environmentalists: preempting some regulations and shielding oil companies from certain lawsuits related to climate change.
Reality check: Halstead's goal is a lofty one facing steep odds in a Washington looking more polarized amid a partial government shutdown, ahead of the 2020 presidential race and with President Trump in the White House. Carbon taxes, no matter what is done with the money, have long been deemed politically toxic. Democrats, meanwhile, are galvanizing around the vague but popular-sounding Green New Deal policy pushed by Rep. Alexandria Ocasio-Cortez (D.-N.Y.).
Go deeper