Turkey's Erdogan refuses Bolton meeting, slams Syria withdrawal shift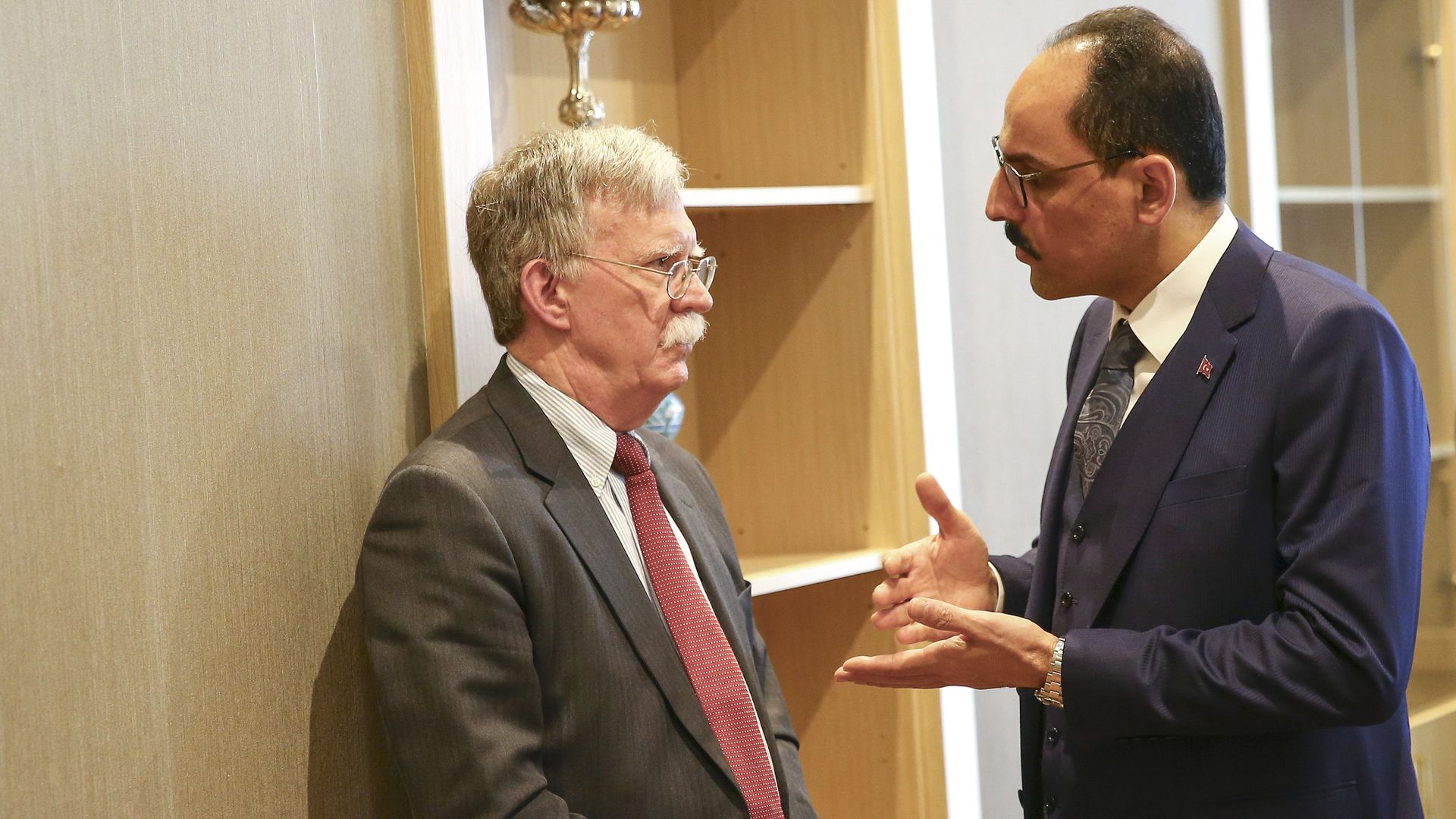 Turkish President Recep Tayyip Erdogan refused today to meet with national security adviser John Bolton, then "took to live television instead to insult him for a lack of perspective," Bloomberg reports.
Background: President Trump announced a U.S. withdrawal from Syria last month after a conversation with Erdogan, but Bolton has since said the U.S. will not pull out until certain conditions are met. They include a guarantee from Turkey that it will not attack U.S.-allied Kurdish fighters, who hold a large swathe of territory that borders Turkey. The Turkish president considers those fighters terrorists. He was infuriated by Bolton's demands, which he called a "serious mistake" in a speech to Parliament today.
"Although we made a clear agreement with U.S. President Trump, different voices are emerging from different parts of the administration. Trump's remarks continue to be the main point of reference for us."
— Erdogan
Flashback: Trump said last month that U.S. troops in Syria were "all coming back, and they're coming back now." The announcement led to the resignation of Defense Secretary James Mattis, confusion among the other key players in the conflict and panic from the Kurdish forces.
The U.S. withdrawal timeline has since been extended to at least four months. Under Bolton's conditions for withdrawal, the U.S. could remain indefinitely.
Bolton and Secretary of State Mike Pompeo both traveled to the Middle East this week to reassure allies about the Syria withdrawal, but there's still a great deal of confusion about what the U.S. plan entails.
The Turkey divide:
The big picture: Bloomberg's Margaret Talev reports that Bolton arrived in Ankara with "5 core conditions" for U.S. withdrawal from Syria, and she criticized an op-ed by Erdogan published yesterday in the NY Times.
Erdogan — who has for months been threatening an offensive into Syrian territory held by the Kurdish YPG — argued that a Turkey-led "stabilization force" was needed following the U.S. withdrawal.
Both sides say a Bolton-Erdogan meeting was never formally scheduled. Bolton met with lower-level officials instead.
As NBC's Josh Lederman points out, Turkey's pro-government Daily Sabah has slammed Bolton and bemoaned what it calls a "soft coup against Donald Trump" in an editorial.
Go Deeper:
Go deeper