Democrats debate how to face "the existential threat of our time"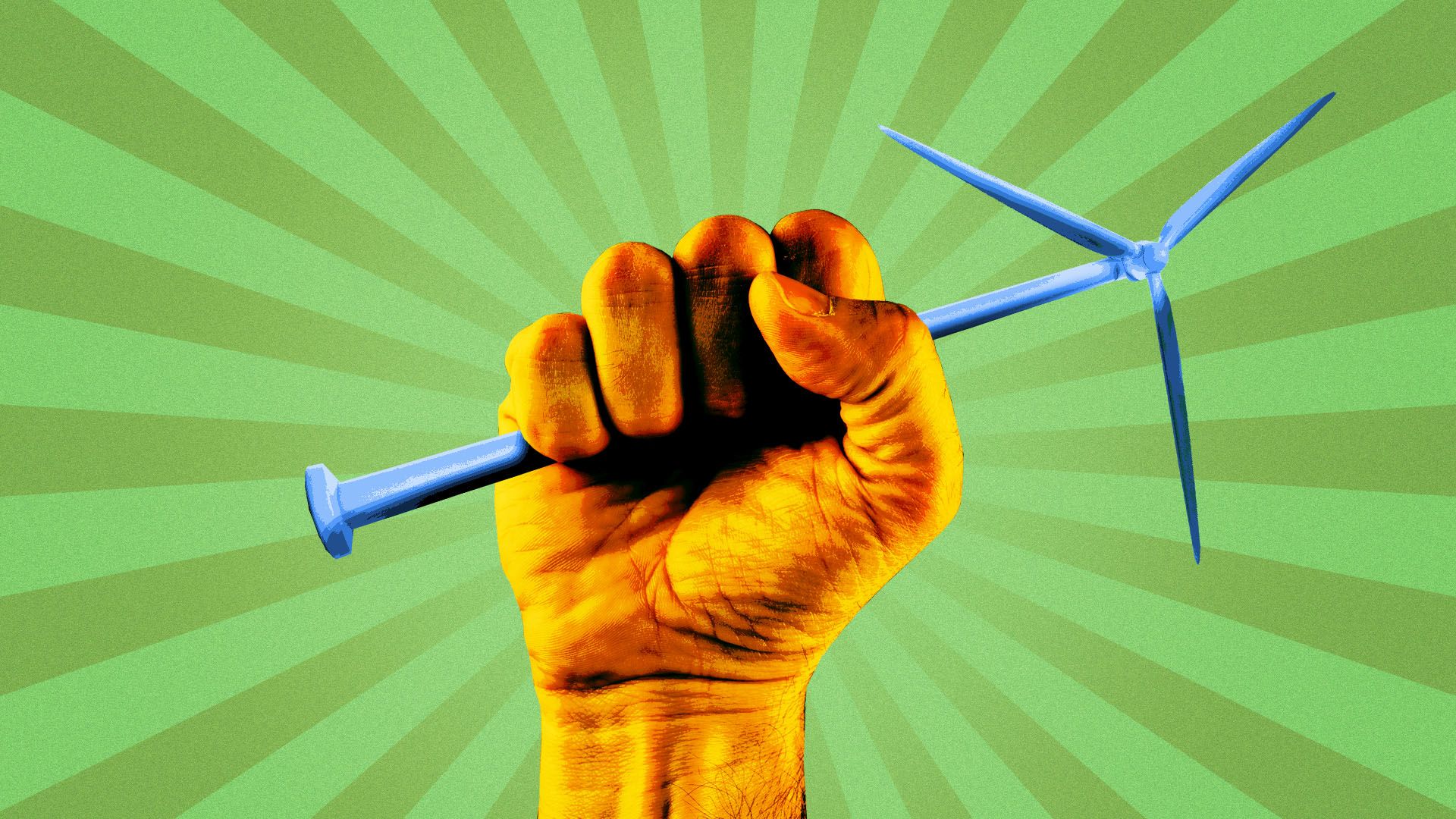 Democrats still have almost no power to make policy in Washington, but what they do next matters a lot.
The big picture: Two overlapping events — the soft launch of the 2020 White House race and Democrats assuming House control this week — open a crucial period in deciding what kind of policy they will push if they regain White House and perhaps Senate control.
Driving the news: Democrats used their first day in the House majority yesterday to signal that climate would be a focus.
Speaker Nancy Pelosi called it the "the existential threat of our time" in the first speech of her second stint with the gavel.
Energy and Commerce Chairman Frank Pallone said the panel's first hearing would be on the topic.
Democrats voted to create a Select Committee on the Climate Crisis that's empowered to craft policy recommendations.
Why it matters: Democrats — on the campaign trail and on the Hill — need to lay the policy and political groundwork if the window for legislation or administrative moves opens after 2020.
Republicans' failure to unify in advance around a plan to replace the Affordable Care Act is something of a cautionary tale.
The intrigue: There are tensions within the party and among activists. Here are a few of the fault lines that are already apparent or could open up...
1. Rep. Alexandria Ocasio-Cortez (AOC) and some other insurgent progressives — backed by activists with the Sunrise Movement and Justice Democrats — say the new select committee is too weak.
They wanted a panel tasked with crafting a detailed proposal for a Green New Deal. They also wanted it to have subpoena power and to bar members who take fossil fuel money.
2. Competition for political attention on the campaign trail and in the House will be rampant. I know I'm a broken record here, but climate and energy are typically second-tier (at best) topics in national elections.
Sen. Elizabeth Warren, the first top-tier Democrat to launch a 2020 White House bid, has barely grazed the topic in her rollout in recent days and initial interviews.
However, her office did tell Axios that she backs the idea of a Green New Deal.
Some other potential candidates, including Sen. Bernie Sanders (I-Vt.) and Washington Gov. Jay Inslee, make climate a priority. But large swaths of the potential 2020 field have focused their careers on other topics.
3. The nitty-gritty of crafting policy recommendations will bring some tough questions to the forefront, such has how much to emphasize carbon pricing.
One is whether to push for a transition to 100% renewable electricity — a pillar of the Green New Deal — or back a wider suite of technologies that a number of experts say should be part of decarbonizing power.
4. The tensions between establishment liberals like Pelosi and the new AOC crowd have been sucking up the oxygen, but getting aggressive on climate could also bring clashes with centrist and oil patch Democrats.
Politico has some reporting on this dynamic: "Rep. Henry Cuellar (D-Texas), who co-chairs the centrist Blue Dog Coalition, said he plans to speak with incoming select panel chairwoman Rep. Kathy Castor (D-Fla.) and Energy and Commerce Chairman Frank Pallone (D-N.J.) about the direction and scale of climate legislation."
Go deeper