Arrival of Brazil's Bolsonaro draws praise from Trump, fear from critics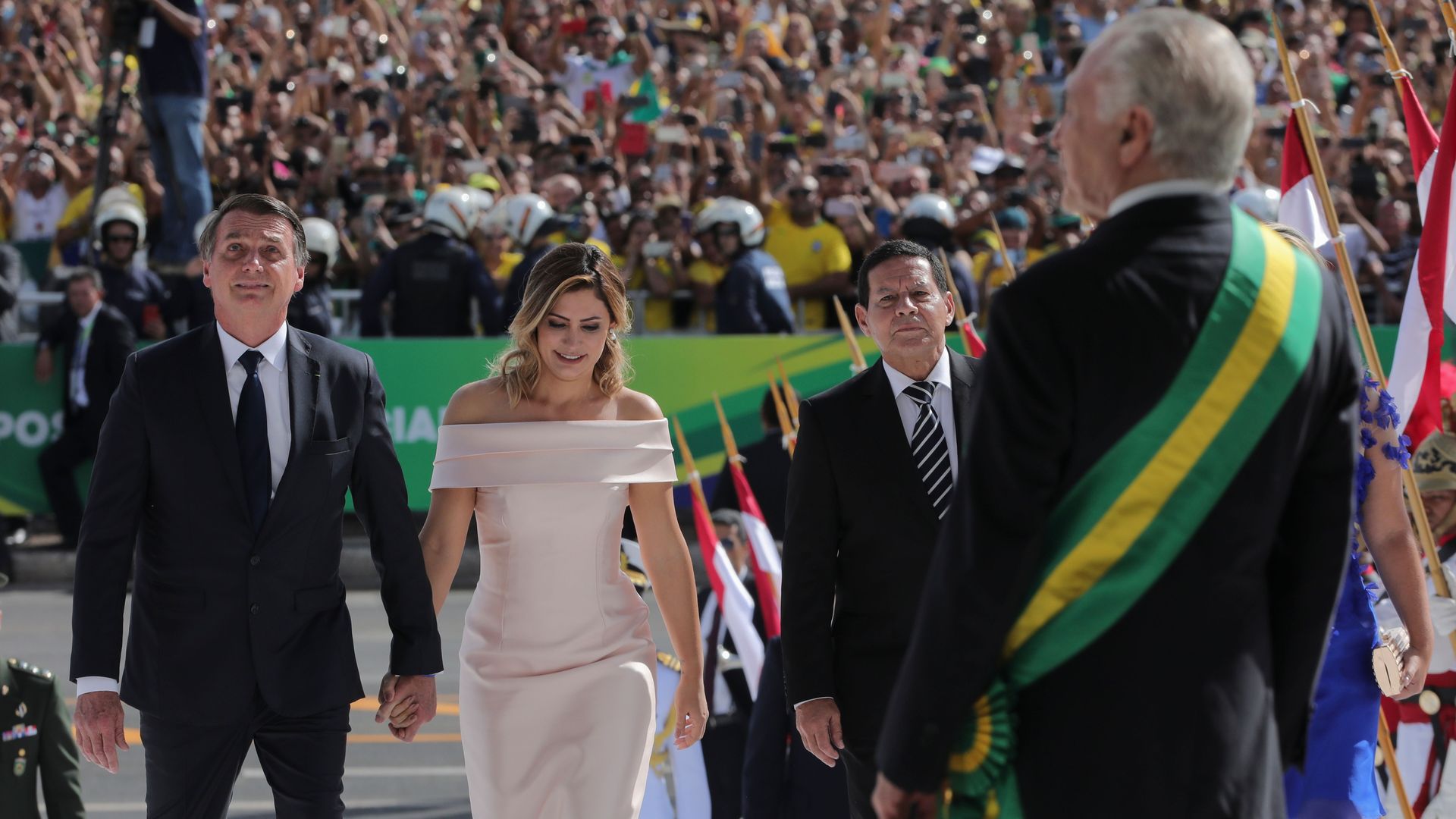 Brazil's new president, right-wing firebrand Jair Bolsonaro, seemed to confirm the fears of his critics and the hopes of many of his supporters within hours of taking office on New Year's Day.
The big picture: The former army captain has a penchant for insulting women, gay people and minorities, and an affinity for military rule. The stock market loves him so far, and he's viewed as a natural ally by the Trump administration.
President Trump praised Bolsonaro's inaugural address, which was attended by Secretary of State Mike Pompeo.
National security adviser John Bolton has hailed Bolsonaro's election as a "positive sign" and suggested he could help counter leftists in the region while increasing the pressure on Cuba and Venezuela.
On day one, Bolsonaro issued executive orders making it far more difficult for land to be set aside for indigenous groups — a boon for the powerful agro-business lobby — and removed LGBT concerns from the portfolio of the human rights ministry, which will be run by an evangelical minister who echoes Bolsonaro's claims about the "ideological indoctrination" of Brazil's youth.
Martin Aguirre, editor-in-chief of Uruguay's El Pais newspaper and a former Axios fellow, emails from Montevideo that "Trump is going to love this guy."
"He will be an unconditional ally of Israel, shares many protectionist views with the U.S. when it comes to China, and will definitely be on Trump's side on issues like global warming or migration."
"He fits perfectly into this new breed of right-wing leaders, like [Hungary's Viktor] Orbán or [the Philippines' Rodrigo] Duterte, who are shaking the world political landscape, freaking out journalists, traditional politicians, and status quo institutions."
The region's other power, Mexico, recently elected a leftist president in Andrés Manuel López Obrador who is likely to clash with Trump, Aguirre writes. "The fact that at the same time the other powerhouse elects a president so aligned with U.S. short-term interests can only be seen as a relief for the White House," particularly if he "manages to align this new wave of center-right leaders in the region."
Two key questions:
Can Bolsonaro really implement his free trade platform? "Brazil is a very closed country on trade, and the big industrialists and businessmen fear an opening, so it's going to be interesting to see who wins there."
Can he really pivot away from China, Brazil's largest trading partner, as the Trump administration hopes? That will be difficult, considering the "agro-business was Bolsonaro's biggest supporter and China buys all their soybeans and beef," Aguirre writes.
For those reasons, Daniel Erikson argues for Axios Expert Voices that despite his strident criticism of China on the campaign trail, Bolsonaro is "likely to assume a more pragmatic attitude toward Beijing once in office."
Go deeper:
Go deeper