Trump's uphill push for "energy dominance"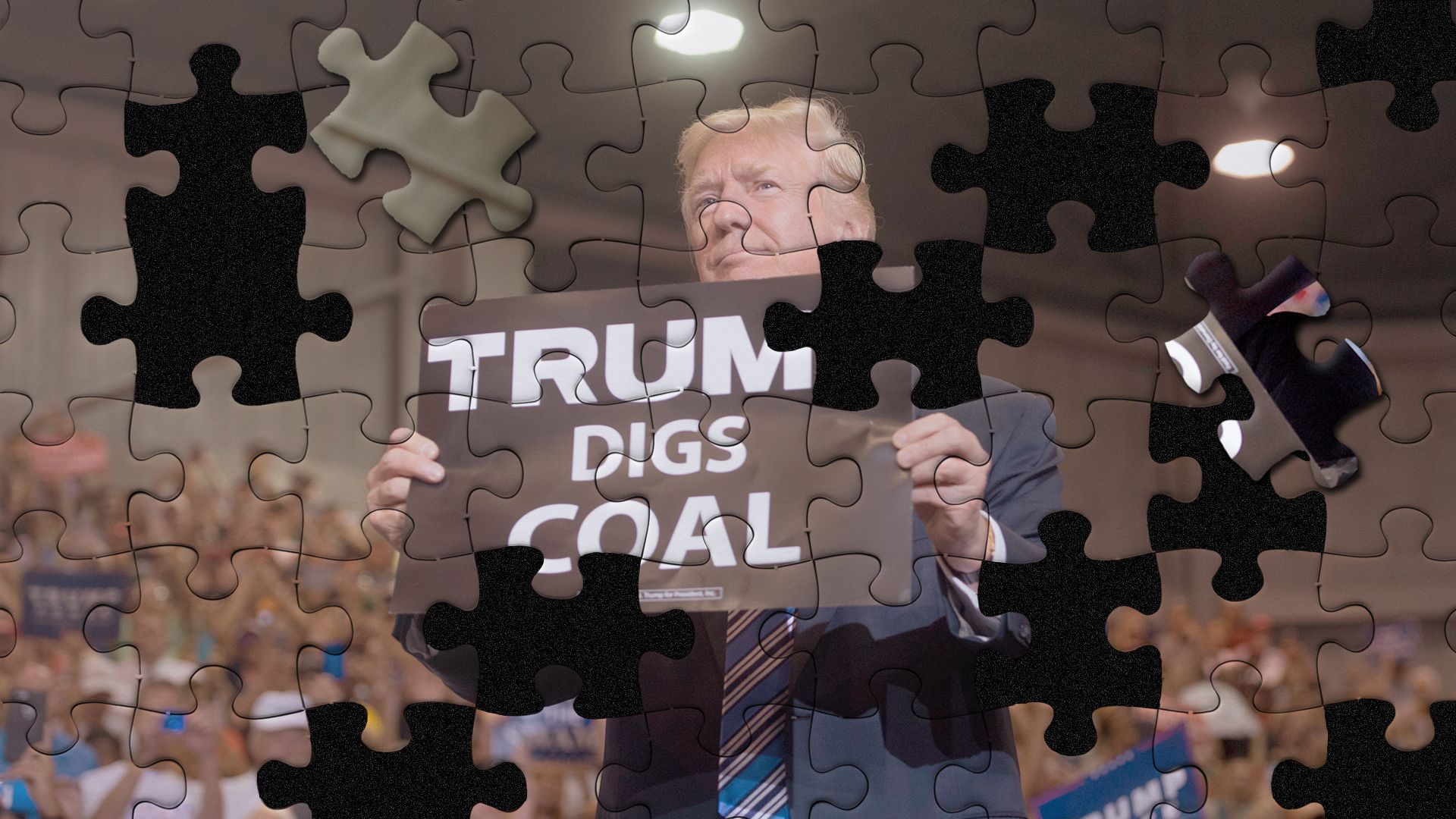 Almost two years into his push to unwind Obama-era energy regulations, President Trump's attempt to help the coal industry faces an uphill climb, while separate market forces may ultimately limit his moves to expand the oil boom into new regions.
Where it stands: When it comes to one of Trump's biggest energy pledges — to end what he and other Obama critics called the "war on coal" — the president hasn't turned the tide. The most recent Energy Information Administration forecast shows coal's share of electric power sliding down again to 26% next year, compared to 28% in 2018. The same analysis sees U.S. coal production falling another 3% in 2019.
But, but, but: The sweeping effort to remake regulations — which spans dozens of rules — will have consequences beyond the most high-profile fights.
The odds: It's unlikely the power industry's calculus will be altered greatly once revisions to various pollution rules are complete, although decisions about whether to keep some specific plants running could very well change.
"Outcomes in the electricity sector are just dominated by facts on the ground," notes Dallas Burtraw of the nonpartisan think tank Resources for the Future.
Burtraw points out that abundant natural gas, as well as renewables, are pushing coal aside.
When it comes to oil and natural gas, the domestic boom that began around a decade ago has continued under Trump, with U.S. oil production now far above record levels at roughly 11.5 million barrels per day.
Yet not much of that stems from unwinding Obama-era protections.
Reality check: It's true that the Interior Department is offering more leases on public lands in western states, and the number of drilling permits approved and producing leases has ticked up.
But thus far, a limited amount of the production surge is related to speeding up permitting where access is already allowed, much less efforts to expand access to Arctic and Atlantic Coast regions, which remain a work in progress.
Instead, the boom remains concentrated in shale regions — most notably Texas — seeing a years-long surge concentrated on state and private lands.
What's next: Several of the biggest moves are at the midway point of the bureaucratic process or tied up in court, so the ultimate result won't be known for years.
Go deeper: Trump team acts to weaken Obama-era coal emission rules
Go deeper