Elizabeth Warren backs "idea" of a Green New Deal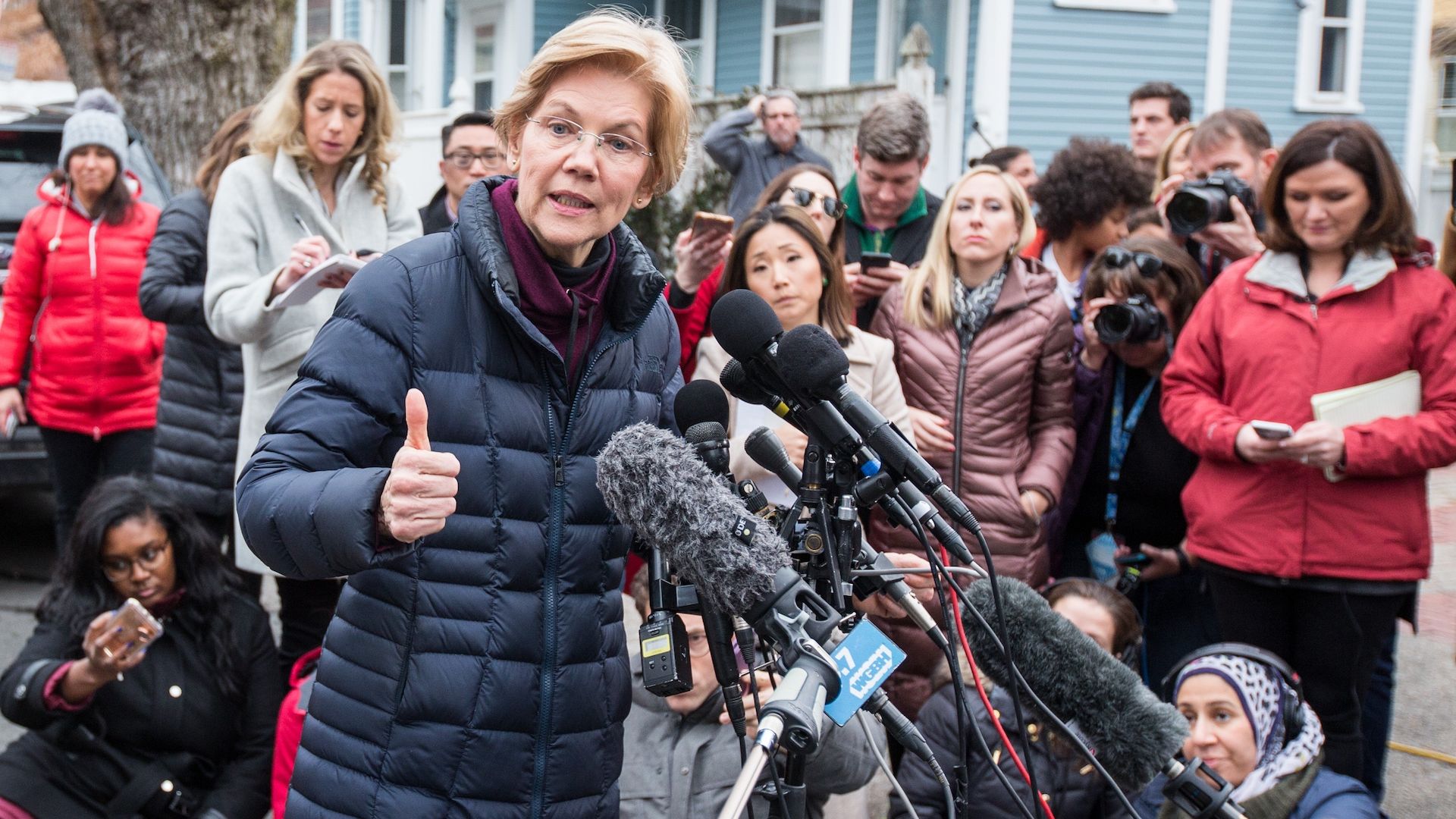 Senator Elizabeth Warren (D-MA) broadly supports the "idea" of a "Green New Deal," one of her Senate aides told Axios.
Why it matters: Warren's comments signal the building momentum among Democrats behind the idea, and raises the likelihood that it will be on the national political agenda as the 2020 election cycle unfolds. The Green New Deal is the sweeping climate, energy and economic framework championed by progressives including Rep.-elect Alexandria Ocasio-Cortez.
What they're saying: A Senate aide for Warren tells Axios ...
"Senator Warren has been a longtime advocate of aggressively addressing climate change and shifting toward renewables, and supports the idea of a Green New Deal to ambitiously tackle our climate crisis, economic inequality, and racial injustice."
Where it stands: Sen. Bernie Sanders (I-Vt.) — who is weighing another presidential run and has long made climate change central to his politics and Senate work — backs the Green New Deal and is planning legislation around it.
And some other potential candidates — Sen. Cory Booker (D-N.J.), Washington Gov. Jay Inslee, and activist Tom Steyer — also broadly endorse the idea.
But, but, but: It's impossible to fully get a handle on the depth of the support for the Green New Deal.
That's because right now it consists of several things: a slogan; a proposed House process for crafting a detailed climate policy framework; and a set of broad policy goals.
On process, Ocasio-Cortez and activists with the Sunrise Movement and Justice Democrats have urged House Democratic leaders to establish a select committee on a Green New Deal that would create a detailed proposal.
However, they're disappointed thus far with the Select Committee on the Climate Crisis that House Democratic Leader Nancy Pelosi is setting up, which is unlikely to have subpoena power. Ocasio-Cortez and activists also say the panel should not allow members who have taken contributions from fossil fuel companies.
The details: The sweeping Ocasio-Cortez proposal calls for a special House committee to craft a detailed plan by early 2020 to meet a suite of goals including:
Transition to 100% renewable electricity in the U.S within 10 years, as well as efforts to curb transportation emissions.
Massive investments in greenhouse gas mitigation; building a national "smart grid;" and work around emissions from agriculture and manufacturing.
The plan would include job guarantees for people working in the transition to a low-carbon economy.
The intrigue: Warren scarcely grazed energy and climate change in her announcement Monday of an exploratory committee for a 2020 run.
The only quasi-mention: her economy-focused launch video said politicians look the other way while big industries do bad stuff.
The list included oil companies that "destroy the planet."
Climate and energy did not come up in her short press conference later in the day.
Warren has a 99% lifetime score from the League of Conservation Voters. But climate has not been a big focus of her Senate tenure which, as E&E News points out, has emphasized economic inequality and consumer protection.
Quick take: While climate has historically played a rather minor role in national elections and hasn't been a big focus for Warren, the Green New Deal concept could fit within Warren's campaign narrative on economic inequality.
The big question: Warren's political aides did not provide immediate comment Tuesday on what role energy and climate would play in her potential 2020 bid.
Go deeper:
Go deeper