Democrats' left turn on climate change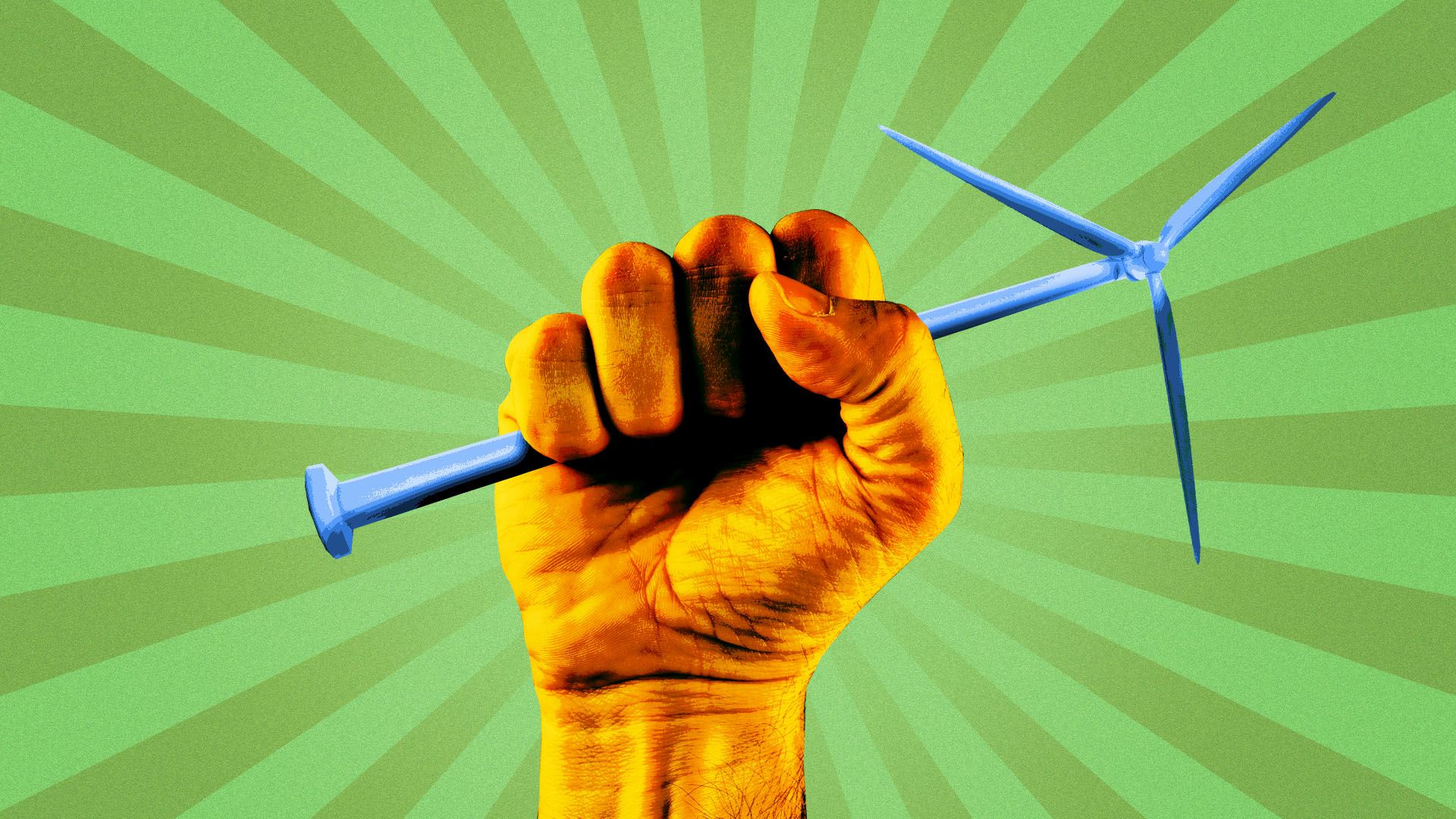 Democrats are increasingly embracing a sweeping progressive plan to tackle climate change that includes a massive increase in government programs on everything from job guarantees to health care.
Why it matters: While it's unlikely to become law any time soon, if ever, expect the plan — called the Green New Deal and championed by Rep.-elect Alexandria Ocasio-Cortez — to permeate the next Congress and 2020 presidential campaign. They don't have a fully detailed plan yet — but their main goal, at least for now, is to change the debate.
The big picture: The trend to embrace more progressive energy and climate policies is part of the Democratic Party's broader leftward shift over the last decade on various issues, like embracing "Medicare for All" as the next step in health care beyond the Affordable Care Act. Republicans, meanwhile, have moved further to the right and largely rejected climate change as an issue.
Driving the news: Some three dozen Democratic lawmakers, including potential presidential candidates Sen. Cory Booker (D-N.J.) and billionaire activist Tom Steyer, back the plan and the creation of a special congressional committee in the next Congress to flesh out details.
Virtually all of this support has come since Ocasio-Cortez, a progressive and self-described democratic socialist, participated in a mid-November rally in the office of incoming House Speaker Nancy Pelosi. The event was organized by the youth-led Sunrise Movement, which backed Ocasio-Cortez in her surprise primary victory over Democratic Rep. Joe Crowley.
"It definitely shows there is an appetite among Democrats for progressive policies that are bold and visionary, which is a departure from a lot of what Democrats have been running on for the last several years."
— Stephen O'Hanlon, spokesman for Sunrise Movement
The details: Ahead of any actual legislating, the Green New Deal is mostly a catchy slogan, largely unknown by the public, which represents broad progressive policies. What details are available are outlined on Ocasio-Cortez's election website:
An eventual goal of 100% of electricity coming from renewable energy, a controversial proposition. Right now, such sources make up just 17% of the nation's power mix, with nearly half of that coming from hydropower.
A guarantee of federal jobs for those working in the transition from fossil fuels to cleaner energy sources.
Federal programs guaranteeing basic income and universal health care. While health care has little to do with energy and climate, the outline says it would help "promote economic security, labor market flexibility and entrepreneurism."
There's no price tag on the plan yet, but the outline says it would be paid for by a combination of the Federal Reserve and a collection of even more unprecedented funding sources, including a new public bank. A tax on carbon emissions could be one way to raise revenue, says Ocasio-Cortez spokesman Corbin Trent.
Between the lines: The Green New Deal represents one of the largest proposed expansions of government in decades, on the level of President Franklin Roosevelt's original New Deal during the Great Depression, World War II and the interstate highway system — three models cited by backers of the policy.
The policy's various parts, as articulated on Ocasio-Cortez's website, must be advanced altogether, her spokesman says.
"This is not a piecemeal solution. This is economic mobilization we're driving for," Trent said. "One of the things I fear, is that if we didn't already have an interstate highway, our current government would be unable to deliver on such a big problem."
The backstory: 2019 marks a decade since Democrats last tried big climate policy on Capitol Hill. Back then, with control of both chambers of Congress and the White House, Democrats pursued a market-based policy where companies could trade permits of carbon dioxide to comply with an overall cap on emissions in a system called cap-and-trade.
That policy is far more flexible — and less ambitious — than what the Green New Deal would likely be.
Some big oil companies and utilities backed the cap-and-trade bill, which narrowly passed the House.
Democrats couldn't get enough support for it — even among some in its own party — in the Senate, and the effort died the next year.
The other side: Progressive support for the Green New Deal is growing significantly while other, more bipartisan, efforts on carbon taxes move along more slowly and with less rhetorical firepower.
A Green New Deal is unlikely to get any Republican support, and probably won't get even a majority support in the Democratic caucus. It's also dead on arrival in the Republican-controlled Senate.
Tom Pyle, who runs a conservative advocacy group American Energy Alliance, says the plan is more a shift in messaging than actual policy in response to what he describes as the left's failure to advance climate change policy through other efforts, such as carbon taxes and fossil-fuel infrastructure protests.
The bottom line: For now this isn't about passing legislation in the upcoming Congress. It's largely about changing the narrative to make climate change a 2020 issue as Democrats attempt to wrestle back the White House from Trump.
Go deeper