The Fed is walking Trump's tightrope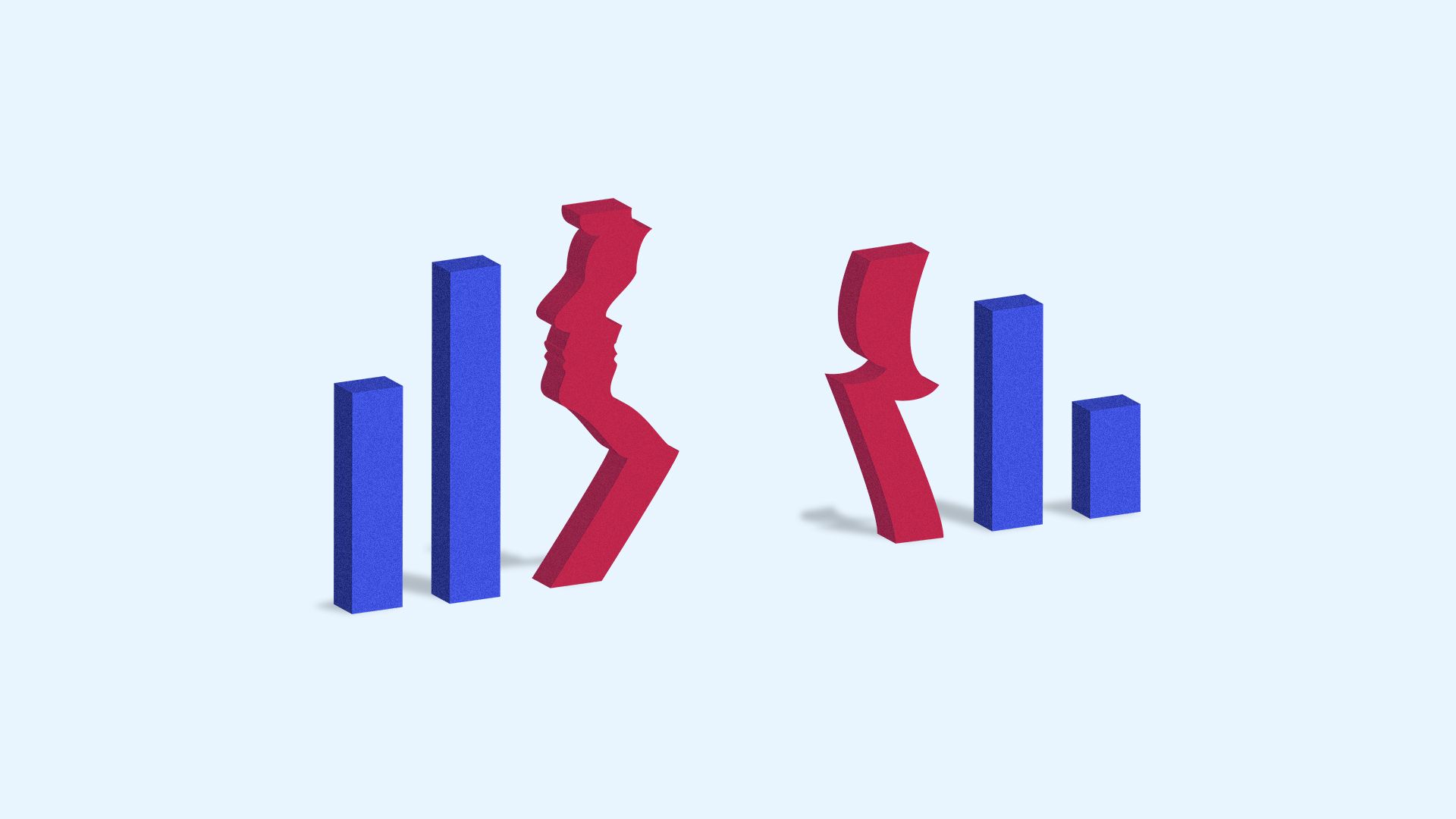 The Fed's "dovish lite" rate hike today is a key moment in chairman Jerome Powell's balancing act. This interest rate increase was expected, protests from President Trump notwithstanding, because one had been telegraphed for months and the Fed rarely surprises.
Why it matters: The Fed signaled today two more hikes next year instead of three while reiterating that "risks to the economic outlook are roughly balanced," but for the first time noted it will "monitor global economic and financial developments and assess their implications for the economic outlook."
Between the lines: Having worked as an investment banker at Dillon Read & Co. and The Carlyle Group, Powell is much closer to the markets than his predecessors. And Wall Street has been clamoring for the Fed to slow down.
That's why there was such an outsized reaction to his November statement that U.S. interest rates were now "just below" rather than "a long way" from neutral. It was a sign that Powell heard the so-called Dow vigilantes and was ready to delay further hikes in 2019 should the equity market downturn persist.
Powell learned from former Fed chairs Ben Bernanke and Janet Yellen, who both faced hostility from Congress and the public, to keep a low profile.
He's done everything he can to avoid a confrontation with Trump. He started by effusively praising the economy after taking over as chair and has gone out of his way to avoid commenting on Trump and congressional Republicans' expansionary fiscal policy, or the federal deficit.
He's also made it a major point to woo Congress, with 60 personal visits and one-on-one phone calls to lawmakers, according to his most recent public calendars from February to August.
"He wants as strong a political base as he possibly can, and he also wants to not be blamed for stuff. The way you don't get blamed for stuff is to not make promises about your future actions."
— Vincent Reinhart, a former Fed official and now chief economist at Standish, a division of BNY Mellon
What's next: Don't expect Powell to kowtow to Trump's tweets, but the awful performance of the stock market in December has to have changed his thinking somewhat. His strategy appears to be endearing himself and the U.S. central bank to Wall Street and Capitol Hill.
The futures market sees zero rate hikes in 2019, ignoring the Fed's previous dot plot, which showed three rate hikes next year.
Go deeper