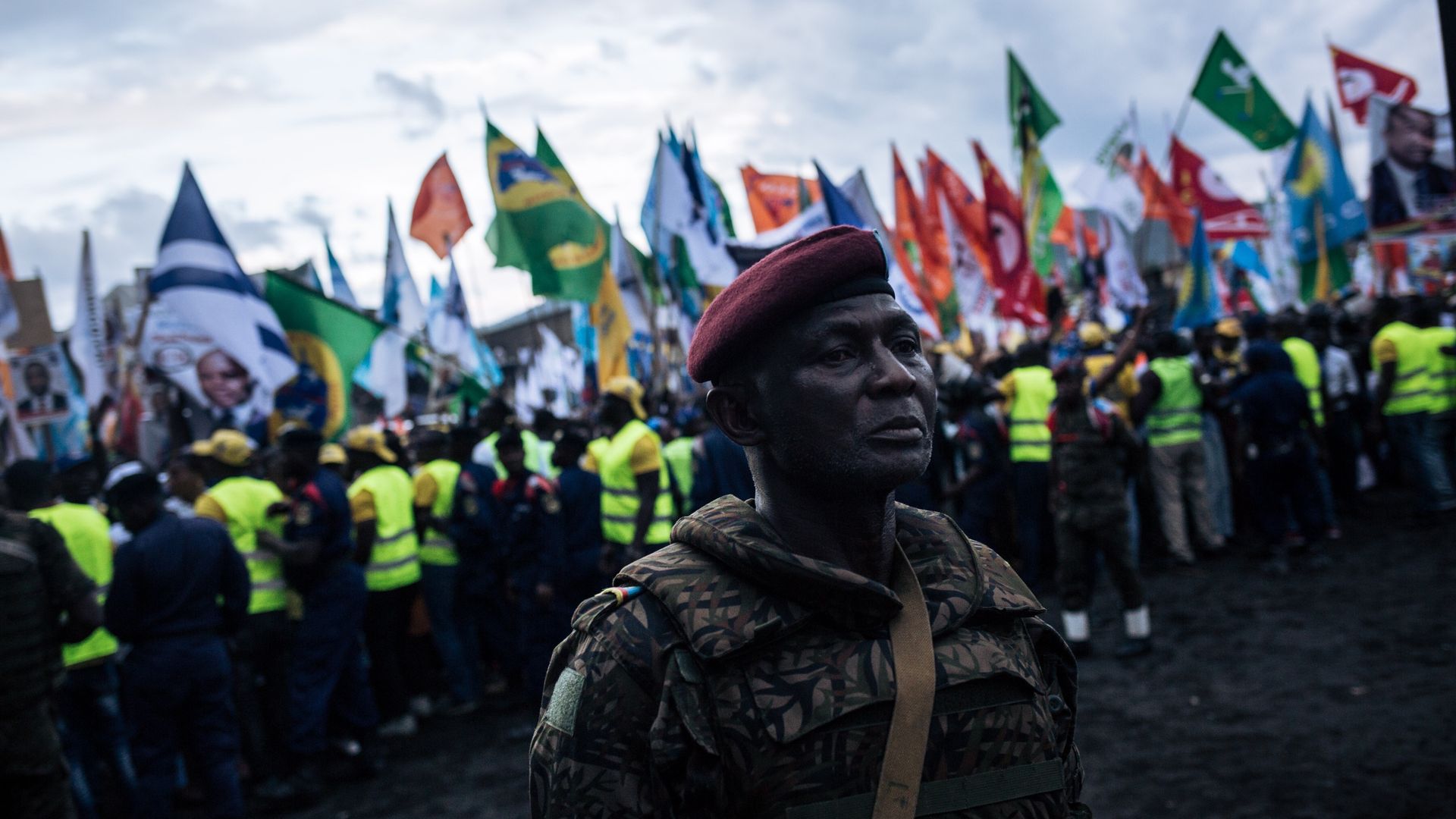 The Democratic Republic of the Congo will go to the polls next Sunday in what should be the country's first ever peaceful transfer of power.
Why it matters: The DRC is a massive country at the heart of Africa. It's already facing an Ebola epidemic and dozens of armed rebel groups. And as Congolese officials have told me, every election carries the risk of war.
The latest: In recent days, an apparent arson attack destroyed 80% of the voting machines that were to be used in the capital, Kinshasa, and police reportedly killed two opposition supporters and injured 40 more. The electoral commission says elections will go ahead.
Catch up quick ...
Joseph Kabila took office 18 years ago following the assassination of his father during the Second Congo War, the deadliest since World War II. Kabila's latest term ended in 2016, but he didn't step aside. His henchmen brutally cracked down on the ensuing protests.
Emmanuel Ramazani Shadary, a former interior minister sanctioned by the EU for his role in suppressing those protests, is now Kabila's pick to succeed him after two years of electoral delays.
Kabila recently said he won't rule out another run in 2023, leading to speculation that he's attempting a Putinesque maneuver by using Shadary as a human seat warmer.
In an interview with Foreign Affairs, Kabila said his biggest success as president has been keeping the country from splitting apart. Asked about human rights abuses, Kabila was defiant: "I am not going to say that I regret any of that."
Kabila bemoaned the international criticism "with each and every step we take" toward election day, noting that critics first said elections wouldn't be held, then that he wouldn't step aside. "We intend to make these elections well organized," he said. "I use the word 'perfect.'"
The man tasked with overseeing the elections, Corneille Nangaa, is less confident.
"I'm a little bit afraid. Imagine if voters are on the line and terrorists go with a machine gun and shoot everybody," he told reporters on Saturday, per the Washington Post.
When I interviewed Nangaa last summer — and tried out one of the controversial voting machines — he noted that a lot can go wrong even without the threat of violence when holding an election across such an impoverished and geographically enormous country.
What to watch, per the Economist:
"If the election is too obviously flawed and enough people in and outside Congo complain, it could be invalidated and put off yet again — leaving Kabila in power."
"Could Shadary, once in office, bare his teeth at Kabila? If Shadary were to follow the example of Angola's president, João Lourenco, he could tell the taxman to take a hard look at his predecessor's family. However, lacking a base of his own, most notably in the army or security services, Shadary is unlikely to do so."
Go deeper