Trump administration pushes clean coal, but wavers on investment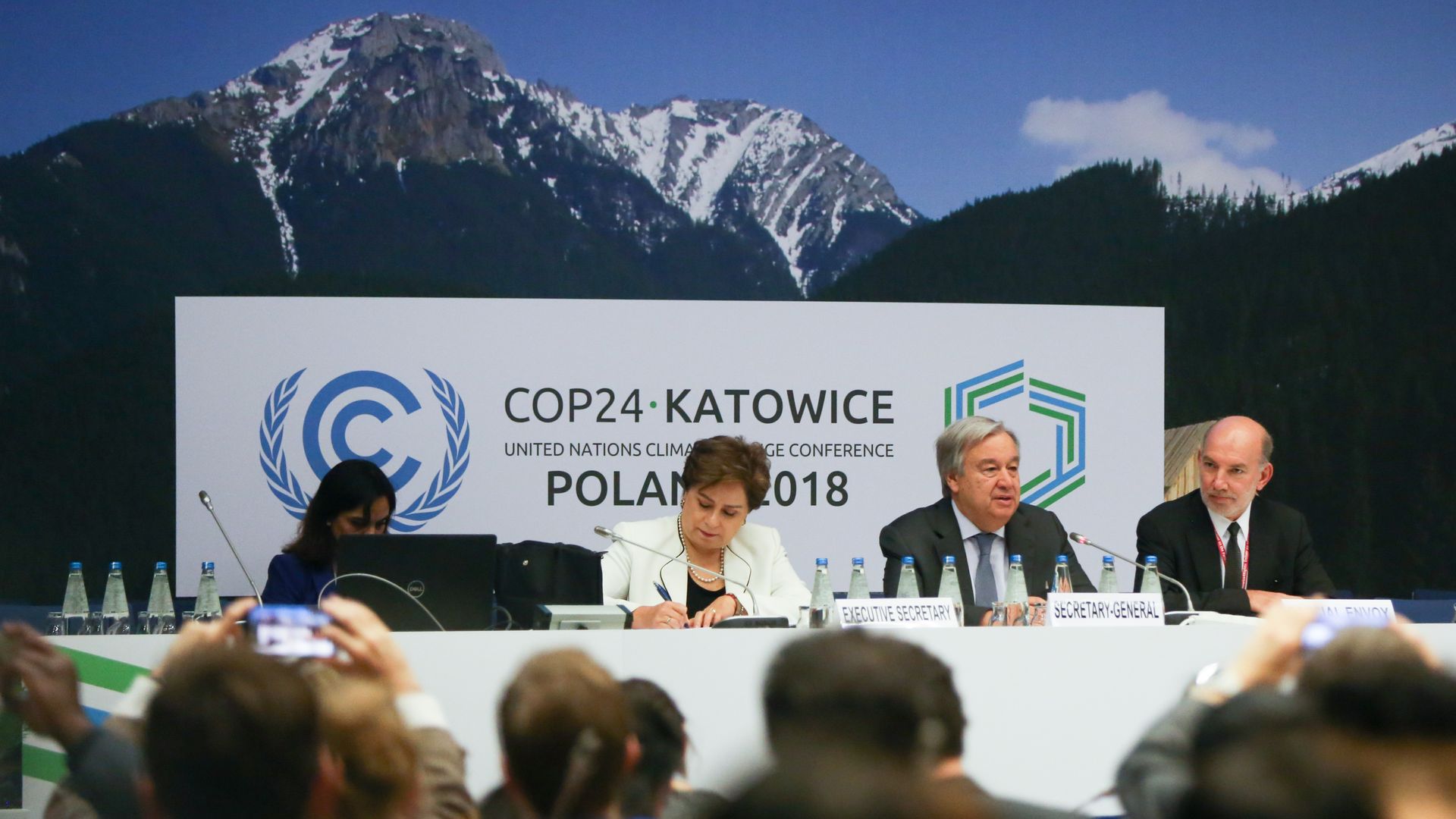 The Trump administration again used the UN's annual climate change conference as a platform for its controversial advocacy for clean fossil fuel and nuclear technology as climate change solutions. Speakers at the Trump administration's event in Katowice argued that future coal plants should be built with advanced clean coal technology from the U.S., which includes carbon capture and storage (CCS).
The big picture: The U.S. has spent $56 billion on fossil fuel research and development from 1948 to 2018, including early support for hydraulic fracturing. The development of affordable clean coal technology could theoretically become another fracking-style game-changer, growing economies while cutting greenhouse emissions and making the U.S. and its European allies less dependent on fossil fuel imports.
How it works: Power plants can use CCS technologies to selectively capture carbon dioxide before, during or after the combustion process. The captured carbon is then sold for commercial use or stored underground.
Why it matters: The latest IPCC report and U.S. National Climate Assessment both reveal a world struggling to reduce greenhouse gas emissions. Chinese emissions are rising, and China, India and African nations have hundreds of new coal-fired plants planned and under construction.
Fracked natural gas and nuclear power are helping the U.S. reduce its own greenhouse gas emissions. Affordable, scalable clean coal technology could have similar benefits at home and abroad. If CCS can be made cost-effective, it would allow the U.S. to reduce greenhouse gas emissions while accessing vast domestic coal reserves that could power the country for another 325 years at current demand, as well as to export the technology to nations planning to build new coal plants.
Yes, but: The Trump administration's commitment to energy R&D has been shaky — Trump's last budget proposed deep cuts to the Department of Energy and scrapped a key advanced energy incubator, ARPA-E. Increased U.S. energy independence could also afford more latitude in foreign policy, but the administration nonetheless publicly aligned in Katowice with Saudi Arabia and Russia — both fossil fuel exporters on which the U.S. does not want itself or its European allies to be dependent — by blocking discussion of the IPCC report.
The bottom line: Advanced nuclear and clean coal technologies have the potential to reduce global greenhouse gas emissions, but they are unlikely to deploy at a global scale without additional public and private research investment.
Sarah E. Hunt is the co-founder and CEO of Joseph Rainey Center for Public Policy.
Go deeper