Exclusive: Oil giant ConocoPhillips backs carbon tax push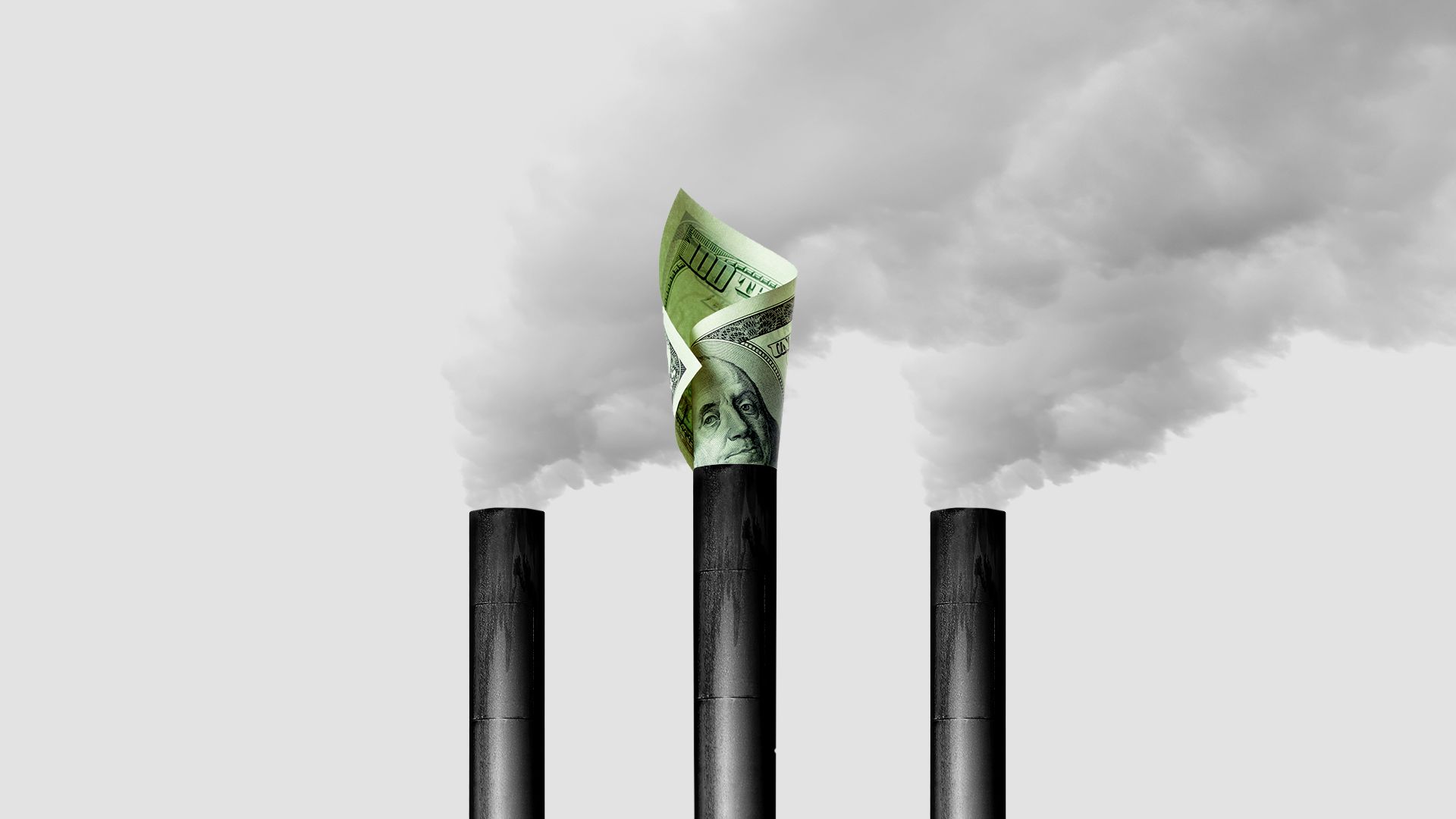 In the latest sign of a global oil industry shifting on climate change, ConocoPhillips is now helping fund a multi-million dollar political advocacy campaign that's lobbying Congress for a tax on carbon emissions.
Why it matters: The move aligns the world's largest independent oil and gas producer with ExxonMobil, the world's biggest publicly traded oil company, which recently contributed $1 million. Given the industry's deep-pocketed influence with Republicans, this backing increases the odds Congress could eventually back the controversial policy.
Driving the news: Houston-based ConocoPhillips has committed $2 million over two years to a political advocacy group called Americans for Carbon Dividends. At $1 million per year, that represents almost half of Conoco's annual lobbying budget in recent years, according to the Center for Responsive Politics.
ConocoPhillips CEO Ryan Lance said in a statement to Axios that his company has been involved in climate discussions for more than a decade. The company is happy to join these efforts and "continue the dialogue around carbon price policy development in the United States," Lance said.
Conoco was the only U.S.-based oil company to take part in a coalition a decade ago that supported the last big climate policy Congress considered.
In March 2017, Lance was one of the first oil CEOs to urge President Trump to stay in the 2015 Paris Climate Agreement. Trump announced his intent to withdraw a few months later.
The big picture: This industry backing for a carbon tax comes at a politically tumultuous time. I spent the past week in the coal-mining city of Katowice, Poland, where world leaders gathered to negotiate details of the 2015 deal.
Ahead of that annual United Nations conference, a U.N. science panel released a report saying pricing carbon dioxide emissions is essential to reducing emissions to levels that avoid the worst impacts of a warming world.
Yet the topic on many people's minds at the conference was the violent protests in France over, among other things, rising fuel taxes, which are part of that nation's climate agenda.
"We don't have to look that far to see countries that are experiencing challenges," Catherine McKenna, Canada's environment minister, said at the conference. Canada, which is rolling out a federal carbon tax next month, will be the latest test case and could affect Prime Minister Justin Trudeau's reelection next year.
Some provinces already have carbon-pricing systems, but for those that don't, the federal government will impose a tax and rebate the proceeds back to citizens.
"That's going to ensure that households are protected from the impact of energy price increases," Patricia Fuller, Canada's climate-change ambassador, told me in Katowice.
The U.S. policy that Conoco, Exxon and several other energy companies back also sends money back to consumers. Supporters say that's an important distinction. In a Washington state carbon pricing initiative that voters just rejected, the money would have been mostly used to fund clean energy.
To be sure, the oil industry's shift on climate policy is uneven.
Companies with big natural gas reserves stand to benefit financially, at least in the short term. A carbon tax would boost demand for gas, which burns more cleanly than coal.
Most big oil companies now publicly support pricing carbon, but BP and Chevron were among those spending $30 million to oppose the Washington state initiative.
Most producers are members of trade groups whose positions have long resisted climate policies.
"Some of the oil companies have certainly begun to change their posture," Al Gore told me at the conference. The former vice president and long-time climate activist added: "One of the new fronts in this battle is going to be truth in lobbying."
With its funding of the tax push, Conoco is also joining a connected initiative, called the Climate Leadership Council, whose corporate members include Exxon, BP, Royal Dutch Shell and Total.
That group, whose founders are leaders from previous Republican administrations, doesn't lobby or receive corporate contributions. It's a forum to craft policy details. Another new member: The World Wildlife Fund, which organized events at the climate conference.
"It's about opening up spaces where we can actually have conversations with all the players that are going to be part of the decision to get us on a different trajectory," Lou Leonard, a senior vice president at WWF, told me in Katowice.
What's next: Climate change is sure to be a bigger focus for Congress next year with Democrats controlling the House. Whether the issue emerges with bipartisanship or more polarization is uncertain.
Support among progressives on Capitol Hill for another kind of plan, called the Green New Deal, is gaining steam. It lacks details, but is geared more toward a mandate than a tax.
Meanwhile, a bipartisan group of House members recently introduced a carbon tax bill that's broadly similar to the plan Conoco just endorsed. They plan to re-introduce it next year.
Go deeper