Smoother, but same track expected at Interior following Zinke's departure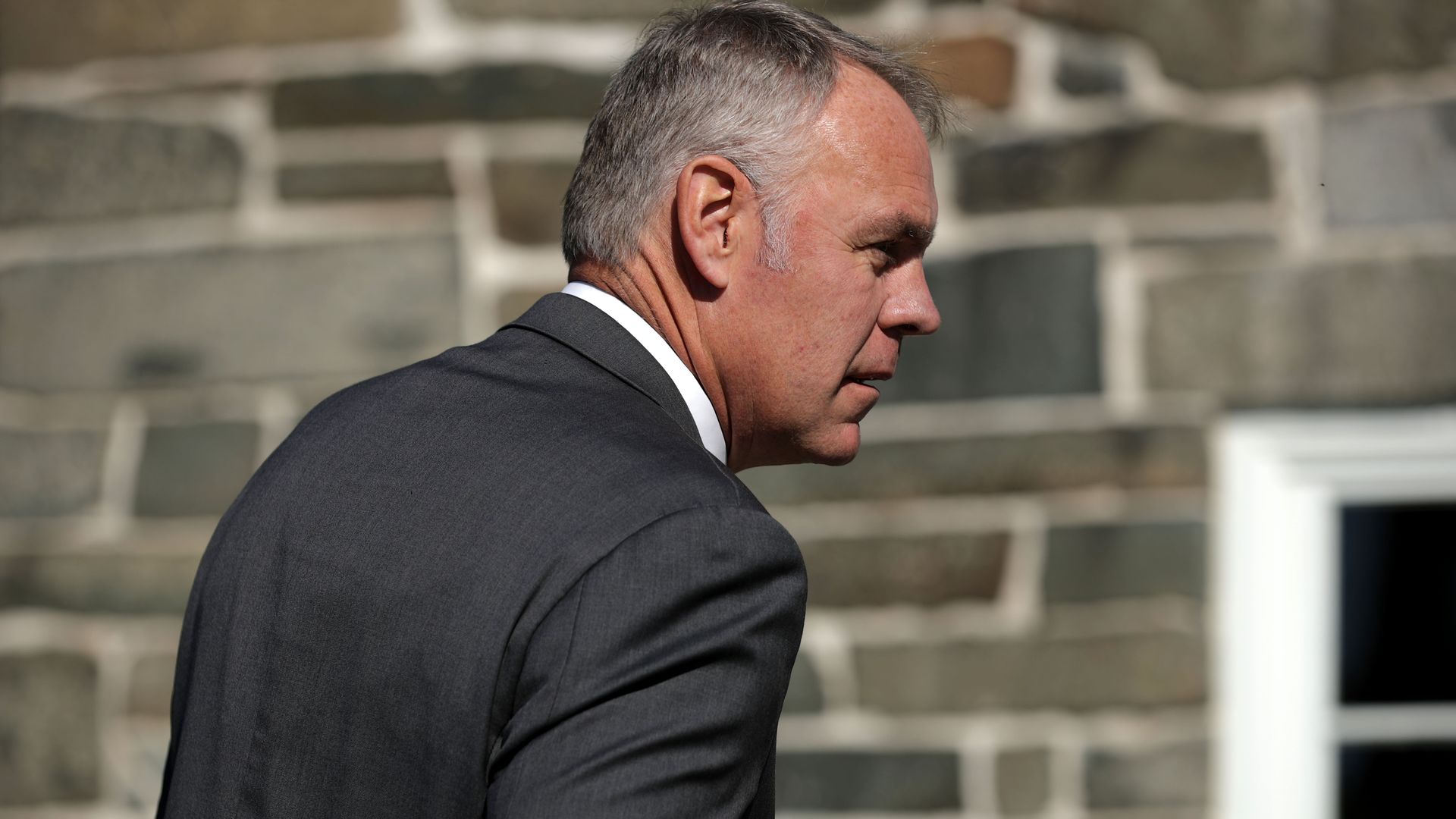 The Interior Department is likely to see less ethical controversy and smoother processes but little, if any, substantive policy shifts after Secretary Ryan Zinke steps down from his role.
Why it matters: Zinke's various scandals, including one reportedly referred to the Justice Department, have begun to dominate headlines akin to what occurred with Scott Pruitt, the scandal-ridden former Environmental Protection Agency administrator. Upon Zinke's departure — just like when Pruitt left — you will have an agency scarred by a tumultuous run but nonetheless on the same policy track.
What's next: Trump said he would announce a new interior secretary next week. In the meantime and until any nominee can get confirmed by the Senate, David Bernhardt, deputy secretary at the department since summer 2017, will likely be the acting secretary. Bernhardt is a long-time Washington lobbyist and government official. He worked in the Interior Department under President George W. Bush and has since lobbied on behalf of several companies and organizations with business at Interior now.
"Zinke is far less experienced in terms of how Washington works, how Interior works," said Whit Fosburgh, president and CEO of the Theodore Roosevelt Conservation Partnership. "David takes Zinke's impulses and then figures out to make policy out of them."
Between the lines: Axios' Ben Geman explains that Zinke is an enthusiastic point person for White House efforts to open more areas to energy development, and slash environmental rules and restrictions, notably shrinking two national monument areas in Utah.
However, some of the efforts, including the monument revisions, remain the subject of court battles, while other remains incomplete. For instance, Interior is only part way through the years-long process of opening Atlantic Coast and Alaskan offshore areas to oil-and-gas leasing.
And while regulators can expand access and ease rules, it's ultimately market-driven forces that will guide industry decisions, and the level of interest in exploring for oil in frontier areas is unclear amid ample opportunities elsewhere.
Be smart: Zinke is to Bernhardt what Scott Pruitt was to Andrew Wheeler, current EPA Acting Administrator. The ousted politicians were flashier but ultimately less effective than their predecessors experienced and familiar with the Washington swamp.
"As acting Secretary of the Interior, I would look for Bernhardt to further dismantle restrictions around water and ease regulations involving drilling on federal lands," said Dan Eberhart, CEO of oil services company Canary LLC. "I would also expect Bernhardt to value media coverage less. He's more of a workhorse and less of a show horse."
The other side: Environmentalists far less pleased with Interior's direction nonetheless echoed the sentiment that things are unlikely to change. "The deputy secretary has been very involved in setting direction all along," said Sarah Greenberger, a senior vice president at the Audubon Society and former Interior official under Obama.
The big picture: The Republican Party is publicly divided on a lot of issues, ranging from trade to immigration, but on energy and environmental policies, it's largely in lockstep. That's why, despite scandal-driven turnover in Trump's top officials in these areas, actual policy hasn't changed much. Expect the same at the Interior Department.
Go deeper