Offshore wind companies bid record amounts to develop U.S. waters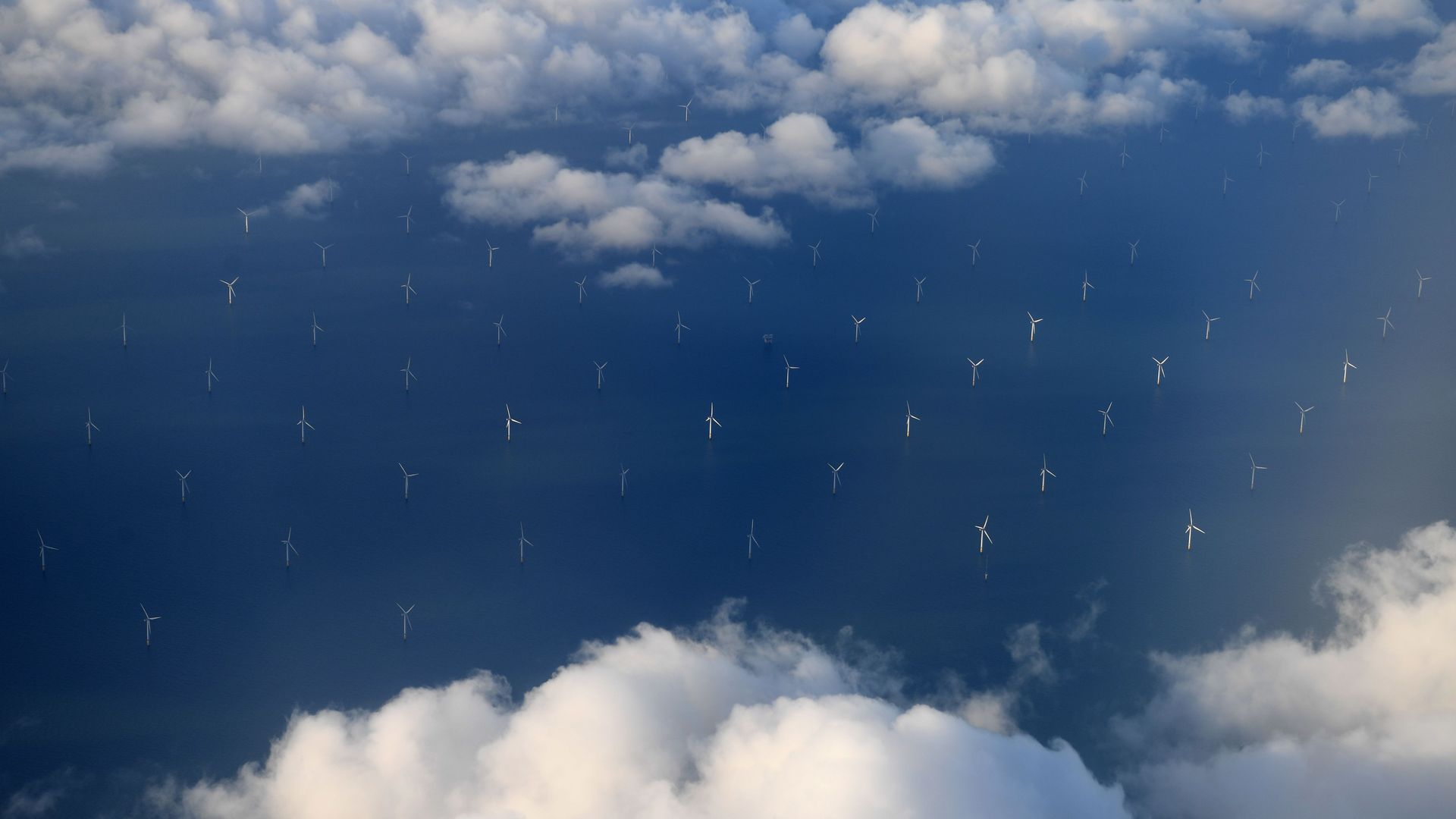 Wind energy companies bid record-shattering amounts Thursday for the rights to develop federal waters off the Massachusetts coast, offering the Interior Department a combined $285 million thus far for three tracts. And the auction isn't even over yet! It resumes today.
Why it matters: The robust bidding signals that offshore wind in the U.S., which has been way slower to develop than in the big European market, is poised for significant expansion.
What they're saying: Liz Burdock, executive director of the Business Network for Offshore Wind, tells me it's a clear sign of plans to move forward with major projects.
"These developers are obviously not going to put this amount of money into lease areas that they are just going to sit on."
— Liz Burdock
By the numbers: The totals obliterate the previous high from last year.
Last December a single area offered off New York's coast drew a $42 million winning bid from Norwegian oil-and-gas giant Equinor, which is increasingly moving into renewables.
Now, the high bids thus far for the 3 areas off Massachusetts are $93 million, $91 million and $101 million.
The current amount of U.S. power from offshore wind is close to zero — there's only a single small project operating off Rhode Island.
But a number of projects are in the development pipeline off Atlantic states like New York, New Jersey, and Massachusetts, where Vineyard Wind is planning a major project 14 miles off the coast.
Several forces are driving the trend, including falling tech costs, state-based renewables policies (including a procurement mandate in Massachusetts), Interior Department backing, and interest from European energy giants with experience.
Several key bidders authorized to participate in the Massachusetts auction are the American arms of huge European players, such as Equinor and EDF.
Vineyard Wind is co-owned by Copenhagen Infrastructure Partners and Avangrid Renewables, part of the Spain-based energy giant Iberdrola Group.
The big picture: Burdock notes that the U.S. industry has evolved from the early days when small developers were trying to get projects going. She adds ...
"Now the developers are well-capitalized utilities and-or oil and gas companies that have the balance sheets and the expertise with which to deliver these projects."
What's next: The International Energy Agency sees the U.S. adding 1.3–2.1 gigawatts of capacity by 2023 (and the agency is often knocked for being too conservative).
The consultancy Bloomberg New Energy Finance sees U.S. offshore wind growing to 10 GW by 2030, according to this Bloomberg news piece on the Massachusetts auction.
Go deeper