Tom Steyer and Carlos Curbelo tussle over climate change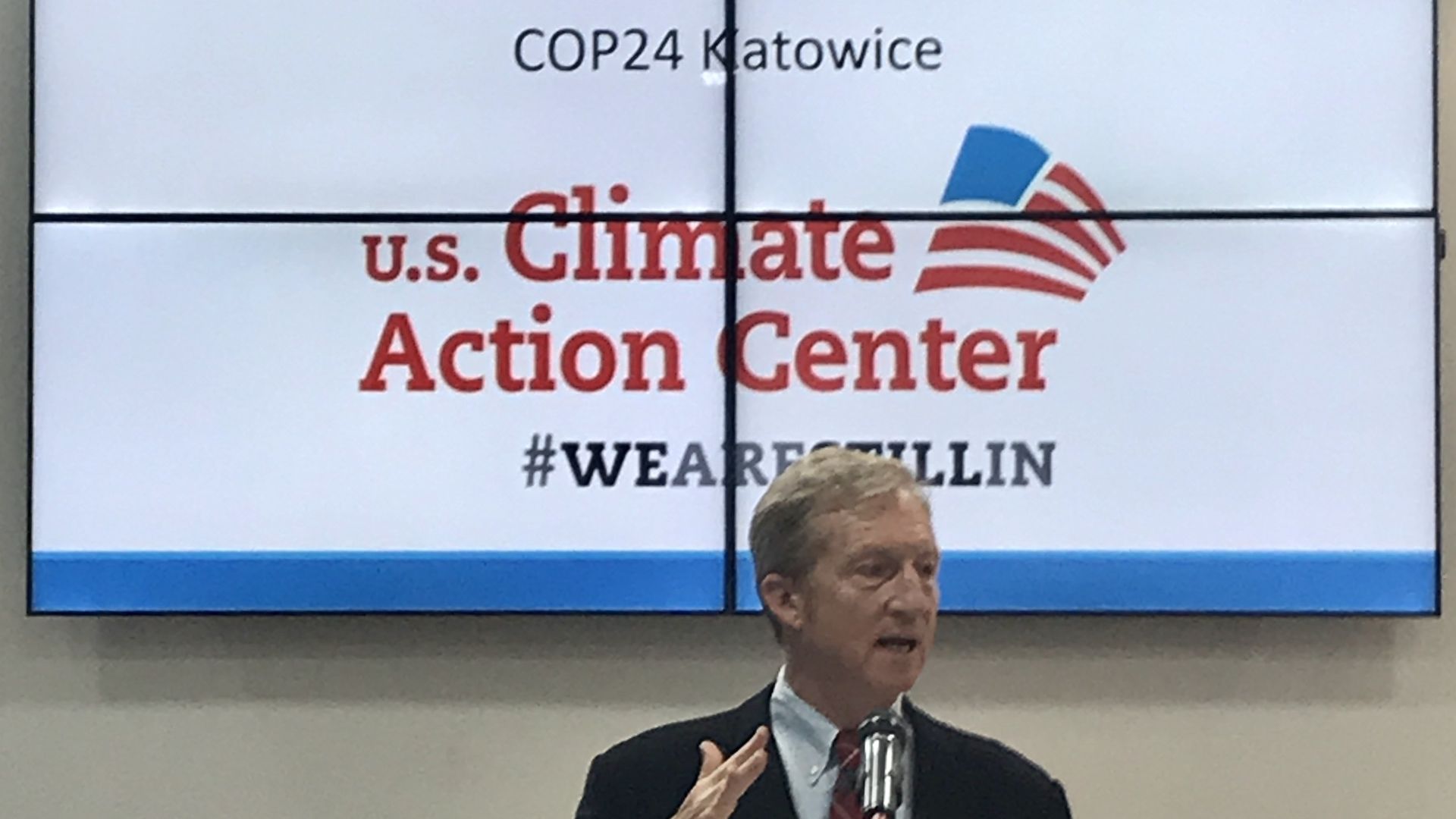 KATOWICE, Poland — Republican Rep. Carlos Curbelo, who lost his southern Florida congressional seat in the midterm elections, was a "pretend environmentalist" despite introducing legislation taxing carbon emissions, liberal activist Tom Steyer said on the sidelines of a major climate conference here.
Why it matters: Curbelo's leadership on climate change within a party that mostly ignores the issue is notable and considered a cautiously positive sign for otherwise long-shot prospects for bipartisan policy. Curbelo's loss and Steyer's rise — he's laying the groundwork for a potential 2020 run — shows just much bipartisanship is still out of favor.
"I thought that guy was ridiculous. That guy is a pretend environmentalist."
— Tom Steyer
Curbelo told me earlier this year he was focusing on climate change because his district, which includes Miami, experiences regular flooding caused by sea level rise, which itself is caused by Earth's rising temperatures.
Presented with Steyer's comments, Curbelo said: "The cause of a healthy planet needs thoughtful, sober leaders who are willing to build consensus around good, viable ideas. Power hungry, attention-seeking demagogues like Mr. Steyer serve their overheated egos while making solutions less likely."
In July, Curbelo introduced a bill taxing carbon emissions, even realizing it was unlikely to gain much support from his own party. Since the election, two of his GOP colleagues — along with Democrats — have introduced a bipartisan version of a carbon tax bill, which is also unlikely to gain broad support any time soon.
One level deeper: Steyer became a billionaire managing a hedge fund and is now one of America's top Democratic political donors, pouring more than $50 million into this cycle. He said attempting bipartisan negotiations with Republicans on climate change won't work.
Instead, he says Democrats should beat them at the ballot box, much like what ended up happening with Curbelo, who lost to Democratic challenger Debbie Mucarsel-Powell.
Steyer's political operation supported Mucarsel-Powell.
"I think we need to kick their ass," Steyer said at the conference, hosted annually by the United Nations. "I think when they realize they're going away, they'll change their tune. And Carlos Curbelo is a perfect example. He pretended to care about climate change because of Miami."
Go deeper:
Go deeper