Report: Johnson & Johnson knew for decades about tainted baby powder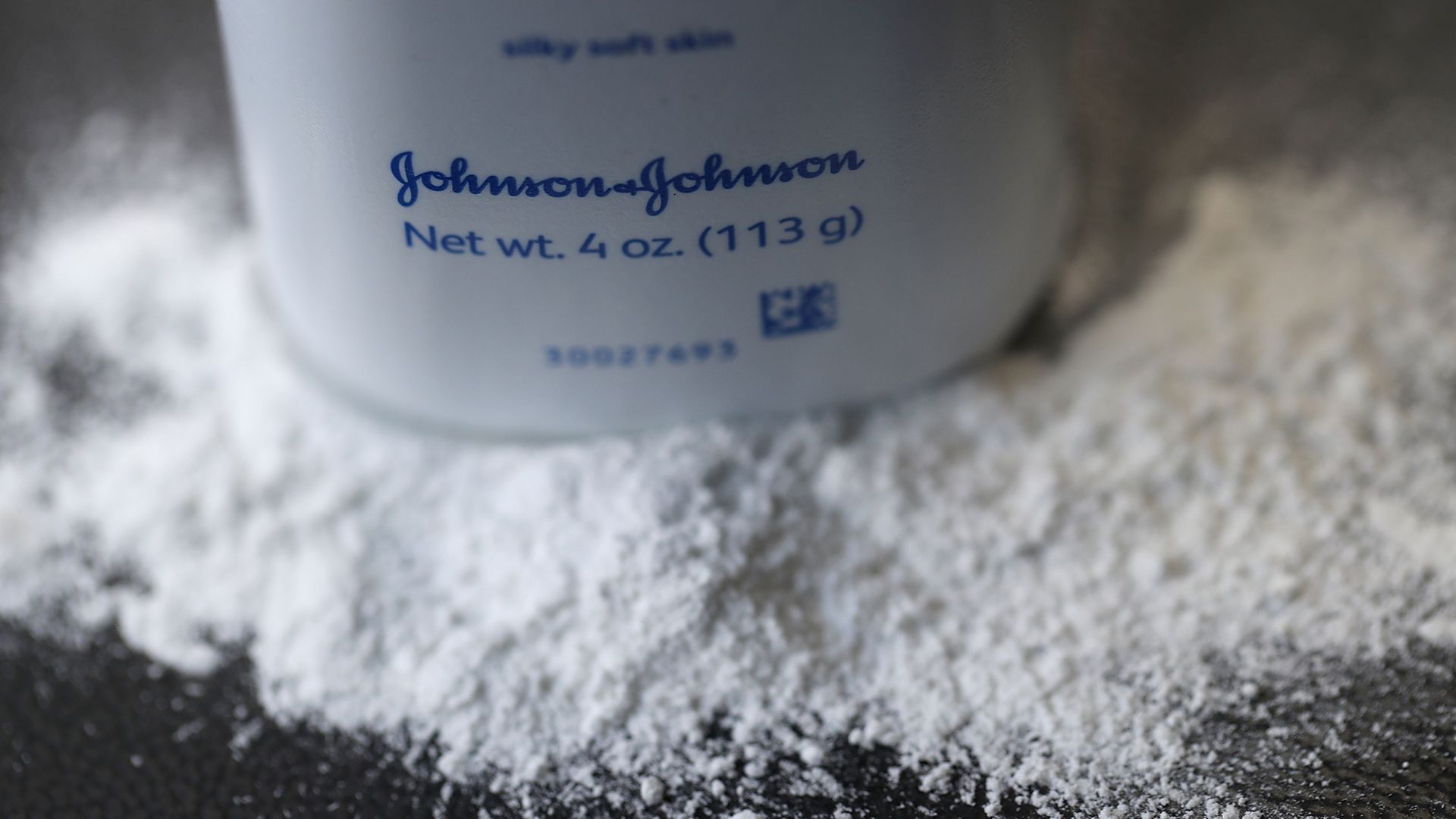 Dating back to at least 1971, Johnson & Johnson company executives, scientists, and lawyers knew its baby powder was tainted with cancer-causing asbestos — but J&J failed to disclose it publicly, misled regulators, and continues to deny it today, a Reuters investigative report reveals.
Driving the news: When a woman with cancer sued the company over poisonous talc in 1999, she had to back down because the company refused to turn over test results of its talc. But now there are 11,700 plaintiffs suing J&J in suits that have forced the company to hand over the damning evidence revealing its alleged wrongdoing.
J&J baby powder products raked in $420 million to J&J's $76.5 billion total revenue last year.
Why it matters: Even small amounts of exposure to asbestos can lead to cancer. The World Health Organization does not report that any level of exposure to asbestos is safe.
What happened:
The earliest mention Reuters found of tainted J&J talc appeared in consulting reports from a lab in 1957 and 1958.
In 1969 a J&J doctor advised the J&J executive in charge of its talc supply for decades, that J&J could become involved in litigation over asbestos in its talc.
The FDA opened an inquiry into J&J in 1971 and one other company over allegations from NYC's environmental protection chief that asbestos was in their products. J&J's statement at the time: "Our fifty years of research knowledge in this area indicates that there is no asbestos contained in the powder manufactured by Johnson & Johnson."
An FDA official wrote of J&J in 1972: "I understand that some samples will be passed even though they contain such [chrysotile asbestos] fibers, but we are willing to live with it."
"It's quite possible that we may wish to keep the whole thing confidential," J&J's Director of its Central Research Laboratories, Tom Shelley wrote after J&J began looking into ways to patent a process to separate asbestos from talc.
J&J recommended the FDA use a method that scanned for a "1% tolerance for asbestos" in talcum powders, which would approve talc with 10 times the FDA's proposed asbestos limit for drugs. FDA officials rejected the proposal and J&J began promoting self-policing instead. The FDA never set limits on asbestos in cosmetic talc.
J&J uses a method to test for asbestos that detects as little as 0.5%, but it does not detect the most commonly used form of asbestos, chrysotile, which is one kind of asbestos that has allegedly appeared J&J Baby Powder.
What they're saying:
A geologist, Matthew Sanchez, told a St. Louis jury that awarded $4.69 billion in damages to 22 plaintiffs: "I have not found asbestos in any of the current or modern, what I consider modern, Johnson & Johnson talc products."
J&J has said it will appeal the cases that defendants have won against it regarding asbestos in their products this year. It has said publicly talc is safe and that verdicts against the company are based on "junk" science.
J&J's vice president of global media relations, Ernie Knewitz, told Reuters: "This is all a calculated attempt to distract from the fact that thousands of independent tests prove our talc does not contain asbestos or cause cancer. Any suggestion that Johnson & Johnson knew or hid information about the safety of talc is false."
Note: Most of the J&J test reports that Reuters reviewed did not find asbestos.
Go deeper