The climate battle: Fuels vs emissions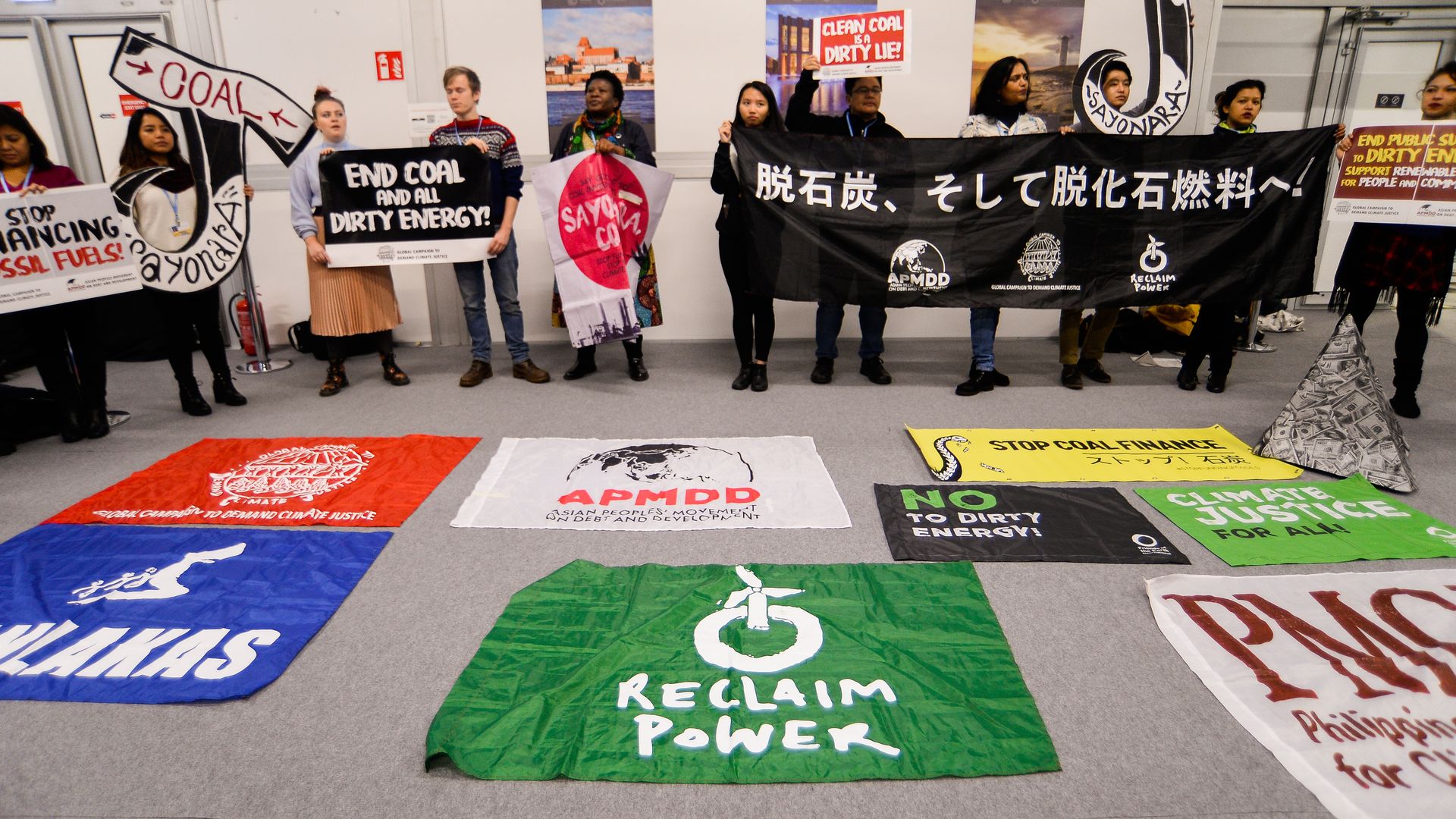 KATOWICE, Poland— Getting off fossil fuels or reducing greenhouse gas emissions is a central sticking point emerging here at a conference to hash out details of the 2015 Paris Agreement to combat climate change.
Why it matters: Nations rich with fossil-fuel resources say the focus should be on reducing emissions whatever way possible, including feasible but expensive technology enabling those fuels to burn without emissions.
Driving the news: Khalid Al-Falih, Saudi Arabia's minister of energy, industry and mineral resources, issued a defiant statement Thursday saying the Paris deal focused on "reducing emissions rather than banning or restricting energy sources, such as fossil fuels" but then changed.
"What we have witnessed since then is, unfortunately, a sharp deviation from the provisions agreed in Paris. Indeed, we are seeing an undue emphasis on energy and particularly oil, with efforts to impose excessive and unrealistic taxes on hydrocarbon fuels."
— Khalid Al-Falih, Saudi Arabia Minister of Energy, Industry and Mineral Resources
Saudi Arabia's sentiment is joined by other fossil-fuel producing nations, including Australia, who participated in a controversial event the Trump administration hosted here earlier this week touting, in part, fossil fuels burned with technology that can capture their carbon dioxide emissions.
These countries have a clear self-interest in preserving fossil fuels. But they're not alone in this position that in order to maximize the chances of significantly reducing global emissions as scientists have said is necessary to limit the most severe impacts of a warmer world, all technologies should be commercialized. That includes the kind that can capture CO2.
Fossil fuels provide 81% of the energy consumed in the world. That figure that has not changed in 30 years.
"Everybody has his or her own favorite technology," Fatih Birol, executive director of the International Energy Agency, an intergovernmental research group, told me ahead of the conference. "We have to make a decision whether or not our aim is to increase our own ego or to decrease the CO2 emissions. If it is the second, then we need all the key technologies."
The other side: The overwhelming sentiment at this annual United Nations conference, which draws more than 20,000 attendees, is hostile toward fossil fuels. As one illustration: Environmentalists honor "Fossil of the Day" awards to countries deemed to be supporting fossil fuels.
Al Gore, the former vice president and long-time climate activist, didn't mince his words when he told me here Wednesday that it wasn't possible to reduce greenhouse gas emissions without reducing the use of fossil fuels. To try to separate those goals is "to believe in the tooth fairy," Gore said.
Lou Leonard, World Wildlife Fund's senior vice president for climate change and energy, said environmental groups like his wanted the Paris deal to call for getting off fossil fuels, but instead it focused just on emissions. "A lot of us thought that was the wrong thing to do," Leonard told me Thursday.
Go deeper: Trump's missed opportunity on coal and climate change
Go deeper