"Dearth of American leadership" at global climate conference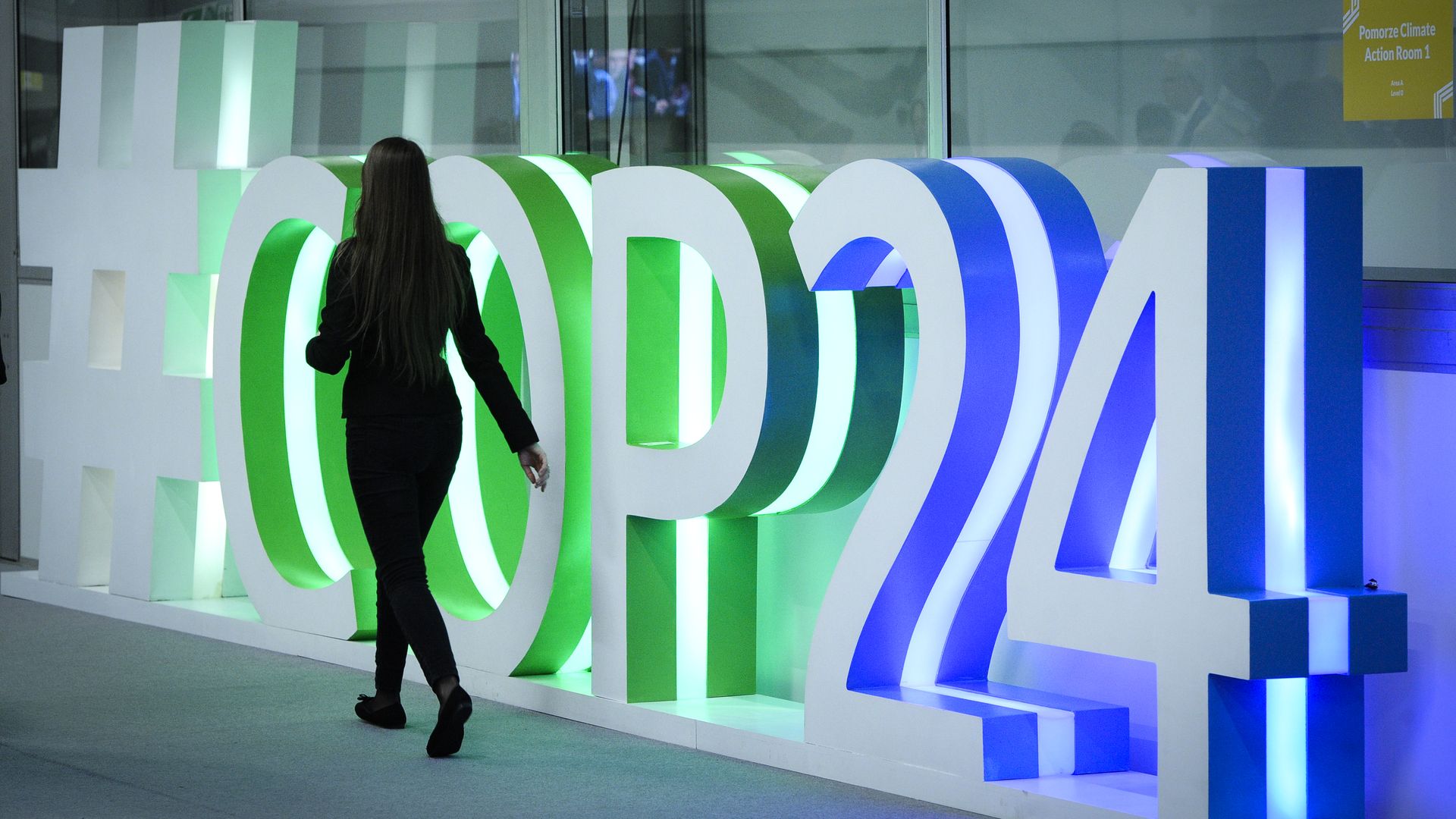 KATOWICE, Poland — Depending on who you ask, the lack of presence of Democratic politicians and leaders at a major climate-change conference here is either expected or ridiculous.
Driving the news: This year's U.S. event space, which wrapped up operations Tuesday, is a fraction of the size and scope compared to last year's at the same United Nations conference in Bonn, Germany.
"There is a dearth of American leadership here," said Tom Steyer, a billionaire turned liberal activist, in one of the only small conference rooms available in the space.
Details: Steyer, who spent more than $120 million supporting Democratic issues and candidates in the midterm elections, said this conference is essential to ensure countries keep on track with the 2015 Paris climate deal, which President Trump vowed to withdraw from last year.
Instead, the top headline coming out of the conference so far, Steyer said, is how the Trump administration joined with Russia and Saudi Arabia to resist stronger wording on a climate science report.
"I don't think any of those things is going to happen without American leadership," Steyer said.
He went so far to criticize two of his progressive colleagues, California Gov. Jerry Brown and Washington Gov. Jay Inslee, for not attending. They both came last year. Steyer speculated that for them, "it just wasn't a high enough priority."
Steyer and Inslee have indicated they're considering presidential runs in 2020.
The other side: Both Inslee and Brown sent senior officials working for them, including Mary Nichols, chair of the California Air Resources Board; Ken Alex, senior adviser for Brown; and Reed Schuler, senior adviser to Inslee. Staffers for several Democratic senators are also attending.
Nichols said last year's conference, which was housed inside a huge igloo and offered free food, drew a much bigger crowd because it was the first conference since Trump announced he was withdrawing from the Paris deal. "Now the difference is we don't have to argue the point anymore. I would say this work is now embedded in our whole way of doing business."
As for Steyer's swipe at Brown, Nichols said she spoke at three events over the past few days with Steyer and doesn't "choose to take that comment as indicative about what he really thinks."
Alex, sitting next to her, chimed in that with Brown, who is finishing his final term as governor, "feels he can be most effective in California."
Schuler, asked Monday about Inslee's absence, echoed Nichols' sentiment and said Inslee is showing his leadership on the issue differently. That includes a decision to unveil his climate policies this week after an initiative pricing carbon emissions failed in November's ballot box.
Another official involved in promoting nongovernment U.S. interests said the Polish government made the process of creating the center more difficult than last year.
What's next: The official U.S. delegation, which includes the Trump White House, State Department and Environmental Protection Agency officials, will continue negotiations on the details of the Paris deal, with the conference officially wrapping up later this week.
Go deeper