Al Gore: Technology capturing CO2 emissions is "nonsense"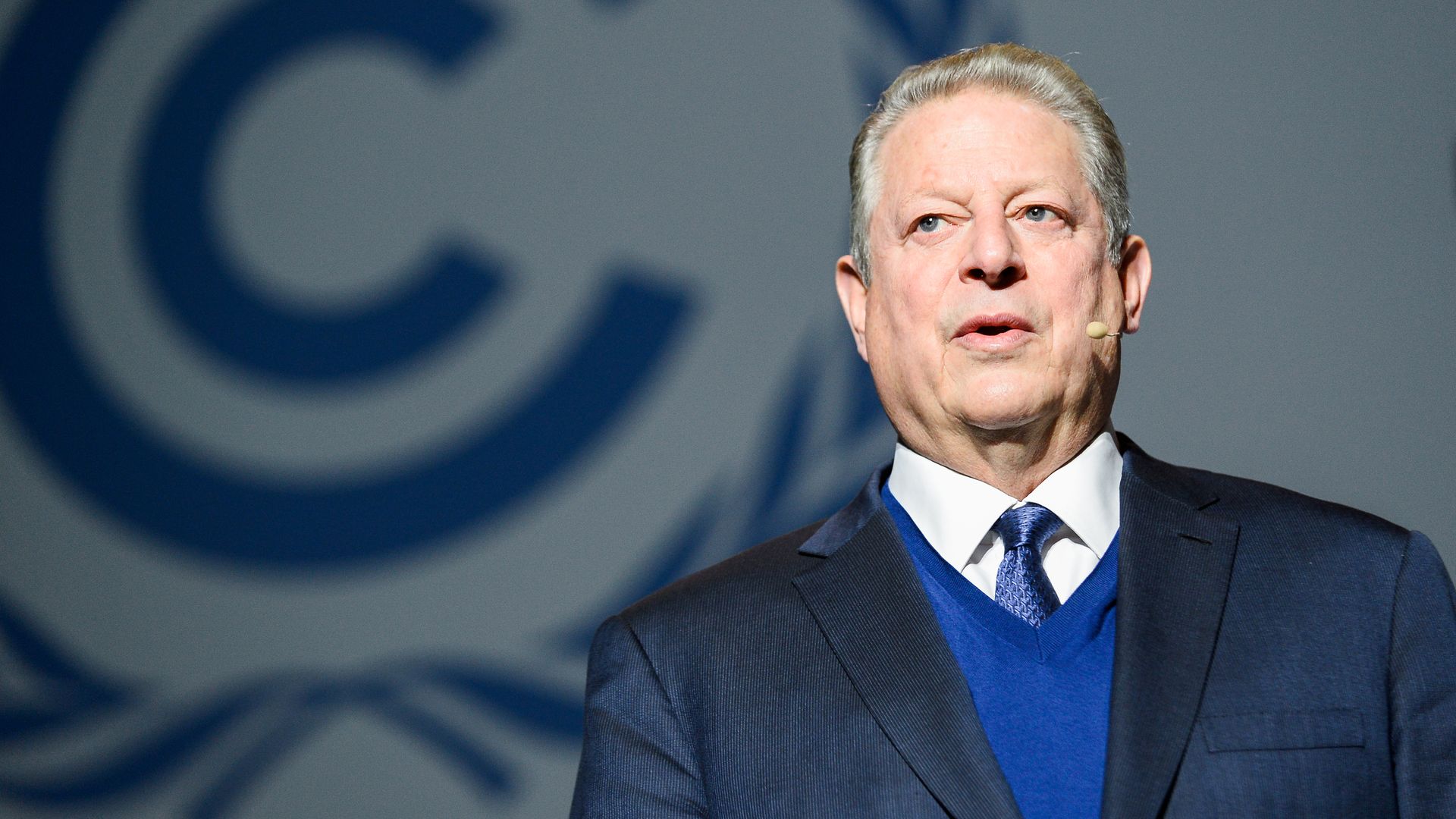 KATOWICE, Poland — Al Gore is optimistic the world will effectively address climate change despite being pessimistic on technology many scientists say is critical to that end.
Why it matters: Gore's remarks, made during an interview with Axios on Wednesday, put him at odds with a number of experts and scientists. A seminal report issued in October by a United Nations scientific panel found the technology, which captures carbon dioxide emissions from fossil fuels, to be critical to keeping global temperatures below a level that would avoid the worst impacts of a warmer world.
It's not possible to reduce greenhouse gas emissions without reducing the use of fossil fuels, Gore said, and to try to separate those goals is "to believe in the tooth fairy."
The big picture: The technology, which captures CO2 emissions from power plants and industrial facilities, works but has been prohibitively expensive for decades, which Gore rightly points out. That's starting to change, albeit slowly.
Driving the news: The former vice president and longtime climate activist spoke to a packed crowd this morning at an annual United Nations conference that drew tens of thousands of attendees. We sat down in a nearby room shortly afterward to discuss a range of issues (more on others later).
I asked him whether the focus of addressing climate change should be on getting off fossil fuels or reducing greenhouse gas emissions. It's a subtle but important distinction gaining attention here, particularly from fossil fuel-dependent nations.
Gore responded by asking: "What does that mean? Not getting off fossil fuels but reducing emissions? You're not buying the CCS nonsense are you? ... Are you?" (CCS is the technology's acronym: carbon, capture and storage.)
I replied after another pause: "Well, I don't buy anything, as an unbiased reporter."
Details: Gore acknowledged that the recent UN science panel report found the technology essential. He also said it technically works. One of its biggest hangups, he said, is that it costs a lot of money to execute the technology on facilities, which would divert money from a revenue stream.
"The fact none of the existing technologies are considered ready for primetime, in the sense that nobody knows how to execute at scale, makes it a daunting challenge for sure. I'm mindful of that," Gore said.
He concluded: "I just think it's an extremely improbable solution right now, but maybe they will come up with some breakthrough. There are so many fossil-fuel burning installations now that they are just shutting down well before their useful lifetime because it's just simply cheaper to move to" renewable energy.
By the numbers: Per a new report the nonprofit Global CCS Institute released at the conference Tuesday:
18 large-scale co2-trapping facilities are currently operating in the world.
5 are under construction.
20 are in various stages of development.
One level deeper: Gore is right that making the financial numbers work on carbon capture technology is one of its biggest hurdles. More recent trends suggest changes are afoot.
The economic aspect is improving in some corners, fueled in part by a recently passed law in the U.S. that gives financial incentives to companies that capture CO2.
Since the 2015 Paris climate deal, the technology is also getting a lot more attention from different countries that are big fossil-fuel producers. This includes Australia and Middle Eastern nations as they attempt to reconcile their commitments to addressing climate change with their fossil-fuel based economies.
Industrial sectors, such as cement and steel manufacturers, are also looking at the technology more since making those products emit CO2 in the chemical processes themselves.
What's next: Stay tuned for more of our interview with Gore.
Editor's note: This story has been updated. A quote has been partially paraphrased to clarify Gore's position that fossil fuels must be cut back to reduce emissions.
Go deeper