E-scooter giants Bird and Lime have big decisions to make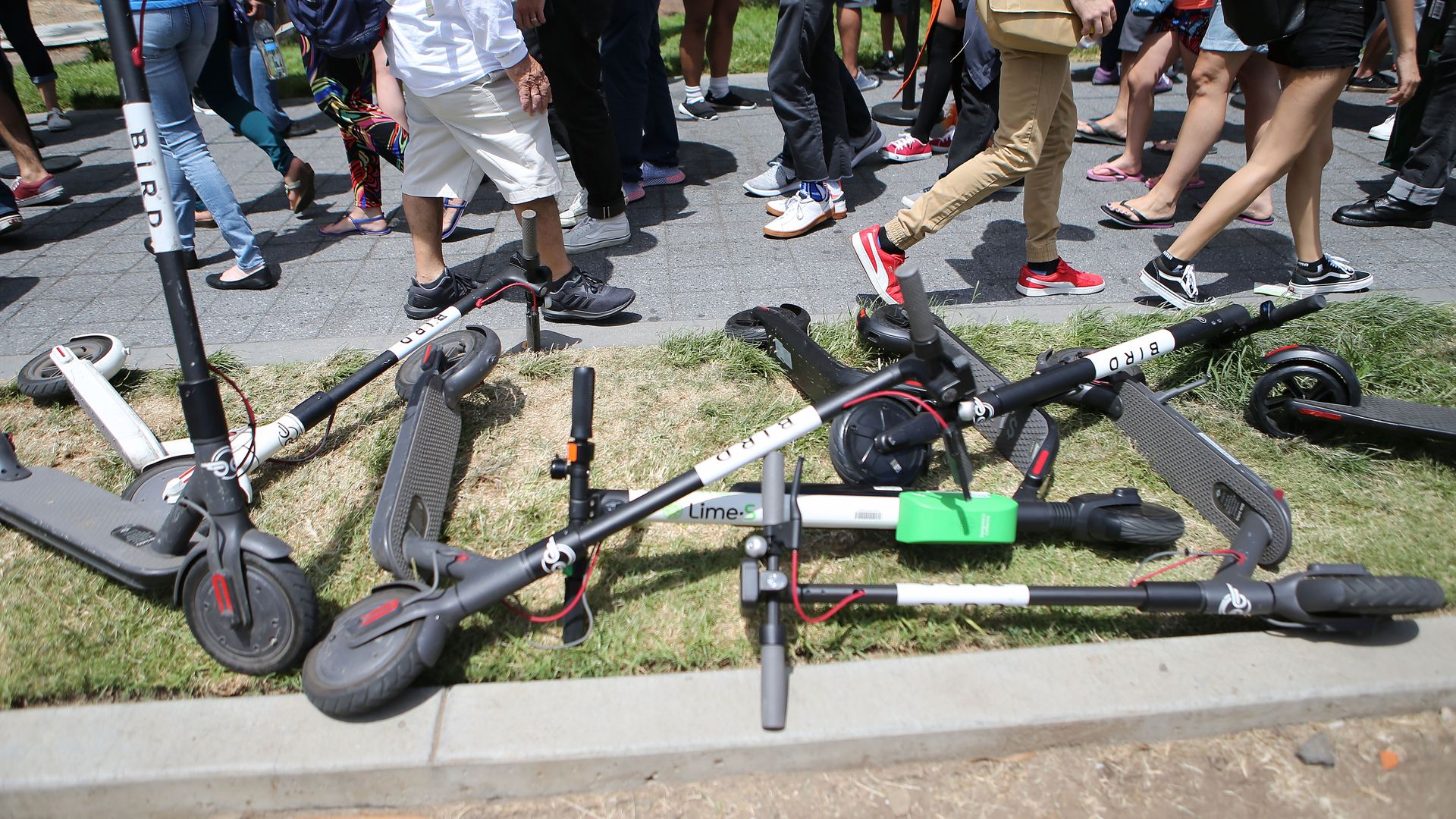 The Information recently reported that Uber was in acquisition talks with e-scooter companies Bird and Lime for "what could be a multibillion-dollar deal."
Big picture: The e-scooter companies are running low on cash, which means they either need to raise new money, get acquired or merge with one another. All options remain on the table, with the likely exception of Uber buying Bird, according to multiple sources.
Here's the rundown, in descending order of probability:
Uber buys Lime: This one has the most buzz, and also makes the most sense.
Uber already has a small equity stake in Lime and made its scooters available via its app in some cities. Kind of like what it did with Jump Bikes before buying it.
Lime employs some ex-Uber execs, including its former head of business and corporate development.
Lime would be cheaper than Bird, based on the latest VC valuations.
Uber still regrets not buying Lyft in the early days, and this would be a way to ensure history doesn't repeat itself.
Bird and Lime merge. Sources say such informal merger discussions have been off-and-on for quite some time, although they seem to be off at this exact moment (subject to change by lunchtime).
Consolidation came to ride hail and it also will come to scooter-share. A merger would let the two leading players avoid Uber or Lyft buying a smaller player and then making the duopoly into a competitive threesome.
Both companies desperately need to raise money, and this combo could elevate their fundraising firepower (albeit perhaps with some valuation pressures).
The big downside is that neither company really wants to give up pole position, and questions over which CEO would run the show.
Bird and Lime remain independent, after successfully raising new capital.
Bird has been meeting with prospective outside leads for a big new round, but many of its investors expect the ultimately round to be insider-led.
Lime is expected to have a bit of an easier time due to its lower valuation, but both seem to have already tapped a lot of the eager scooter money. This has always been a controversial business — particularly given its issues with weather, scooter theft/damage and regulation — so flat rounds wouldn't be shocking for either company.
Uber (or maybe Lyft) buys Bird.
Bird says on the record that it's not in talks for Uber and that it's not for sale. Just like every other startup, until the offer is too good to pass up.
The bottom line: Expect resolution fairly quickly, as the scooter companies need to settle their fundraising processes and Uber would want a quarter or two to digest the acquisition before its 2019 IPO.
Go deeper