CDU party leadership election a bellwether for a post-Merkel Germany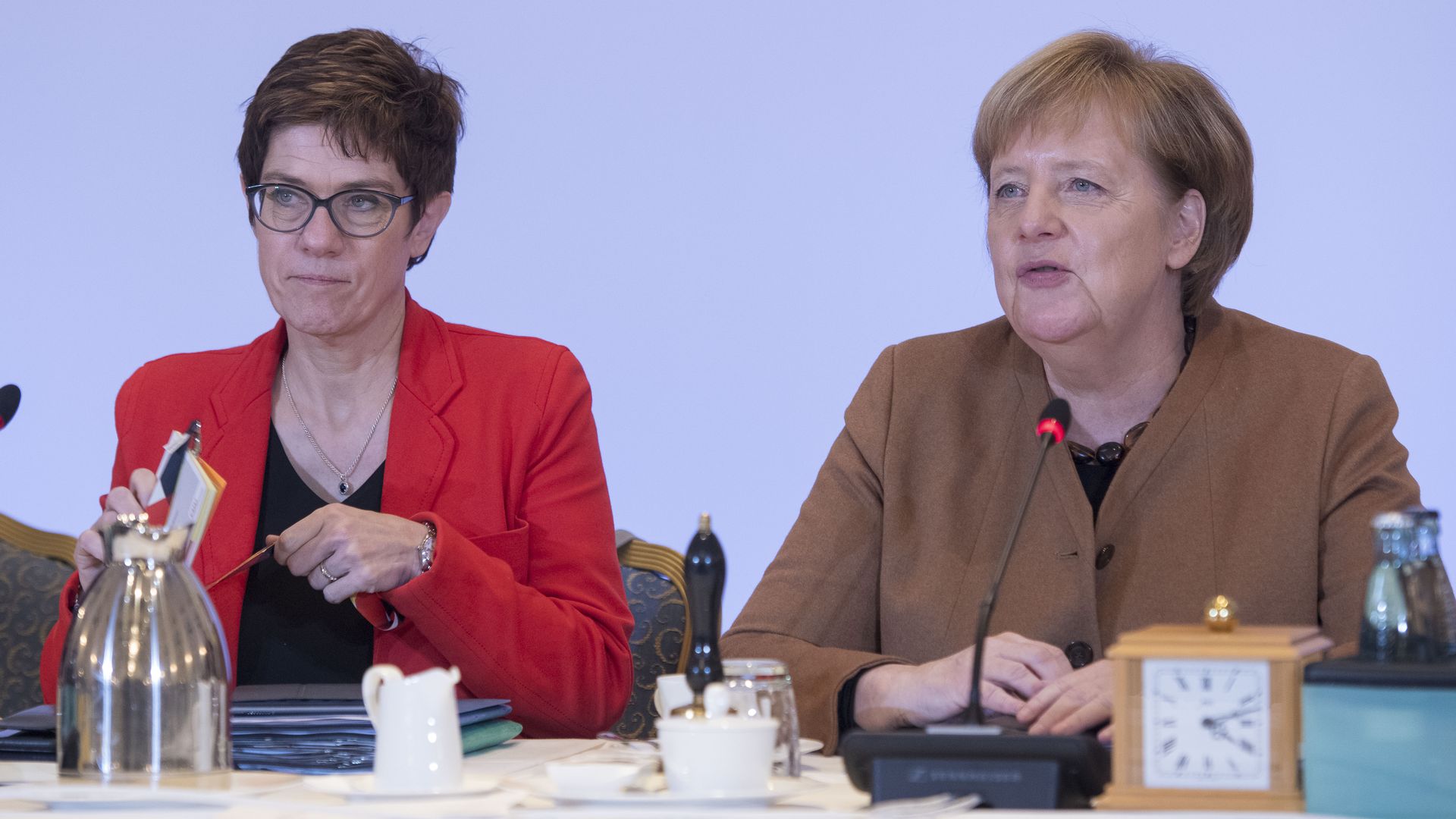 Angela Merkel is calling it quits as chair of Germany's Christian Democratic Union (CDU), after heading the center-right party for 18 years, and a vote at Friday's party convention in Hamburg will determine the next CDU chair.
Why it matters: The victor will be positioned to succeed Merkel as chancellor and influence whether she stays or bows out before her term ends in 2021.
Background: Although known for her caution, Merkel has been a shrewd disrupter of the German party system and has moved the CDU to the middle of the political spectrum.
Under her watch, Germany has abolished military conscription, accelerated the phaseout of nuclear power, admitted more than a million migrants in 2015, and established a minimum wage.
But these changes have led to hand-wringing in the CDU over the loss of conservative positions.
Merkel's reliance on the other major party, the Social Democrats (SPD), to build three of four coalitions has caused the SPD to free fall in the polls and prompted competition from smaller parties.
The far-right Alternative for Germany (AfD) has also become the largest opposition party in the federal parliament and holds seats in all of Germany's 16 state legislatures.
Three candidates are vying to win a majority of the 1,001 delegate votes. The top two contenders represent two different directions for the party.
Known as "Merkel 2.0," Annegret Kramp-Karrenbauer (AKK) has Merkel's blessing and would stay the course.
Friedrich Merz, the chancellor's rival from political contests past, would push the party to the right. Merz recently won a key endorsement from elder statesman and former finance minister Wolfgang Schaeuble.
In the event of a run-off, the third candidate, current health minister Jens Spahn, may also throw his support to Merz to push him over the finish line.
The bottom line: The race between AKK and Merz will be seen as a bellwether of Germany's political future — and a test of whether the CDU can ultimately weaken the AfD and strengthen the European Union. If Merz prevails, it would also be harder for Merkel to hang on until the end of her term, because of a potential clash in personalities and Merz's likely eagerness for a snap election while he is still a quasi-fresh face.
Sudha David-Wilp is a senior transatlantic fellow and deputy director of the German Marshall Fund's Berlin office.
Go deeper