Europe's political storm engulfs Merkel, May and Macron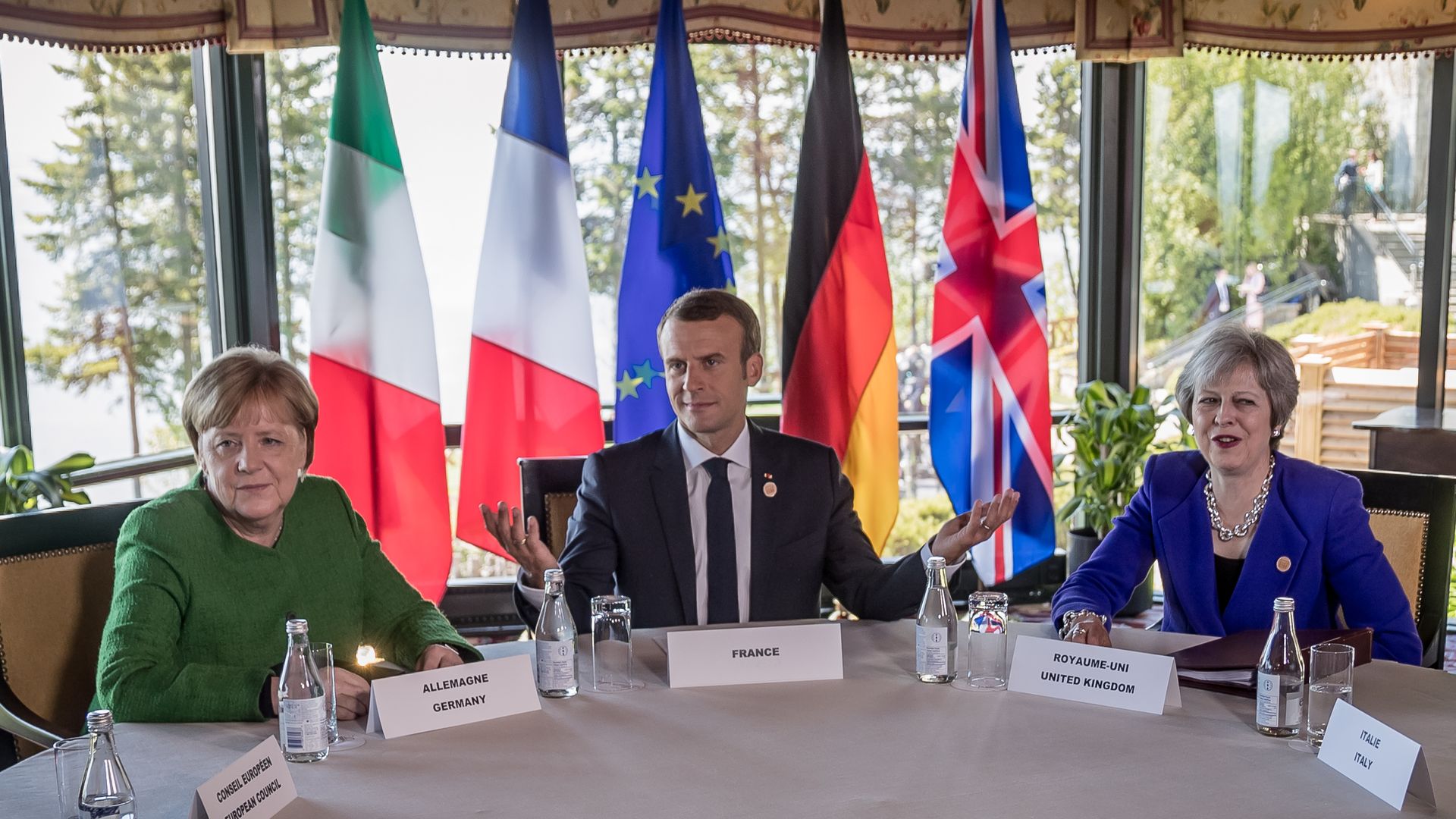 Germany's Angela Merkel is ceding control of her party, the U.K.'s Theresa May is poised for a monumental defeat and France's Emmanuel Macron is staring down the worst riots in a generation.
The bottom line: The storm whipping up political chaos across Europe is engulfing the leaders of the continent's three powers. No one knows what's coming next.
Germany's Christian Democratic Union has convened in Hamburg to select a new party leader for the first time since Merkel claimed the post 18 years ago.
In London, May is feeling the sting of defeats inflicted in the parliamentary debate over a Brexit bill that looks all but certain to fail, and likely to doom her premiership.
In Paris, Macron has given into the "yellow vest" rebellion but not yet managed to end it.
The end is near for Merkel ...
1,001 CDU delegates will elect their, and likely Germany's, next leader tomorrow after Merkel — who has been chancellor for a remarkable 14 years — agreed to step aside following a string of electoral embarrassments.
Why it matters: Five of the seven party chairs in the CDU's 73-year history have served as chancellor. And while Merkel says she'll stay in office through 2021, Sudha David-Wilp of the German Marshall Fund writes for Axios Expert Voices that may depend on what happens on Friday:
"The top two contenders represent two different directions for the party. Known as 'Merkel 2.0,' Annegret Kramp-Karrenbauer (AKK) has Merkel's blessing and would stay the course. Friedrich Merz, the chancellor's rival from political contests past, would push the party to the right."
"If Merz prevails, it would also be harder for Merkel to hang on until the end of her term, because of a potential clash in personalities and Merz's likely eagerness for a snap election while he is still a quasi-fresh face."
May on course for an epic defeat ...
Downing Street says May is not backing down from the planned vote on her Brexit deal on Tuesday, despite the fact that she appears headed for a defeat so significant that it could bring down her government.
There are a number of scenarios for what follows a "no" vote, including fresh negotiations, a second referendum or even a general election. Brexit Day (March 29) is fast approaching.
May's case: "This argument has gone on long enough. It's corrosive to our politics. Life depends on compromise." At the moment, the argument looks likely to rage on — with or without May at its center.
An existential challenge to Macron ...
Macron's decision to first delay, and now fully abandon, a proposed hike on fuel taxes in an attempt to quell to riots have been too little, too late, Axios' Zach Basu writes:
France is planning to deploy 89,000 security personnel across the country and close attractions like the Eiffel Tower and Louvre in anticipation of a fourth straight weekend of massive protests — after the first three resulted in hundreds of injuries and arrests.
The big picture: Extremist, anti-European forces across the continent — in Hungary, Italy, even France's own National Front — are celebrating Macron's crisis.
What to watch: Merkel, May and Macron are different politicians at different points in their careers in different domestic political atmospheres. But they lead Europe's three most powerful countries. And rather than bringing stability in the face of the political chaos on the continent, they look likely to be consumed by it.
Go deeper