The most memorable quotes from George H.W. Bush's funeral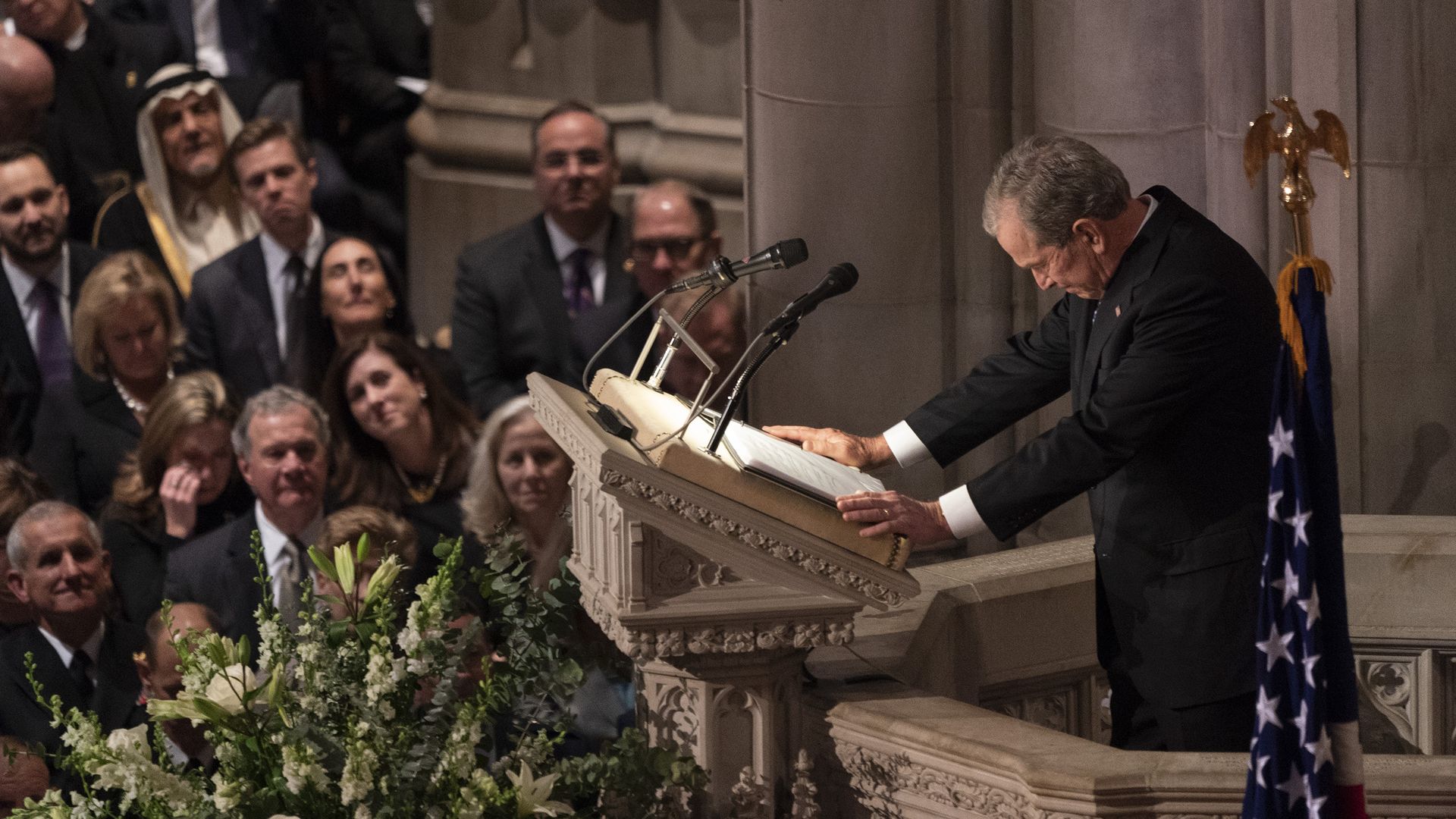 Foreign dignitaries, former presidents, and leaders, friends and family gathered at the National Cathedral in Washington on Wednesday to say goodbye to President George H.W. Bush who died late Friday at 94.
The four men who spoke described Bush as a man "in constant motion," a man you would've "wanted ... on your side," "courageous" and "a genuine leader."
President George W. Bush:
"I once heard it said of man that the idea is to die young as late as possible. ... One reason Dad knew how to die young is that he almost did it twice. When he was a teenager a staph infection almost took his life. A few years later, he was alone in the Pacific on a life raft, praying that his rescuers would find him before the enemy did. God answered those prayers — it turned out he had other plans for George H.W. Bush."
"In his 90s, he took great delight when his closest pal James A. Baker smuggled a bottle of Grey Goose vodka into his hospital room. Apparently it paired well with the steak Baker had delivered from Morton's."
"He taught us that a day was not meant to be wasted, and he played golf at a legendary pace. I always wondered why he insisted on speed golf — he was a good golfer. Well here's my conclusion: He played fast so he could move on to the next event, to enjoy the rest of the day, to expand his enormous energy, to live it all. He was born with just two settings: Full-throttle, then sleep."
Sen. Alan Simpson:
"[H]e often said, 'When the really tough choices come, it's the country, not me; it's not about Democrats or Republicans, it's for our country that I fought for."
"Those who travel the high road of humility in Washington, D.C., are not bothered by heavy traffic."
"The most decent and honorable person I ever met was my friend George Bush, one of nature's noble men. ... Loyalty to his country, loyalty to his family, loyalty to his friends, loyal to the institutions of government and always, always, always a friend to his friends. None of us were ready for this day."
Historian Jon Meacham:
"As vice president, Bush once visited a children's leukemia ward in Kraków. Thirty-five years before, he and Barbara had lost a daughter, Robin, to the disease. In Kraków, a small boy wanted to greet the American vice president. Learning that the child was sick with the cancer that had taken Robin, Bush began to cry."
"To his diary later that day, the vice president said this: 'My eyes flooded with tears, and behind me was a bank of television cameras. And I thought, I can't turn around. I can't dissolve because of personal tragedy in the face of the nurses that give of themselves every day. So I stood there looking at this little guy, tears running down my cheek, hoping he wouldn't see. But if he did, hoping he'd feel that I loved him.'"
Former Canadian Prime Minister Brian Mulroney:
"And let me tell you, that when George Bush was president of the United States of America, every single head of government in the world knew that they were dealing with a gentleman. A genuine leader, one who was distinguished, resolute and brave."
Go deeper