Qatar's OPEC exit signals intensifying energy competition beyond oil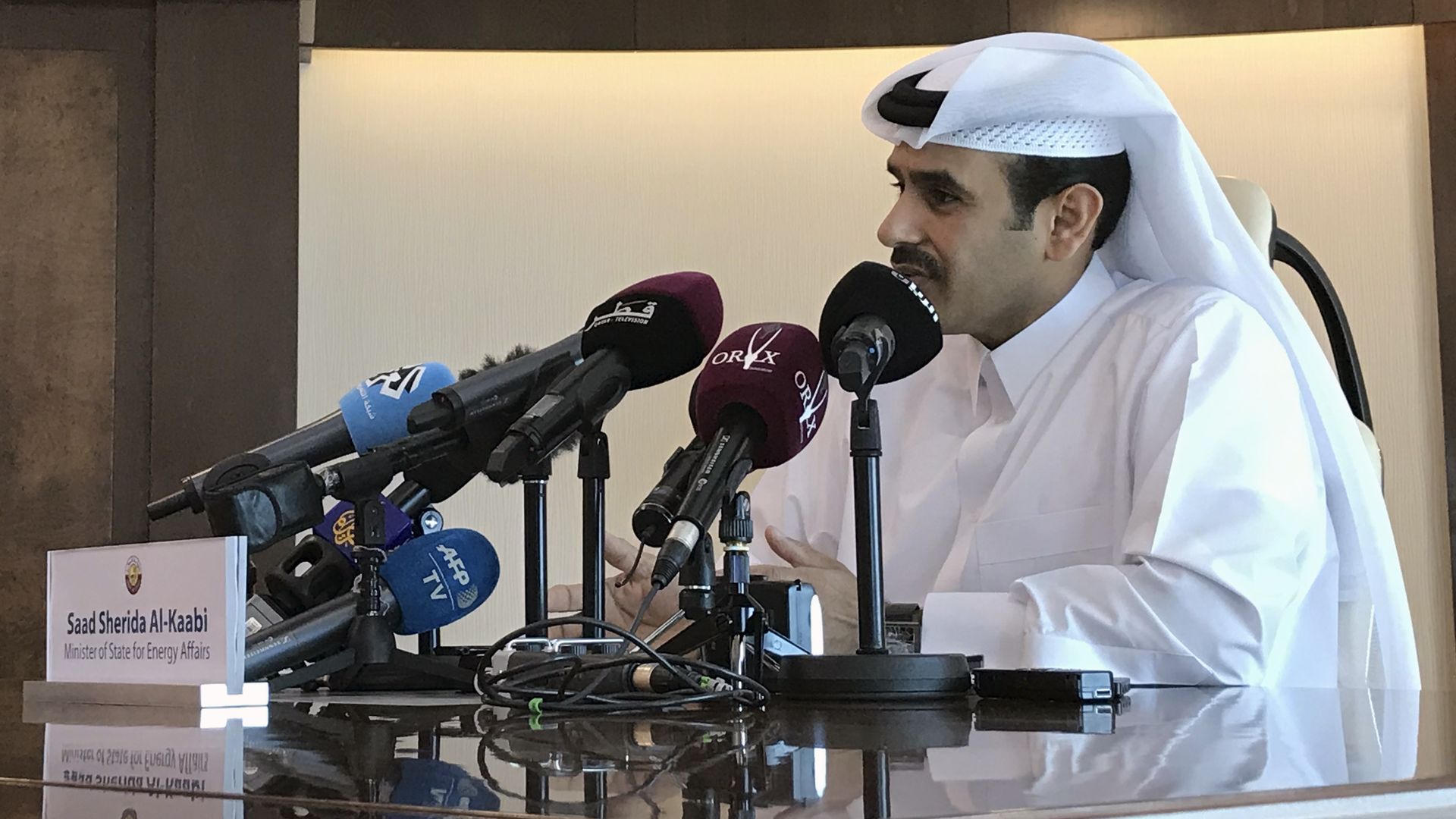 In announcing Monday that it would leave the Organization of Petroleum Exporting Countries (OPEC), Qatar emphasized an intention to enhance its standing as the world's leading natural-gas producer and as "a reliable and trustworthy energy supplier across the globe." The tiny emirate, currently under a Saudi-led blockade, plans to increase its annual production of liquefied natural gas (LNG) from 77 million tons to 110 million tons in the coming years.
Why it matters: Qatar's withdrawal from OPEC is a slap in the face of Saudi Arabia, which plays a leadership role inside the organization. It also reflects changes in global energy markets, where the competition among different fuels — coal, oil, nuclear, renewables and natural gas — is intensifying as major economies seek to decarbonize.
Background: As far back as 1992, Qatar and Saudi Arabia sparred over territorial conflicts. Qatar's shift to LNG from oil in the 1990s was motivated by a desire to get out from under the geopolitical shadow of Saudi Arabia while simultaneously diversifying its own economy.
Over recent years, Saudi Arabia and other OPEC members have pressured Qatar to maintain the link of its LNG prices to oil. But as global natural-gas markets become more competitive and flexible pricing more imperative to growing the fuel's market share, oil-based pricing is no longer convenient, especially in light of more abundant U.S. natural-gas exports and increasingly inexpensive renewables. Leaving OPEC will make it easier for Qatar to ignore such price-linking concerns.
The withdrawal comes against the backdrop of President Trump's frequent (and legitimate) complaints that OPEC inflates oil prices to the detriment of the global economy, and especially to key emerging-market countries. The U.S. Congress has also weighed in by advancing legislation that would authorize the U.S. attorney general to file anti-trust charges against OPEC.
What to watch: Qatar has an equity stake in the U.S. Golden Pass LNG export facility, which is expected to receive approval to move forward shortly. By quitting OPEC, Qatar ensures it can put its best foot forward as a supplier of lower-carbon energy while staying clear of any negative associations OPEC membership might have in the eyes of U.S. leadership.
Amy Myers Jaffe is the David M. Rubenstein Senior Fellow for Energy and the Environment and director of the program on energy security and climate change at the Council on Foreign Relations.
Go deeper