Climate politics moves up the Democrats' priority list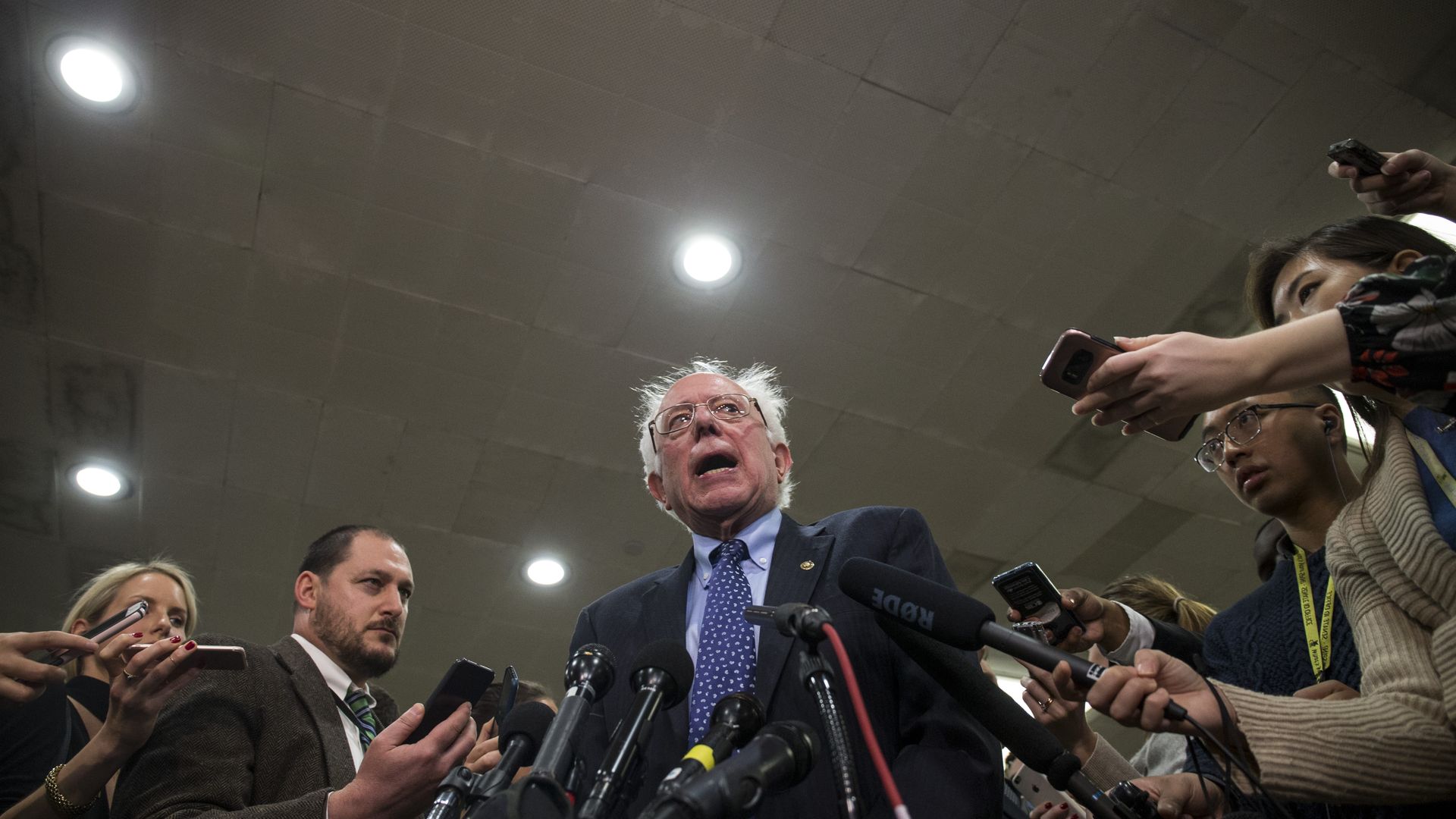 It's kind of a cliché — albeit an accurate one — that climate is rarely the tip of Democrats' political spear. Pew Research Center polls consistently show it's far from the public's top priority.
But, but, but: As dire scientific warnings pile up and California smolders from frequent wildfires, global warming's political profile is atypically high among Democrats on two fronts.
1. Congress: Alexandria Ocasio-Cortez, the progressive congresswoman-elect from New York City, and activist backers have been vigorously pushing for incoming House Democrats to craft a sweeping bill that's ready for launch in 2020.
Her proposed "Green New Deal" includes a transition to 100% renewable power.
At the same, activists led by the emerging Sunrise Movement are trying to prevent Democratic Sen. Joe Manchin from becoming the ranking Democrat on the Senate's energy committee, as they consider the West Virginian to be too pro-fossil fuels.
2. Early 2020 election moves: Last night, Sen. Bernie Sanders made climate change the focus of a "town hall" forum on Capitol Hill (with Ocasio-Cortez among the speakers).
This seems worth noting, via HuffPost: "Sanders seems bent on making climate change the central issue of a second White House run as his advisers openly speculate about when, not if, he declares his 2020 candidacy." (Emphasis added by me.)
Meanwhile, Washington State Gov. Jay Inslee, via this new Rolling Stone interview, offered the latest signs that he's weighing a climate-themed campaign.
Elsewhere, billionaire activist Tom Steyer is mulling a run that would likely play up the topic, even though these days his political work is far broader.
The big question: Whether this represents any kind of sustained shift, or whether, as 2020 draws closer, climate will fall back to its traditional second-tier (or third-tier, etc.) status in national politics.
An early flashpoint heading into the new Congress is over Sen. Joe Manchin's possible ascension to top Democrat on the energy committee — and potential chairmanship if the party takes the Senate in 2020.
The latest: Some climate activists are pressing Senate Minority Leader Chuck Schumer not to let that happen, and young demonstrators with the Sunrise Movement gathered outside his New York City office yesterday to make their case.
Quick take: It's something of a tempest in a teapot, but more on that in a moment.
Where it stands: Manchin has a path if the current top Democrat on the committee, Sen. Maria Cantwell, wants the ranking slot on the Commerce Committee next year (which is open because Sen. Bill Nelson lost his re-election).
Meanwhile, other energy panel Democrats with more seniority than Manchin look keen to keep their ranking spots elsewhere for now, including Sanders on the Budget Committee.
My thought bubble: This is much ado about ... not all that much. Manchin isn't likely to prove pivotal to the trajectory of a sweeping climate and energy bill.
There's only one obvious avenue for Democrats to pass major climate legislation absent a major shift in GOP thinking: Taking the White House and the Senate in 2020 and keeping the House.
If that happens, Manchin's position won't be pivotal even if he's chairman — and even that's a big "if" because a more senior member could decide to shove him aside if Democrats regained the chamber.
The intrigue: Keep in mind that...
Large portions of this hypothetical bill would likely be written in other committees — notably Environment and Public Works, and Finance (which controls tax policy).
Energy provisions that Manchin opposes could still be added on the floor through amendments.
But, but, but: If lefty activists are hoping to see Democrats lay the PR groundwork for pushing through something sweeping if they ever regain full control, it's certainly true that Manchin would be a pretty imperfect messenger.
The bottom line: Sure, Manchin's potential role as the panel's top Democrat — and would-be chairman — is relevant. But it's hardly decisive.
What they're saying: I asked the Sunrise Movement to respond to my thesis that Manchin's potential role isn't really a big deal one way or the other.
"We have 12 years to transform our economy and move away from fossil fuels in order to give our generation a livable future," said Sunrise spokesman Stephen O'Hanlon in an email.
"To do that, we need broad, coordinated government action — not patchwork legislation held up by a committee chair backed by the oil and gas lobby," he said.
Go deeper