Mueller's breadcrumbs suggest he has the goods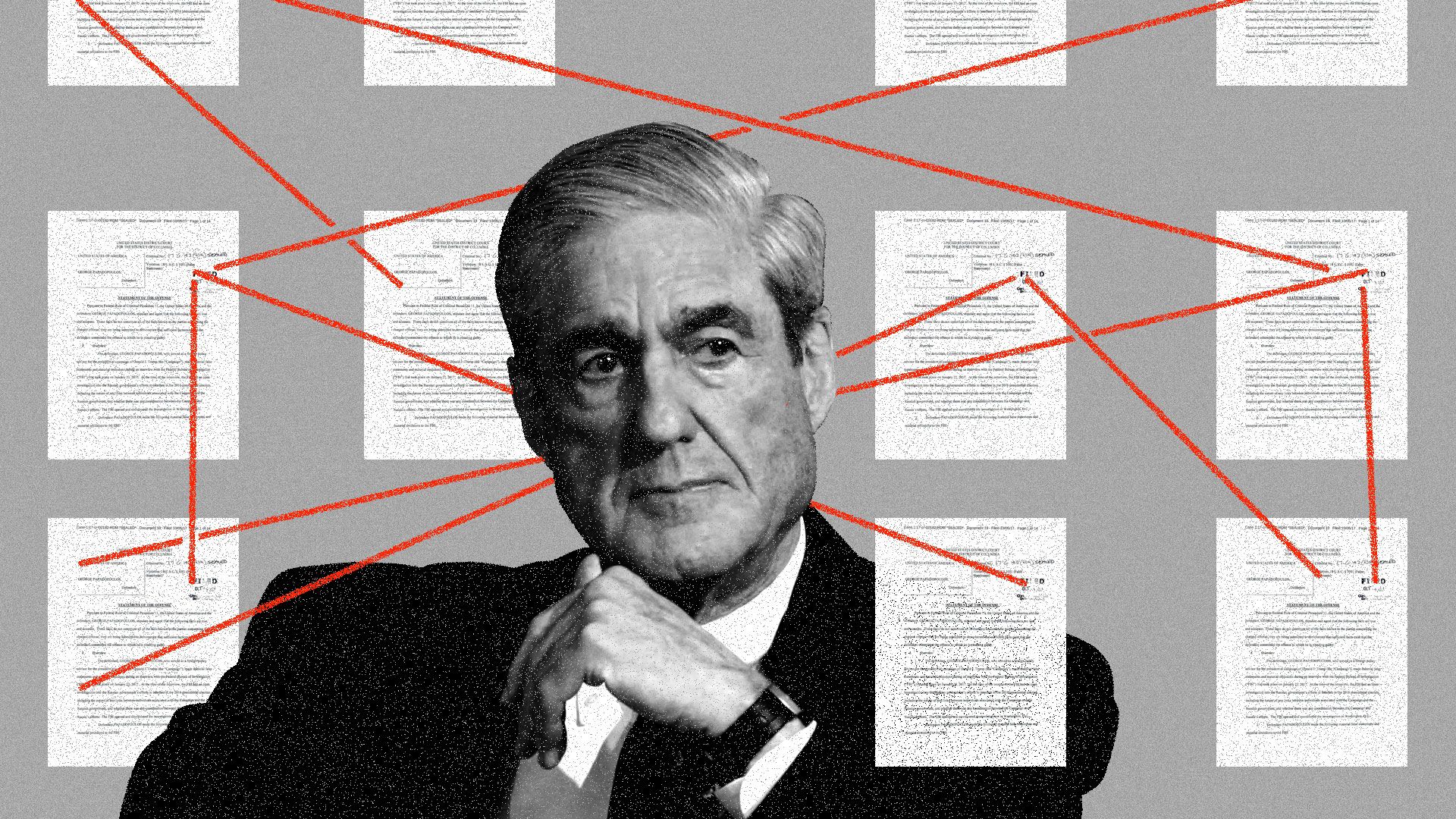 Everyone's waiting for the "Mueller Report." But it turns out that special counsel Robert Mueller is writing a "report" in real time, before our eyes, through his cinematic indictments and plea agreements.
The big picture: One of the least-noticed elements of the special counsel's approach is that all along, he has been making his case bit by bit, in public, since his very first court filing. With his major court filings so far, Mueller has already written more than 290 pages of the "Mueller Report." And there are still lots of loose ends in those documents — breadcrumbs Mueller is apparently leaving for later.
Perhaps the best example is Mueller's oddly specific reference to the Russian hackers targeting Hillary Clinton "for the first time" after candidate Trump's still-unexplained "Russia, if you're listening" comment on July 27, 2016.
Trump said: "I hope you're able to find the 30,000 [Clinton] emails that are missing. I think you will probably be rewarded mightily by our press." (He also said: "I have nothing to do with Russia.")
A Mueller indictment in July said that the next day, "the Conspirators ... attempted after hours to spear-phish for the first time email accounts at a domain hosted by a third-party provider and used by Clinton's personal office."
That shows Mueller has access to much more intelligence than is publicly known. Remember, these are Russian government employees. So Mueller has remarkable and thus far unexplained visibility.
By making such detailed filings, Mueller is actually increasing his burden of proof — suggesting a supreme confidence that he has the goods.
And by making so much public as he goes along, Mueller is also insuring against his probe being shut down or otherwise curtailed by the White House.
Some of his deeply detailed filings raise questions that suggest more is coming:
In a February indictment of officials of the Russian troll factory, he announced that three Internet Research Agency employees traveled to the U.S. in 2014. He indicted two of them, but left unindicted someone from the IRA who evidently traveled to Atlanta as part of the operation for four days in 2014.
Mueller makes clear in the indictment that he knows the precise IRA official to whom this unnamed male traveler filed his Atlanta expenses after the trip.
The information could have come from U.S. intelligence or another country. But Mueller leaves the impression he may have a cooperator inside the troll factory.
Other hints at coming attractions:
Mueller said in last week's Michael Cohen plea agreement that a "Moscow Project" meeting about a Trump-branded building in Russia was called off, by Cohen, on the same day that the DNC hack became public. 
Based on a court filing last week, Mueller apparently hopes to quickly issue a "report" on Manafort's activities to the court.
Be smart: If it's anything like every other document Mueller has filed thus far, it'll be more informed, more knowledgeable, and more detailed than we can imagine.
Go deeper:
Go deeper