Trump shifting U.S. oil policy to "consumer first"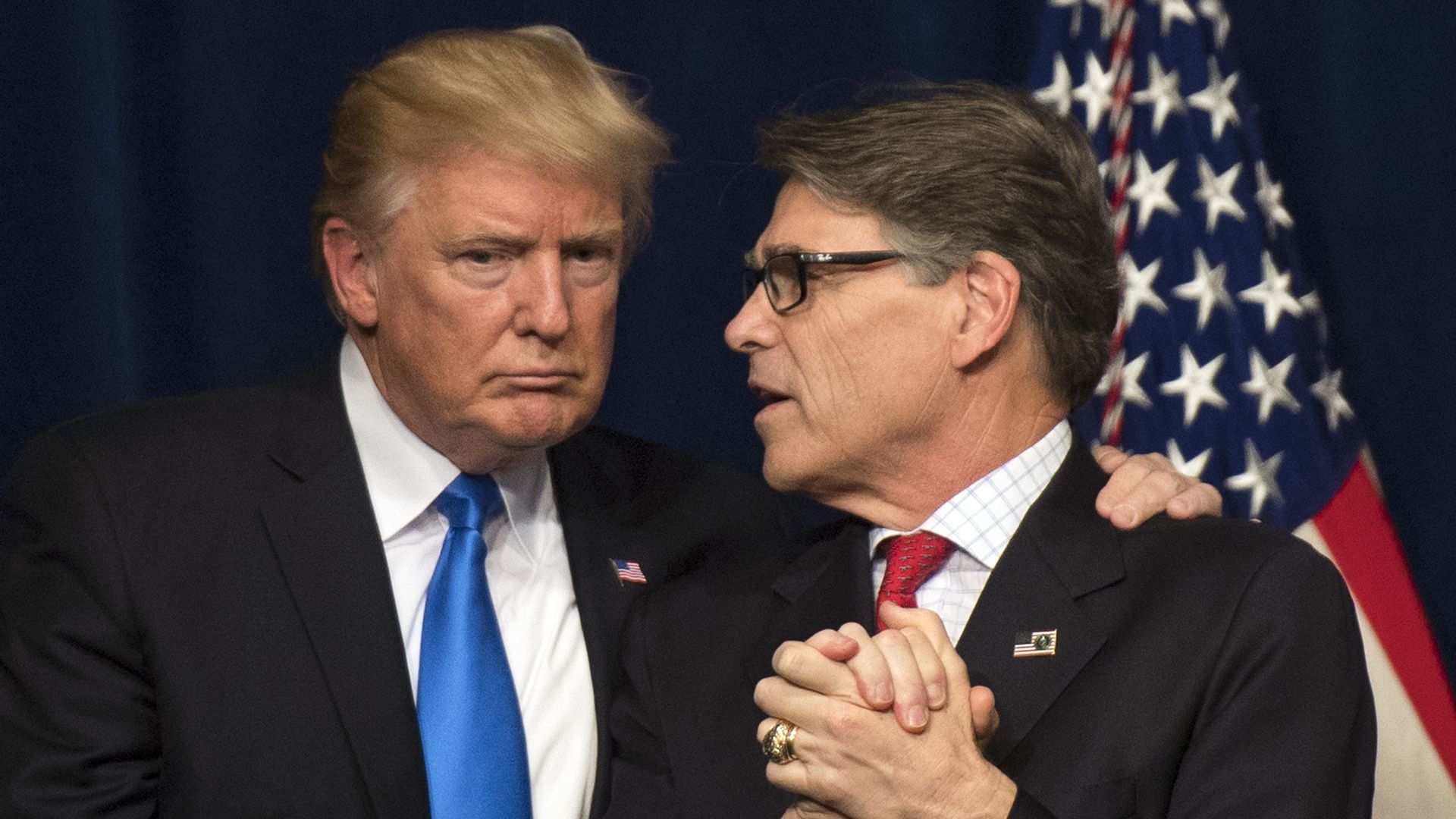 President Trump took credit again this week for lowering oil prices over the past two months. Oil markets are clearly reacting to his tweets and public comments, which have become a new source of price volatility.
The big picture: Trump's ongoing campaign against higher oil prices marks a shift from Republican oil policy in the Bush era, which generally relied more on markets to respond to high prices. Despite the presence of oil-friendly cabinet members such as Rick Perry and Ryan Zinke, Trump has aimed to keep prices low.
While Trump has embraced a pro-supply, "drill, baby, drill" approach, several key differences have made him less hospitable to the oil and gas industry than the last Republican administration was:
Publicly questioning the U.S. military's long-term commitment to the Persian Gulf: U.S. imports of Gulf oil have dropped dramatically, but the U.S. oil and gas industry still sees the secure flow from the region as critical to global oil-market security and to refineries in Europe and Asia.
Activist view on prices: Previous Republican administrations (and arguably Clinton's and Obama's as well) generally resisted commenting on what they thought oil prices should be. This reflected a broad consensus that markets were the best way to regulate supply and demand, entailing a laissez-faire approach to OPEC policy and a reluctance to draw on the Strategic Petroleum Reserve.
Frenemy to shale: Trump's light regulatory touch on drilling and his support for the Dakota Access Pipeline and other oil and gas infrastructure have received a warm welcome from the industry. On the other hand, he has entangled U.S. shale producers in trade disputes, particularly with China.
Paris Agreement withdrawal: ExxonMobil's and Chevron's decision to join the Oil and Gas Climate Initiative seems to have had no bearing on Trump's view on the need for global climate change policies.
Yes, but: Previous presidents have certainly acted to curb oil prices, as Bush did in 2007 and 2008 and Obama in 2011. In both cases, however, oil was well above $100 per barrel, and, more importantly, U.S. crude imports were about 50% higher than they are now.
The bottom line: Trump's energy policy is consumer first. Neither the Saudis nor the markets should assume he is going to support or even tolerate higher prices to help U.S. shale.
Robert Johnston is managing director for global energy and natural resources at Eurasia Group and a senior fellow at the Atlantic Council Global Energy Center.
Go deeper