Germany's hydrogen-powered train advancing low-carbon transport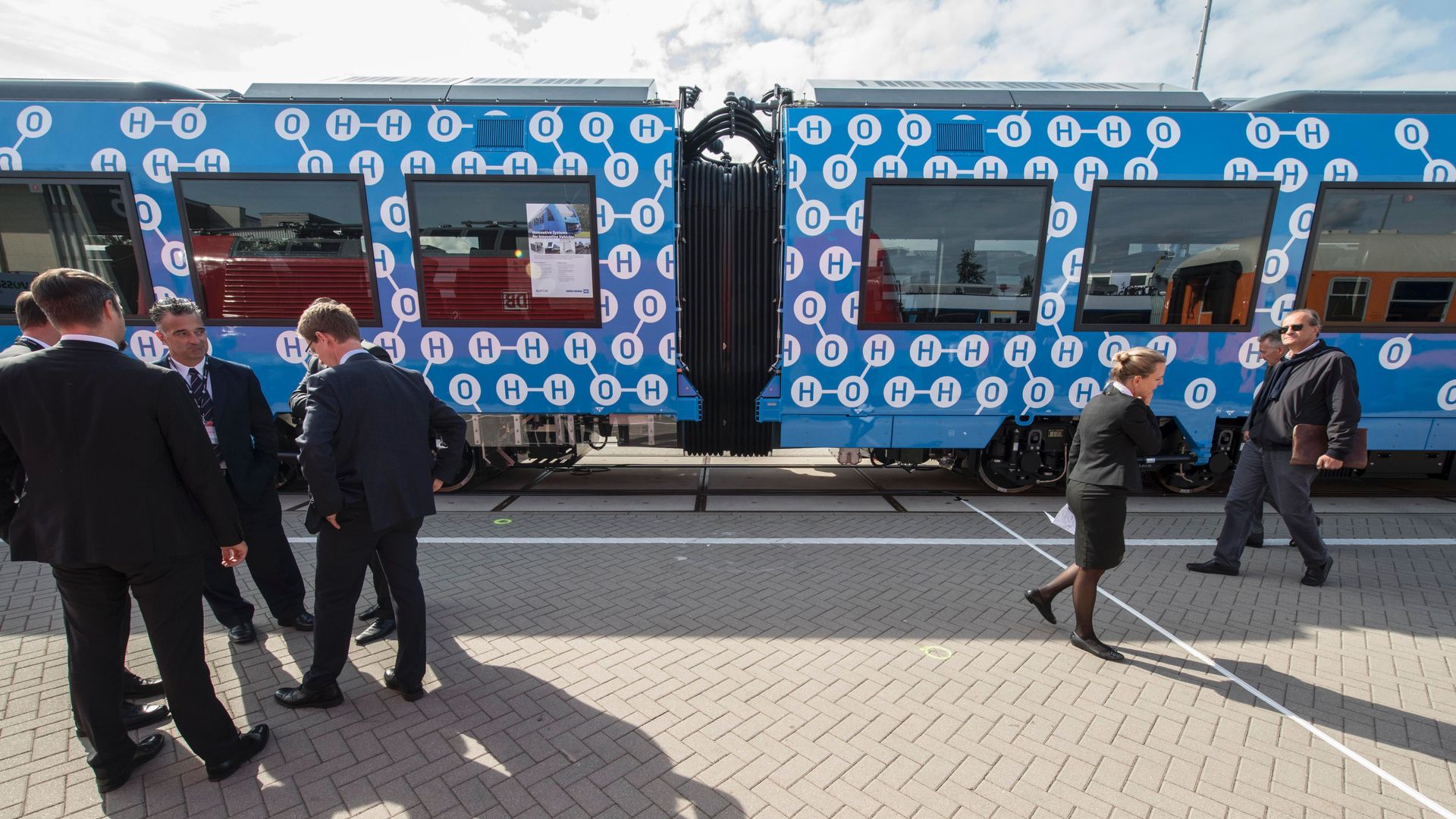 In September, Germany started operating the world's first hydrogen train, the Coradia iLint, which is powered by hydrogen fuel cells stored on top of its carriages. Like a conventional electric train, the Coradia iLint produces no direct air pollution, but it can operate without access to the electric grid.
Why it matters: Hydrogen-powered trains like the Coradia iLint could be built on un-electrified lines in areas where diesel engines are still used, which would greatly reduce harmful emissions typical of combustion technologies. If those trains use hydrogen fuel produced from renewable energy sources, such as wind and solar, they could become an almost entirely carbon-free mode of transport.
Background: Hydrogen is being studied extensively for its potential as a highly efficient, low-carbon energy carrier, with particularly significant applications in the transportation and electricity-generation industries. Hydrogen fuel cells produce electricity without combustion by combining hydrogen with oxygen molecules. Hydrogen can also be used for long-term renewable energy storage.
How it works: Running in a 62-mile line between four towns in northern Germany, the Coradia iLint trains have a range of approximately 620 miles on one fill and a maximum speed of 87 miles per hour. Fuel will be derived from recycled industrial processes and trucked to the stations for now, but on-site hydrogen production using wind power is planned for a future phase of the project.
Yes, but: In order to allow for widespread use of hydrogen technologies in transportation, renewable hydrogen-production systems will have to be made available at lower costs. Manufacturers already have the technology to do so, but the supporting infrastructure, such as hydrogen refueling stations and the distribution network, needs to be built.
What's next: Germany is planning to develop another hydrogen train in December 2022, and other European countries such as Italy, France and the U.K. aim to follow suit between 2019 and 2023. Some automakers are also proposing hydrogen locomotives for long-haul trains and hybrid transmission for trucks and commercial vehicles, with boat manufacturers developing the technology as well.
Luca Mastropasqua is a research fellow at the Group of Energy Conversion Systems at Politecnico di Milano.
Go deeper