Trump injects more chaos into OPEC as oil prices fluctuate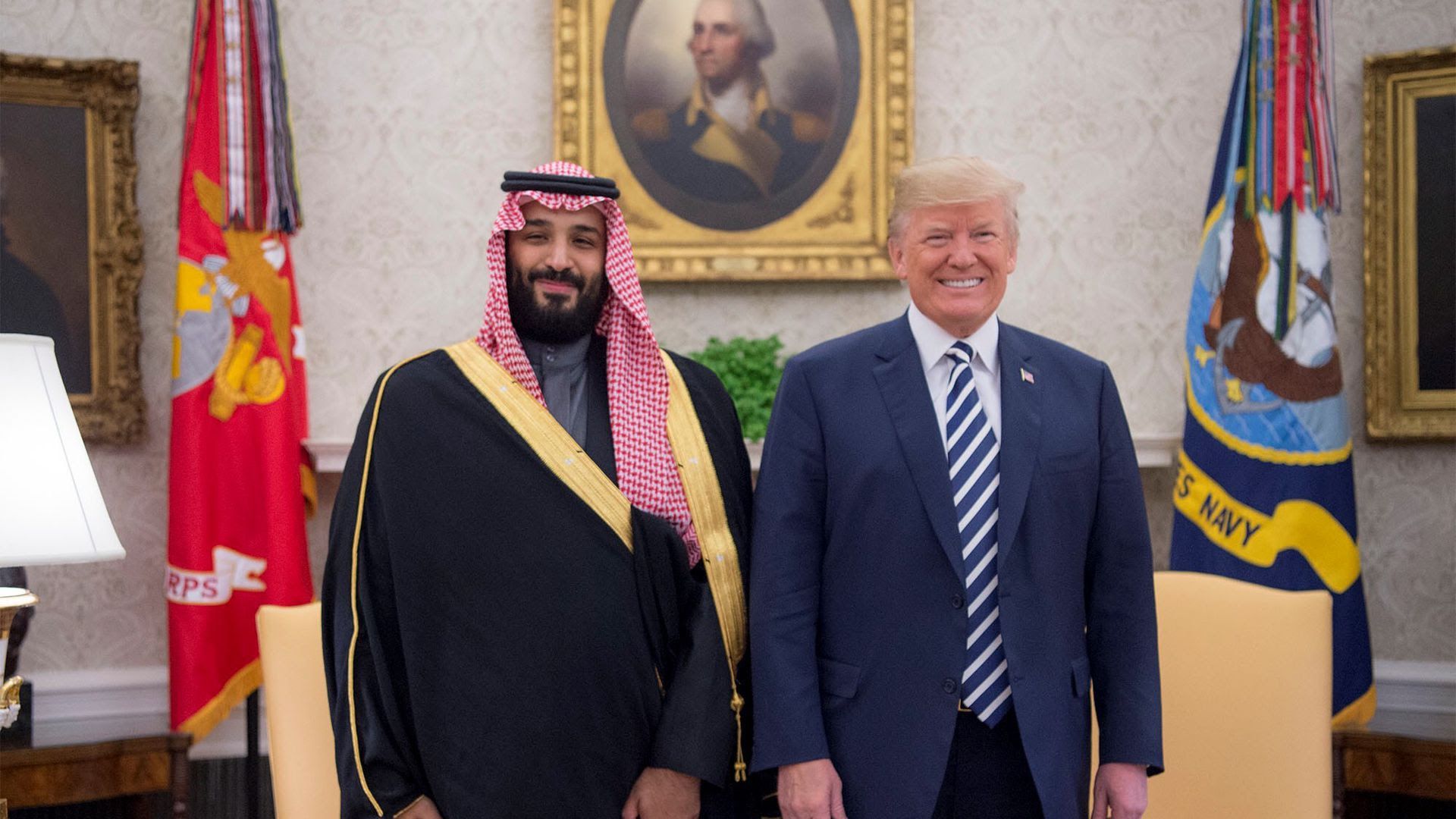 Two countervailing forces that will influence looming OPEC's decisions were on prominent display Tuesday: President Trump and fallling prices.
What's happening: Trump caused a stir yesterday when he issued a statement signaling clear U.S. backing for Saudi Arabia despite the murder of journalist Jamal Khashoggi. He stayed in realpolitik mode, later telling reporters that the Saudis have helped keep oil prices down. And he tweeted this morning, "Oil prices getting lower. Great! Like a big Tax Cut for America and the World. Enjoy! $54, was just $82. Thank you to Saudi Arabia, but let's go lower!"
The big question: How Trump's posture toward the Saudis could affect the early December OPEC meeting.
The cartel and allied producers — notably Russia — will weigh production cuts to tighten the market back up.
But Trump's soft treatment of the Saudis and push for even lower prices could influence the outcome, though some level of output cuts appears likely.
Meanwhile, the 6-week drop in oil prices accelerated Tuesday when Brent and WTI both fell by well over 6% (although they're ticking up somewhat this morning). Overall, both benchmarks have dropped by over a quarter since early October.
What they're saying: Rice University energy and geopolitics expert Jim Krane tells Axios in an email exchange...
"The big plunge in oil prices has been painful for the Saudis and a big win for Trump, who had been haranguing OPEC over Twitter. But at the end of the day, if Trump's support turns out to be the crucial act that allows [Crown Prince Mohammed bin Salman, or MBS] to hang onto power, the crown prince will certainly reciprocate."
"Tweaking oil prices is the quickest way MBS can show his appreciation. The Saudis may still cut production, but we should look for a lower target price than might have otherwise been the case. (Closer to $70 than $80)."
The bottom line: Over at S&P Global Platts, Herman Wang sums things up this way: "Saudi Arabia's desire to placate Trump in the fallout from the killing of journalist Jamal Khashoggi may box in the kingdom, despite [Saudi energy minister Khalid al-] Falih's warnings of a potential oil supply glut in the months ahead that could crash prices further."
The intrigue: Saudi expert Ellen Wald, in a new Forbes piece, argues that Trump's statement actually shows far less than full-throated support for MBS. She also notes Trump's willingness to consider ideas from Congress, where some members are pushing for a harder line.
As for what all this means at the OPEC meeting, she tells Axios in email: "The Saudis would push for production cuts regardless of Trump's rhetoric." She also writes...
"Remember, the low oil prices are most important to Saudi Arabia and Russia because it helps them convince and pressure other OPEC and OPEC+ countries to support production cuts and to adhere to them."
"The low oil prices are an advantage to Saudi Arabia going into OPEC, regardless of what it feels about the President."
What's next: The ride could be bumpy for a while. "[W]e expect oil prices to trade in a wide and volatile range until the OPEC meeting, with the lack of certainty on a possible cut weighing on prices currently," Goldman Sachs analysts said in a note.
Go deeper:
Go deeper