Trump gives U.S. business a free pass on Saudi Arabia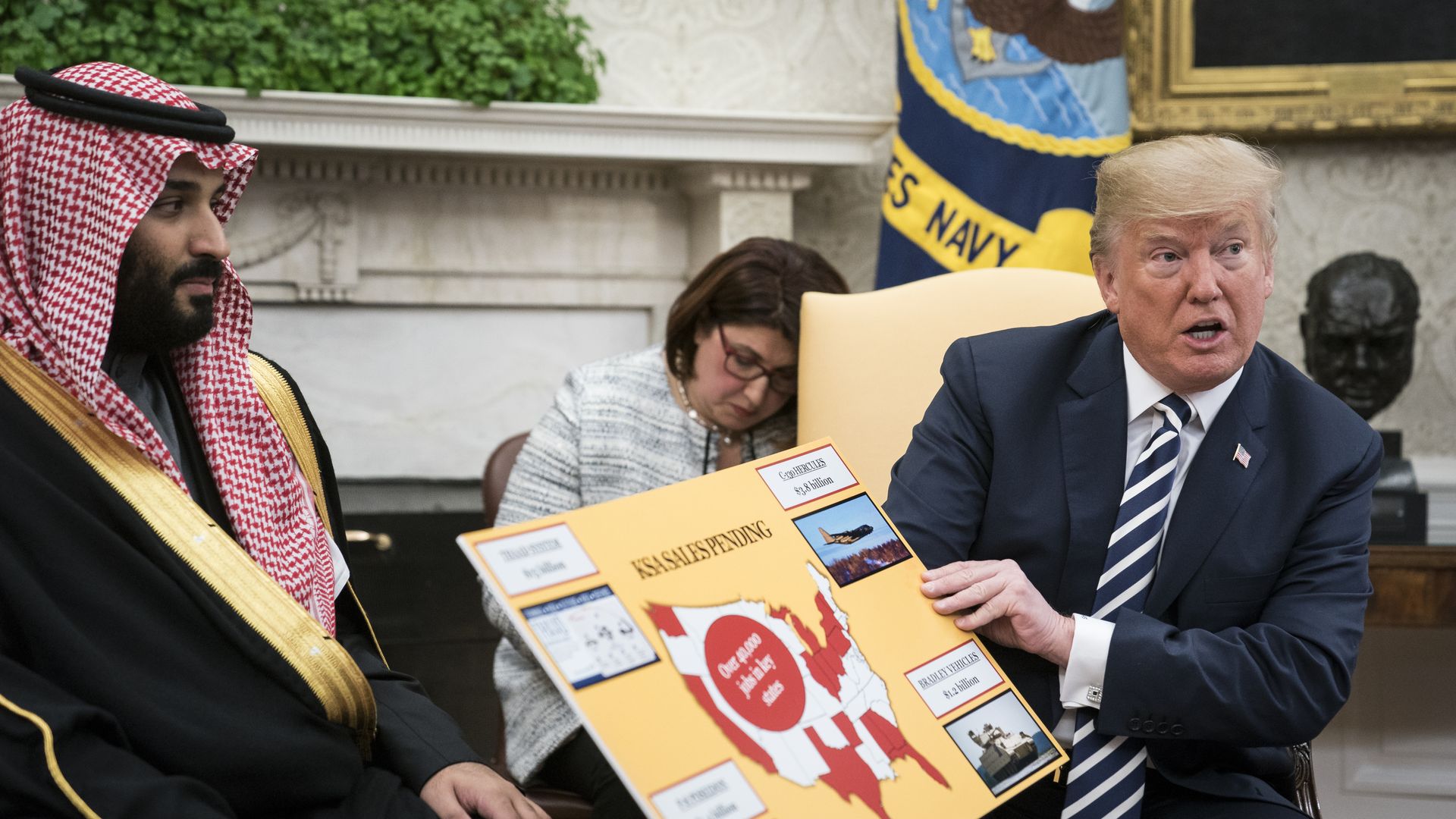 President Trump yesterday gave many American business leaders what they most wanted for Thanksgiving: An excuse to leave their conscience at the door.
The big picture: Trump announced that the U.S. will not apply sanctions or other penalties on Saudi Arabia over the murder of journalist Jamal Khashoggi, even if it is proven conclusively that Crown Prince Mohammed bin Salman was involved.
Elected officials of both parties objected to both the language and the substance of Trump's statement, suggesting they might take matters into their own hands. But you'd have to go back more than a year since Senate Republicans broke with Trump (the Russia sanctions), so don't hold your breath for the lame duck to do more than quack.
American business leaders made a big show of not attending last month's Future Investment Initiative in Riyadh, and it no doubt embarrassed MBS.
Almost none of those same leaders, however, would commit to altering business ties with the Saudi government — which, I should emphasize, is different than cutting ties with the Saudi people — instead arguing that such decisions are best left to U.S. policymakers. If sanctions were applied, of course U.S. business would comply.
This comes after nearly two years of U.S. business leaders choosing sides on all sorts of federal policy, including hot-button topics like climate change and immigration.
This includes everyone from Wall Street powerhouses to Silicon Valley tech founders.
As I've written previously, there is a legitimate slippery slope argument to be made here (hello China), and Saudi Arabia's government holds no singular claim to atrocious actions. Nor is Trump the first president to overlook bad actions on behalf of what he believes to be America's best interests, although his predecessors usually were much firmer in their criticisms and louder in their defenses of human rights.
The bottom line: The difference here is that few other ascendant autocrats value their relationship with Western business as highly as does MBS, meaning that this particular situation presented an unusually high degree of leverage. Or it did, as U.S. business leaders built themselves an escape route, under the guise of powerless rationality, and Trump just waved them through.
Go deeper:
Go deeper