Meet the Obama environmental policies Trump isn't rolling back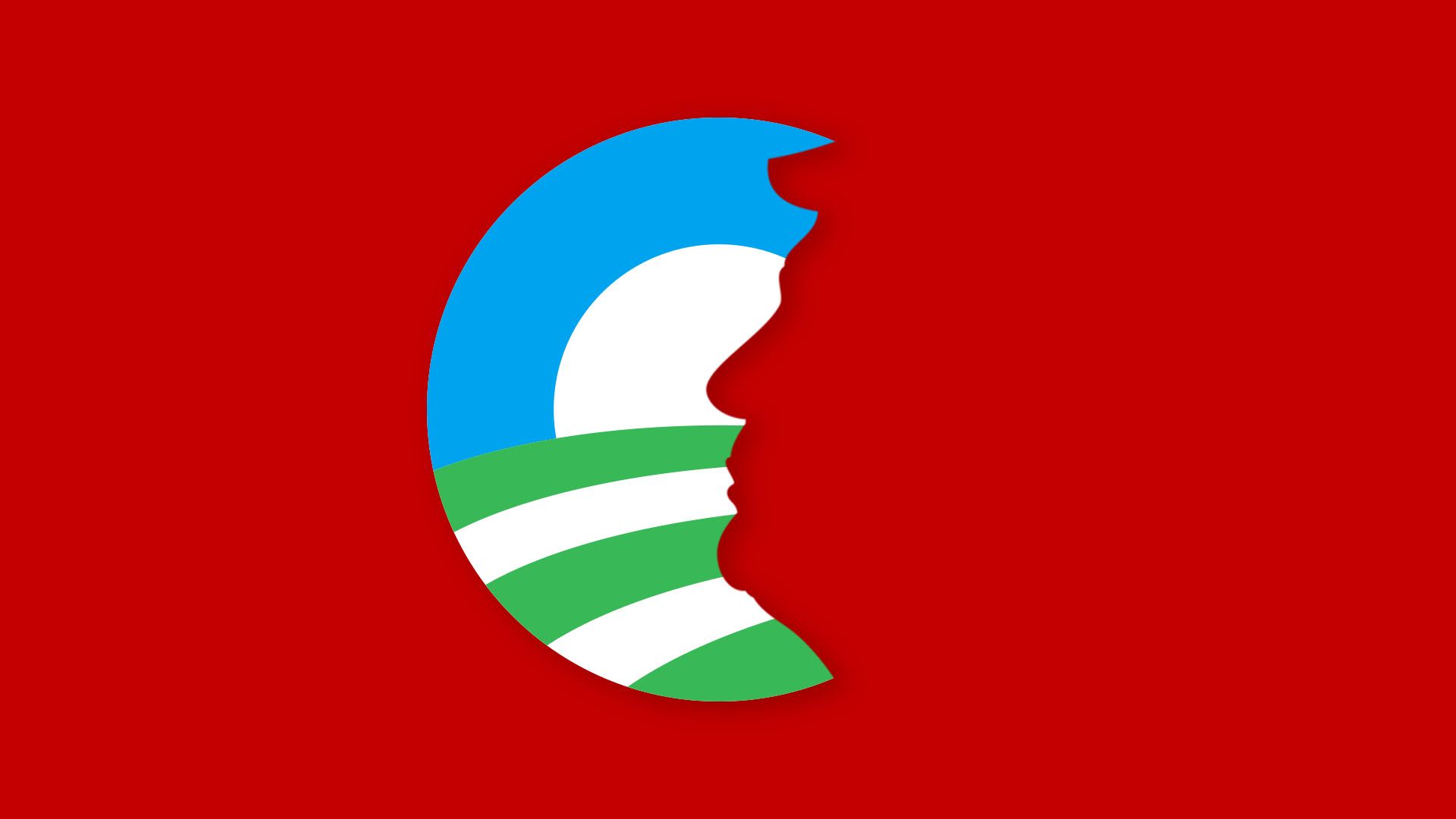 Let's clear the decks: Nobody is confusing President Trump with Al Gore, and nobody ever will. But …
Between the lines: Behind Trump's aggressive agenda rolling back environmental regulations are a small handful of moves that look like they might have come from the Obama administration — and some of them even did. Let's examine the few policies Trump is moving ahead with, or at least leaving alone.
Bird conservation plans
Last year, Interior Secretary Ryan Zinke signaled he was prepping a big overhaul of a 2015 deal Barack Obama's Interior inked with Western governors and others to protect the sage grouse. The habitat of this chicken-like bird stretches across millions of acres of Western land that's also home to oil drilling and other development.
Now, the department is gearing up to release a plan in the coming weeks that looks an awful lot like what Obama did, according to multiple people familiar with the development.
"By and large the changes keep the basic fabric of the agreement developed under Obama intact," said Whit Fosburgh, president and CEO of the Theodore Roosevelt Conservation Partnership.
Sarah Greenberger, a senior vice president at the Audubon Society and former Interior official under Obama, said the changes are coming after intense opposition from Western-state politicians. The framework is similar to Obama's version, but Zinke is "granting a lot more freedom to decide to not apply the protections," Greenberger said.
An Interior spokesperson didn't comment on the plan, but instead shared a statement by David Bernhardt, Interior's deputy secretary, "recognizing the tremendous investments of effort" that have gone into protecting the bird's population over the last decade.
Truck pollution standards
Announced last week, the Environmental Protection Agency's plans to tighten nitrogen-oxide standards for big trucks marks the first time Trump's EPA moved to make an air-pollution regulation more stringent, not less.
The EPA was under no legal requirement to do this, but it also didn't come out of nowhere. Obama's EPA said in late 2016, right after Trump's victory, that it would lower the standard at the request of state air agencies.
"This administration has been so bad for health and environmental safeguards that when it announces that it is even considering doing something that's good for our air, it's big news," said John Walke, director of the clean air program at the Natural Resources Defense Council. Walke said he was skeptical because the EPA hasn't given any details of the proposal. Agency officials said it won't be issued until 2020.
Offshore wind leasing
The Interior Department has prioritized new federal leasing of water for offshore wind power and announced last month it had scheduled a highly anticipated auction of federal waters off Massachusetts for Dec. 13.
"We're starting virtually from a blank slate," Zinke said to a cheering crowd of offshore wind executives at a recent conference in D.C. "My job is to make sure the government is a partner with you."
It isn't a totally blank slate. The Obama administration included offshore wind as part of its climate agenda and held several lease sales. But with only one operating offshore wind farm in U.S. waters, the Trump administration has room to own this development — minus the climate change part.
"I would say ultimately this technology, when it's done right, means more jobs and more energy for Americans," Katharine MacGregor, a top official under Zinke, told me.
Onshore wind and solar rule
Just days after Trump's election victory, Obama's Interior Department issued a final rule governing leasing for wind and solar power on federal lands; it remains in place today.
The reason has less to do with the rule than the fact that Interior has been busy rolling back a plethora of other regulations Trump targeted for repeal in an executive order early in his presidency.
The regulation was a mixed bag for renewable-energy companies that complained it could add costs, a criticism echoed by MacGregor.
Some companies are now working with Interior to change the rule, according to a spokesperson for the Solar Energy Industries Association.
Kigali climate-change amendment
Named after the Rwandan city where it was signed in October 2016, the Kigali amendment to the Montreal Protocol, an environmental treaty, phases down the use of potent greenhouse gases known as hydrofluorocarbons (HFCs). HFCs are emitted from refrigerants in everyday appliances and car air conditioners.
Businesses affected by the policy, including air-conditioner manufacturers and chemical makers, support it largely because they stand to benefit financially with new products coming online to comply with it.
Despite that support, the policy is facing a skeptical audience in the Trump administration due to concerns about consumer costs.
For it to go into effect in the U.S., the State Department needs to send it over for review in the Senate. That hasn't occurred, and there's no sign it will anytime soon, according to people close to the policy. One industry official said it may not happen at all under Trump, leaving it for the next president.
That would mean the Trump administration isn't rolling the policy back. While being ignored is not ideal, it's better than being rejected, like what Trump did with the Paris climate deal, those involved say privately. The industry can afford to wait: The next big phase of the policy isn't until 2024.
Go deeper