The high-stakes game for sports betting dollars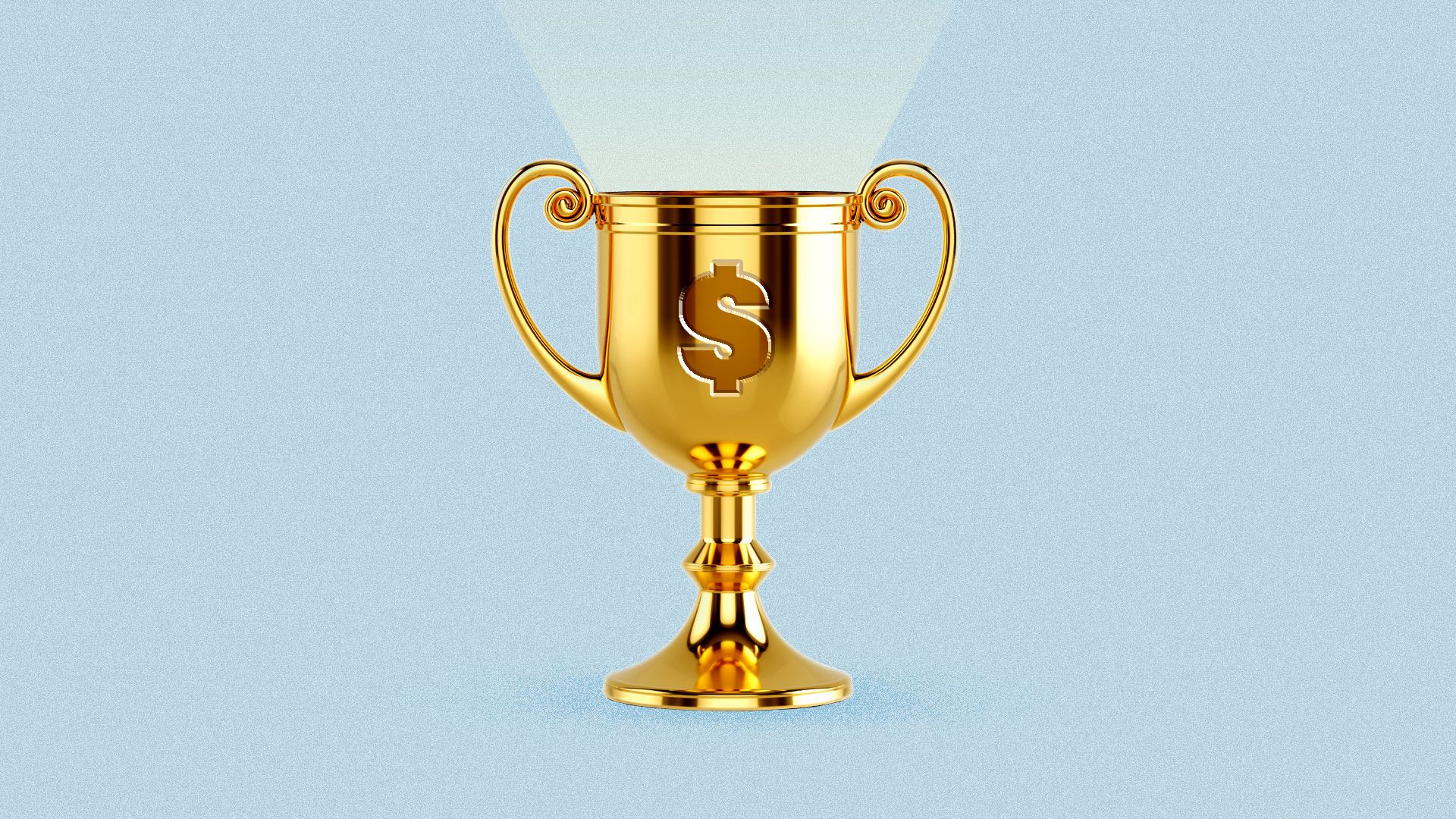 The battle to legalize sports betting was won in May at the U.S. Supreme Court, and the specifics are now being worked out in state legislatures all over the country.
What to watch: The next fight will be over whether college and professional sports leagues get a piece of the action. Below features interviews with the NBA commissioner, the man who runs Vegas' biggest sports book and the co-founder of DraftKings.
The view from New York
NBA Commissioner Adam Silver has been talking for years about the need for gaming companies to pay his league an "integrity fee," which would be used to offset increased expenses that he believes would come with increased betting.
In an interview with "Axios on HBO," Silver used that term interchangeably with "royalty."
"If we're going to spend $8 billion this year producing those games, I feel that we should receive a share of the proceeds from a business that's being generated exclusively on our games."
Silver declined to quantify how much extra the league believes it's spending to safeguard its games due to sports betting now being legal in five states other than Nevada.
Silver has largely given up on getting a federal framework that would require bookmakers to share their rake with leagues: "I can't imagine this is high on Congress' list right now, so we have no choice but to work state by state and do the best we can to get legislation that we think conforms with the league's values."
He believes the league's leverage is in its proprietary data, such as official statistics and real-time feeds (most televised games have up to a 10-second delay). He also appeared open to the future prospect of some sort of biometric data feed, although emphasized that "it would require a deal directly with the players association and player consent."
The view from Las Vegas
Jay Kornegay runs the largest sports book in Las Vegas, and he has no intention of paying the leagues a single dime.
Kornegay, speaking to "Axios on HBO" on the floor of the SuperBook at Westgate, is excited about betting outside of Las Vegas, and he even revealed that his group will soon announce partners "east of the Mississippi."
He believes the leagues stand to make plenty of money off increased sports betting, without being paid directly, because it will increase fan interest and engagement.
Kornegay argues that Las Vegas already has a stellar track record of ensuring game integrity: "I met with the leagues and the NCAA and the FBI back [years ago] and told that we are on the same side because integrity is our product as well. ... We have an audit department that ... looks at everybody that's wagering, looking at what type of background they have, source of funds and anything like that. We want to work with the league to protect the game, but the integrity process has been going on forever."
He says that almost all relevant sports data is publicly available and that he's never seen a discrepancy between reputable providers. He could someday envision paying for real-time video feeds or biometric data but, as things currently stand, he sees no reason to cut integrity fee or royalty checks.
The view from Boston
DraftKings began life as a daily fantasy gaming app, consistently rejecting accusations that it was involved in gambling. But when the Supreme Court ruled, the company moved fast, recruiting Vegas sports book veteran Jamie Shae to lead its effort and more recently adding a physical component.
Matt Kalish, DraftKings co-founder and chief revenue officer, seems to sit somewhere between Adam Silver and Jay Kornegay on the issue of data.
"It's very rapidly evolving, and I certainly think the leagues have access to a lot of proprietary information," Kalish tells "Axios on HBO." "For example, they put a tracking chip in the football to see the speed of the pass ... that's information that you really couldn't get unless you're partnering with the league. I think they could do really well monetizing that data."
Jamie Shea adds: "Biometrics that would be huge. I think that it would just be a game changer for what we're betting now. It puts a little bit more emphasis on the individual players."
The bottom line: We're beginning to see voluntary, nonexclusive partnerships between bookmakers and sports leagues/teams, in lieu of mandatory payments. That seems to be the most likely, and least contentious, path forward.
Go deeper