As U.S. influence on global oil prices wanes, Russia stands to benefit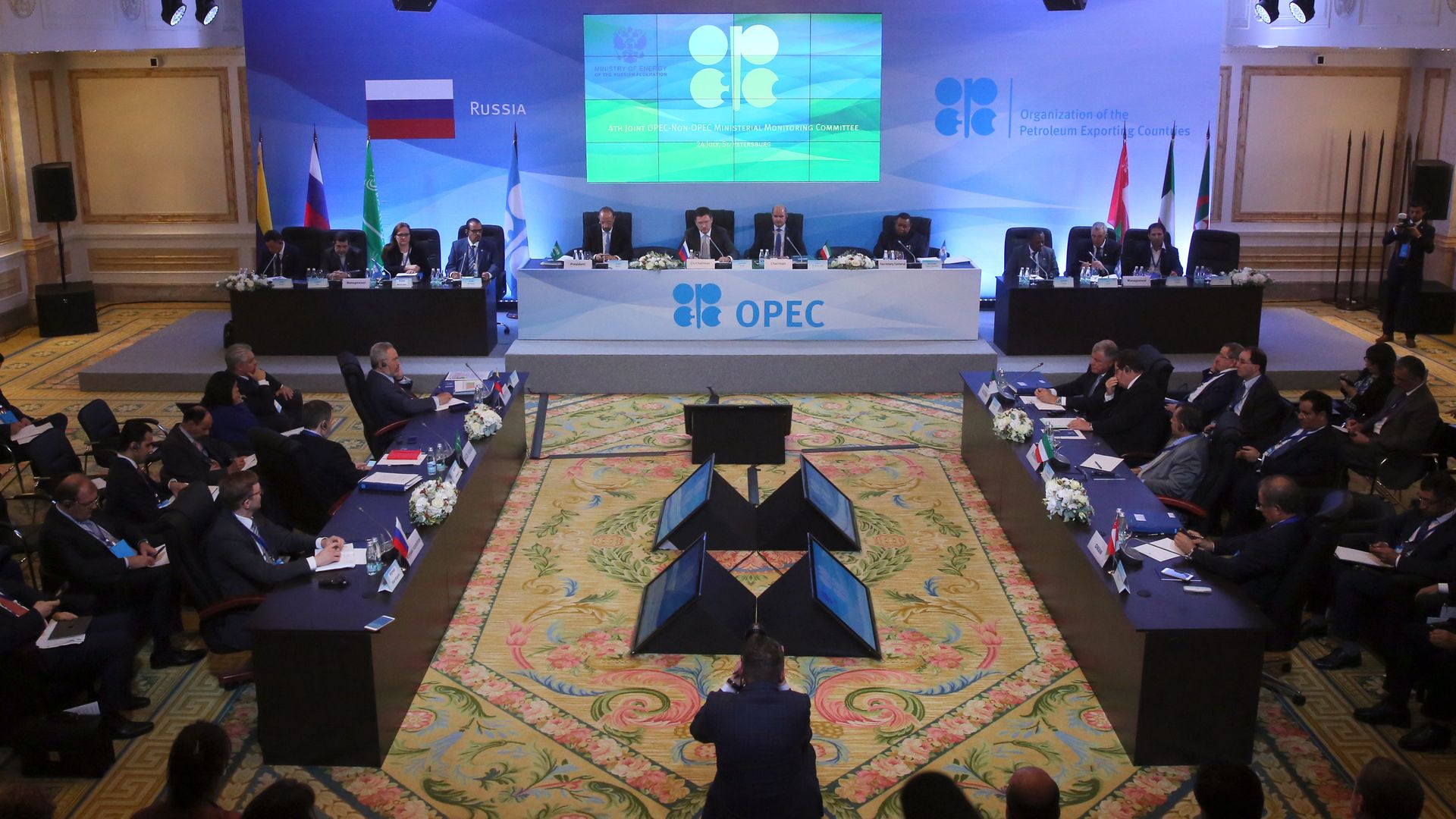 Between early August and early October, crude oil prices shot up by approximately $20 per barrel in anticipation of the Trump administration's Nov. 5 re-imposition of oil export sanctions on Iran. But in the first week of October, amid speculation of a $100-per-barrel market, crude prices suddenly reversed course.
Between the lines: The reversal illuminates the influence of geopolitics on the crude market, including the shifting role of Saudi Arabia as a major balancing force. Saudi Arabia ultimately bowed to U.S. pressure, but its hesitation speaks to an erosion of the U.S.–OPEC relationship as Russia's influence has grown.
Background: Saudi Arabia initially declined to heed U.S. calls to increase crude oil production, and prices began to rise. Only in the wake of Jamal Khashoggi's murder did the Saudi government committed to production increases.
The big picture: Concerns about high crude prices are giving way to worries about their precipitous fall, which has called attention to recent geopolitical shifts:
U.S. oil production is at record highs, but the U.S. neither owns nor controls the output, and so the U.S. can't use it as a geopolitical tool the way Saudi Arabia or Russia can.
Saudi Arabia's reluctance to heed U.S. requests, along with OPEC and Russia's agreement over production cuts through 2019, indicates that U.S. influence in the Middle East and over OPEC could be eroding.
The limitations of the Trump administration's "U.S. energy dominance" strategy have also been exposed.
Meanwhile, Russian influence in the Middle East appears to be growing. This could be traced to the U.S. shale revolution and to U.S. sanctions on Iran, which bestow significant geopolitical benefits on Russia. Without additional supply from Iran, and as other OPEC producers like Venezuela are failing, OPEC faces serious difficulties balancing the global oil market with Russian cooperation.
What to watch: While the fallout from Khashoggi's murder brought Saudi Arabia back in line with the U.S., this may prove a fleeting realignment. Russia is a beneficiary of the strain, particularly if the U.S is committed to squeezing the Iranian oil supply out of the market.
Anna Mikulska is a nonresident fellow in energy studies at Rice University's Baker Institute's Center for Energy Studies and a senior fellow at the University of Pennsylvania's Kleinman Center for Energy Policy.
Go deeper