In Macron's battle for Europe, Trump is a foe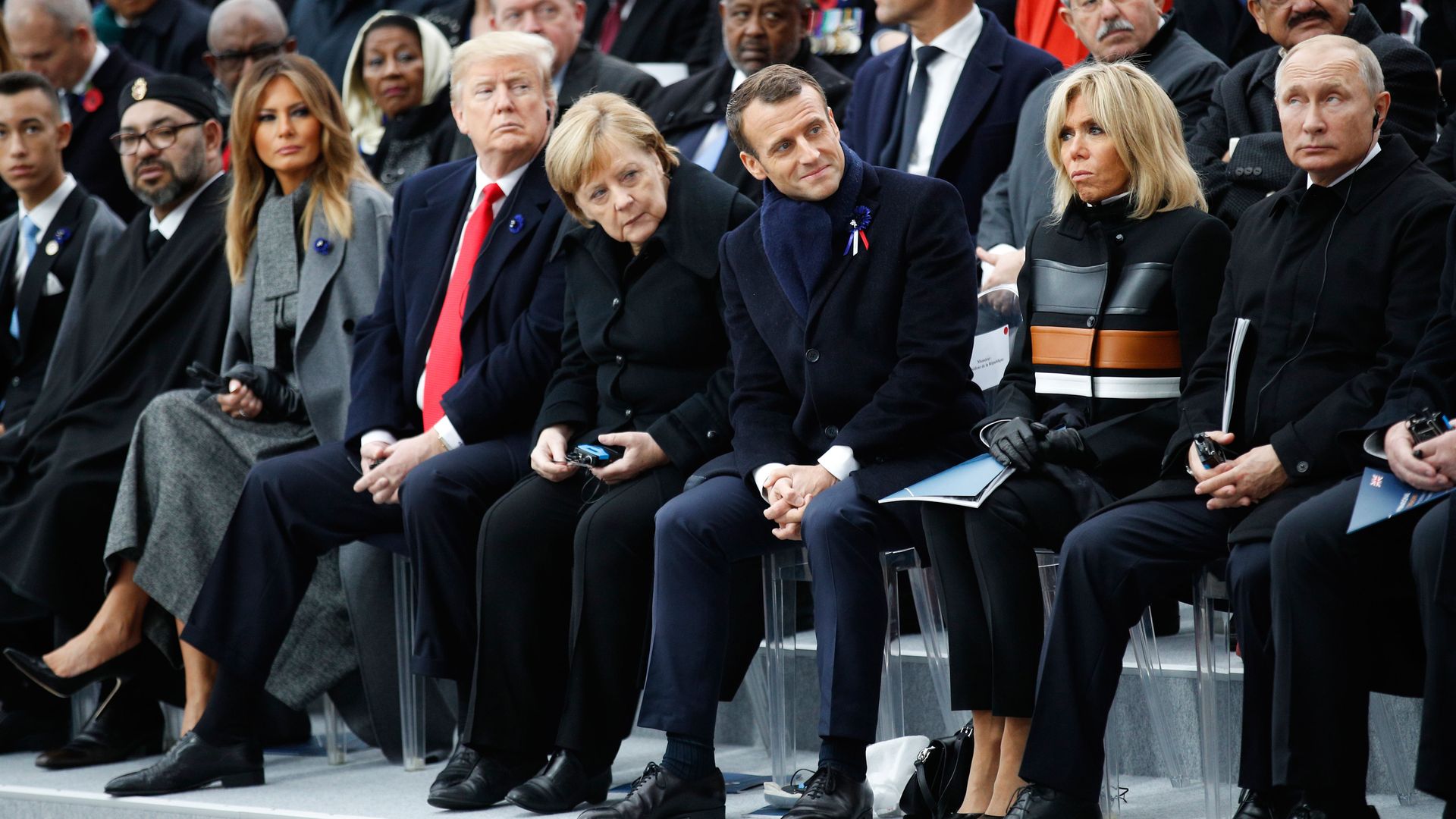 President Emmanuel Macron seemed to many to be speaking for Europe, even the free world, when he denounced nationalism as the "opposite of patriotism" and the enemy of peace and morality as President Trump and Russia's Vladimir Putin looked on. He wasn't.
Why it matters: Trump's antagonism toward Europe, and his immense unpopularity there, would seem to offer Macron the ideal foil as he seeks to shepherd the EU into a new consensus that security threats from the likes of Russia, economic competition with giants like China and the unreliability of the U.S. necessitate a strong, unified Europe that can throw its collective weight around. But the nationalists on his own continent are undermining that vision — and they have a powerful friend in Washington.
"The French might have been presumptuous, or a bit too clever, in seeing Trump only as an opportunity," Célia Belin, a former French diplomat now at Brookings, tells me. "It comes with a cost. The cost being the division of Europe."
The divisions aren't just ideological. Erik Brattberg of the Carnegie Endowment points out that Macron can have a "divisive effect" when he criticizes Trump — or infuriates him by framing his proposed EU army as a counterweight to the U.S. — because many countries, particularly in Eastern Europe, "view the U.S. security relationship as an existential issue."
The big picture: Saturday's remarks were part of what Macron sees as a battle for the soul of Europe with nationalists like Hungary's Viktor Orban and Italy's Matteo Salvini. And it's increasingly clear that, on that front, Trump is far from an ally.
The only European country Trump praised in September's UN General Assembly address was Poland, which he said was fighting for "sovereignty." Poland was also fighting the European Commission, which a day earlier had formally accused it of undermining the independence of the judiciary.
One senior Western European diplomat recently grumbled that the only European ambassadors in town who can get a meeting at the White House are from Poland, Hungary and Italy.
Belin says Trump's "clear favoritism" for those countries can exacerbate the divisions between them and Brussels, or Paris.
Macron knows that the more he tries to pull the EU together, the more he pushes some members away, and the more he risks isolating himself. He may, therefore, press pause on the most ambitious aspects of his European agenda.
The bottom line: "Macron wants to be a strong leader that Trump disagrees with but respects for being strong," Belin says. He doesn't simply want to stand against Trump, alone.
Go deeper