Oil prices climb as OPEC eyes output curbs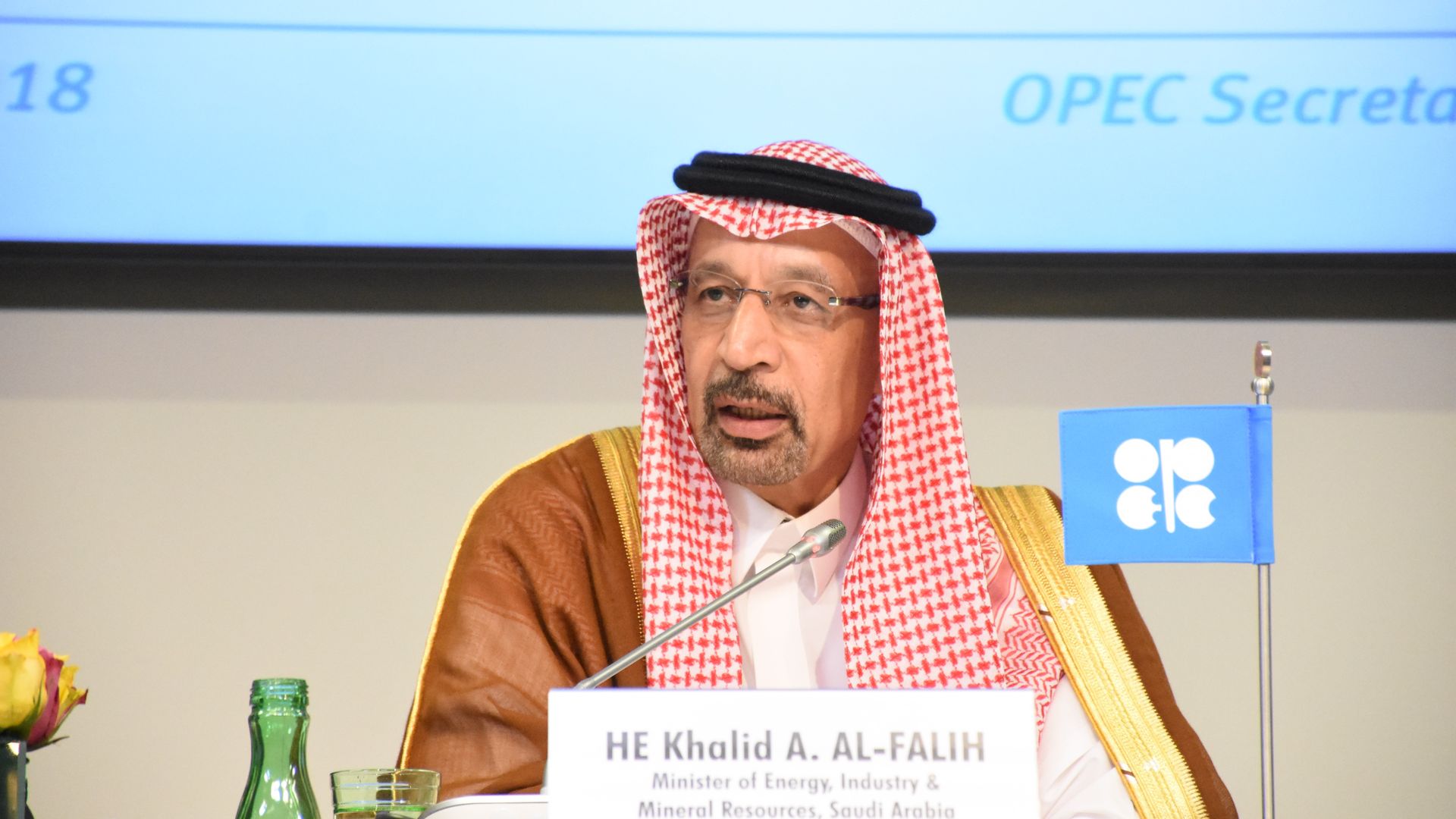 Crude oil prices are up on Monday following weeks of declines after OPEC and allied producers signaled yesterday that they may collectively trim output next year.
Driving the news: Saudi Energy Minister Khalid al-Falih told reporters in Abu Dhabi that the kingdom plans to cut exports by 500,000 barrels per day next month. On Monday, al-Falih said the Saudis and allied producers would need to collectively cut supplies by as much as 1 million barrels per day to rebalance the market, AP reports.
By the numbers: Early this morning, Brent crude was trading at $71.01 and WTI at $60.57.
Why it matters: The weekend meeting of officials from OPEC and Russia (among others) is the latest twist in a volatile period for oil markets.
The potential curbs by the so-called OPEC-plus group come just 6 months after the coalition agreed to loosen production constraints.
The potential strategy reversal shows how petro-states are now trying to prop up prices while grappling with variables like the uncertainty of Iranian output under sanctions, the U.S. production surge and signs of softening demand.
What's next: A statement yesterday from what's known as the Joint Ministerial Monitoring Committee lacks any firm commitment to a production cut. But it nonetheless drops hints of what OPEC will discuss at their major meeting next month.
It says "new strategies" may be needed to balance the market next year.
"The Committee reviewed current oil supply and demand fundamentals and noted that 2019 prospects point to higher supply growth than global requirements, taking into account current uncertainties." (Emphasis added)
The intrigue: Whether Russia will go along.
Via the Wall Street Journal, "Russia, the world's largest producer, sent mixed signals on whether it would pull back on supply — after moving in lockstep on such matters with OPEC for more than two years."
What they're saying: "OPEC+ nations sent a clear signal they are concerned rising supply and weaker demand may keep pushing oil prices down," writes Columbia University energy expert Jason Bordoff in this Bloomberg wrap-up.
"While Saudi Arabia is cutting back output in December, the group may wait to see how Iranian supply and other variables play out before it is able to agree on collective action to prop up prices," says Bordoff, who heads Columbia's Center on Global Energy Policy.
Go deeper