Environmental group: Keep open nuclear power plants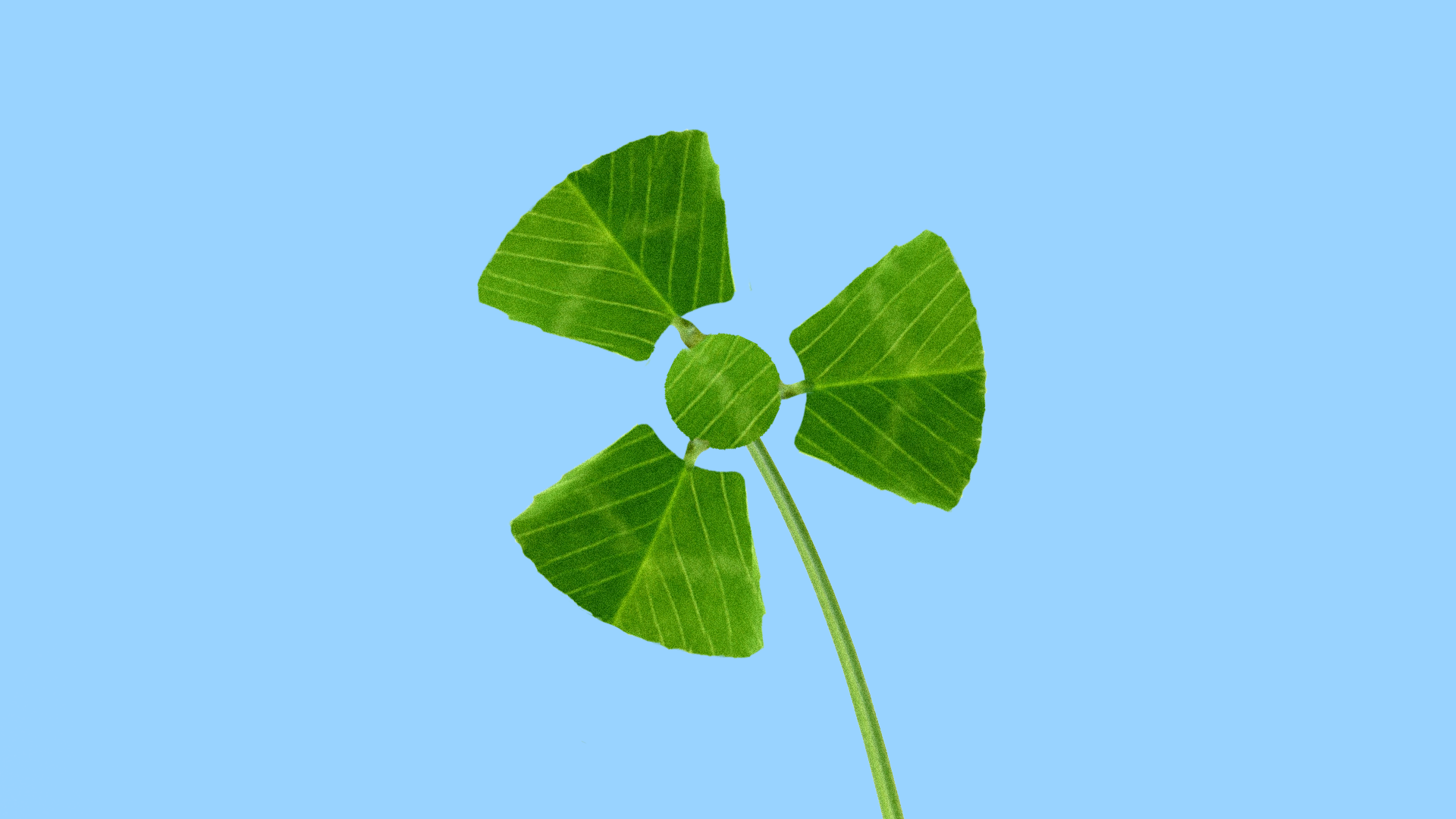 A high-profile, science-based environmental nonprofit is calling for financially struggling nuclear power plants to remain open, citing their benefits to tackling climate change.
Why it matters: In a new report, the Union of Concerned Scientists is joining a growing number of environmental leaders to back existing nuclear power because of climate reasons, despite continued concerns about the technology's safety and radioactive waste. The increased support could help keep open some power plants.
"We're in a place right now from a climate perspective we have to make some hard choices. We need every low-carbon source of power we can get."
— Steve Clemmer, co-author and director of energy research and analysis at UCS
The big picture: Nuclear power provides 20% of America's electricity, but 53% of our carbon-free electricity. A seminal United Nations report released last month said nuclear power was a key part of sufficiently addressing climate change. Cheap natural gas and subsidized renewable energy over the last decade have financially squeezed many U.S. nuclear power plants.
The details: The UCS report finds that more than one-third of America's nuclear plants will or could be shuttered within the next decade, before their government licenses require, and that they would be replaced by natural gas or coal.
The intrigue: Environmental groups are increasingly debating to what degree they should vocally support keeping existing reactors that are operating safely but are financially struggling.
UCS, while never officially taking an anti-nuclear power stance, has been one of the most vocal critics of the industry about safety.
While Clemmer says this isn't a shift in his group's position, it is a change to become more vocal. It could prompt scrutiny across other environmental groups.
"This is a group that has very strong skepticism of nuclear in its DNA," said Jeff Navin, former top official in President Obama's Energy Department and now a consultant on energy issues. "It's really going to force additional conversations among some other groups."
What's next: The UCS report recommends a national price on carbon dioxide emissions or a standard mandating low-carbon electricity, but Congress is unlikely to substantively consider either any time soon.
A trio of states — Illinois, New York and New Jersey — have adopted policies that temporarily subsidize financially struggling nuclear power plants alongside incentives for renewables. UCS calls for any additional policies, which Ohio and Pennsylvania may consider, to include provisions that ensure safety and need for the support.
Go deeper: The left's nuclear problem
Editor's note: This piece was corrected to show nuclear provided 53% of U.S. carbon-free electricity in 2017 (not roughly 60%, which was the 2016 figure).
Go deeper