SF tech's bitter battle over taxes and homelessness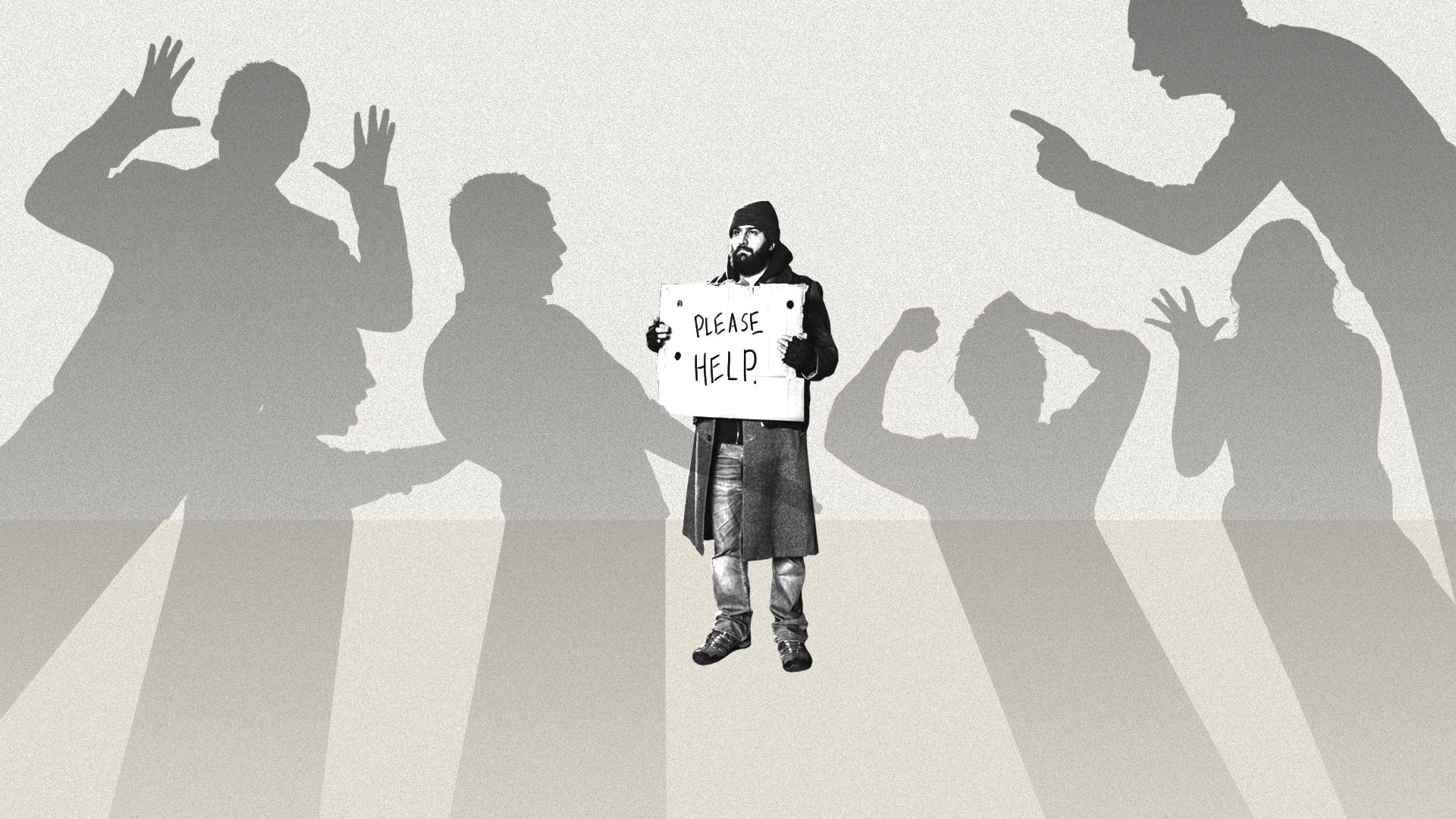 An upcoming ballot measure that would tax large businesses is pitting San Francisco tech leaders against one another — and highlighting differences among the industry's leadership over how business principles should shape civic spending.
Why it matters: As the tech industry continues to amass wealth and power, it's increasingly projecting its philosophies and methods into local political battles.
Details: Proposition C — or "Prop C" for short — would add a tax of between 0.175% and 0.690% on San Francisco businesses with at least $50 million in gross receipts or more. The proceeds from the tax would go into a fund that would be exclusively used towards combating homelessness.
If passed, the measure is expected to raise about $300 million in 2019, roughly doubling the city's current spending on homelessness.
Proponents are saying that San Francisco's homelessness crisis is dire and the city needs more funds and resources — and rich businesses should help more.
"This is a crisis of inequality — we have over 70 billionaires in San Francisco," Salesforce CEO Marc Benioff told Axios's Dan Primack on Wednesday. "We're fighting over pennies," added Benioff, whose company is the largest private employer in San Francisco.
Benioff also told the Guardian that the mayor recently ask him to personally donate $8 million for a shelter, illustrating the city's need for more money to help the homeless.
Some also say that large tech companies — like Twitter — have not paid their fair share to the city after receiving advantageous tax breaks that helped them hire aggressively, aggravating the city's housing crisis.
Opponents are saying San Francisco already spends a lot on the issue — and since the problem persists, the city should get a better plan instead of throwing more money at it.
"All we seek is a coherent approach," writes Sequoia Capital partner Michael Moritz in the Wall Street Journal. "Only a systematic plan that can be monitored, measured and tuned—and that deals with all aspects of homelessness—will bring about change."
Opponents of the measure point to what they see as already significant amounts the city spends on homelessness, but supporters say much of San Francisco's existing budget on the issue goes to housing subsidies and helping people keep their homes (such as fighting evictions), rather than to services for the homeless.
Opponents like the San Francisco Chamber of Commerce argue that it will result in job loss (city economist Ted Egan had predicted a loss of 725 to 875 jobs annually), and others like Square and Twitter CEO Jack Dorsey, along with Stripe's co-founders, point to the mayor's opposition to the measure. They want to give her a shot at tackling the issue, including auditing the current strategies and spending, before rushing to taxes, they say.
Dorsey has pointed out that financial services companies like Square (about $20 million) and Stripe would get taxed more than software companies like Salesforce (about $10 million), even though Salesforce is much larger.
Some opponents also argue that a tax for a single purpose isn't a flexible approach. Should the city want to change the tax and its purpose, it would need another ballot measure to do so. (At the same time, this would also ensure that the funds can't be cannibalized by a future city government with other priorities.)
The big picture: It's no surprise to see businesses are opposing a tax, but the arguments from opponents in this battle reflect the thinking of today's internet entrepreneurs.
Mirroring the framework of venture capital, this generation of internet entrepreneurs looks for clear, measurable results from their gifts.
Taxes take resources from companies' control and place them under public direction instead — a move that many citizens might welcome, but some entrepreneurs see as undermining their ability to achieve results.
Take Facebook CEO Mark Zuckerberg and his wife's philanthropic organization, the Chan Zuckerberg Initiative — instead of a foundation, it's set up so that, along with charitable giving, it can also invest or acquire companies, and build its own projects to tackle ambitious projects like curing all human disease and overhauling K-12 education.
Stripe's support of more housing development is another example — a free-market way to address the lack of affordable housing in the region.
Go deeper:
Correction: An earlier version of this story incorrectly said Square took a tax break in San Francisco.
Go deeper