The oil freakout that wasn't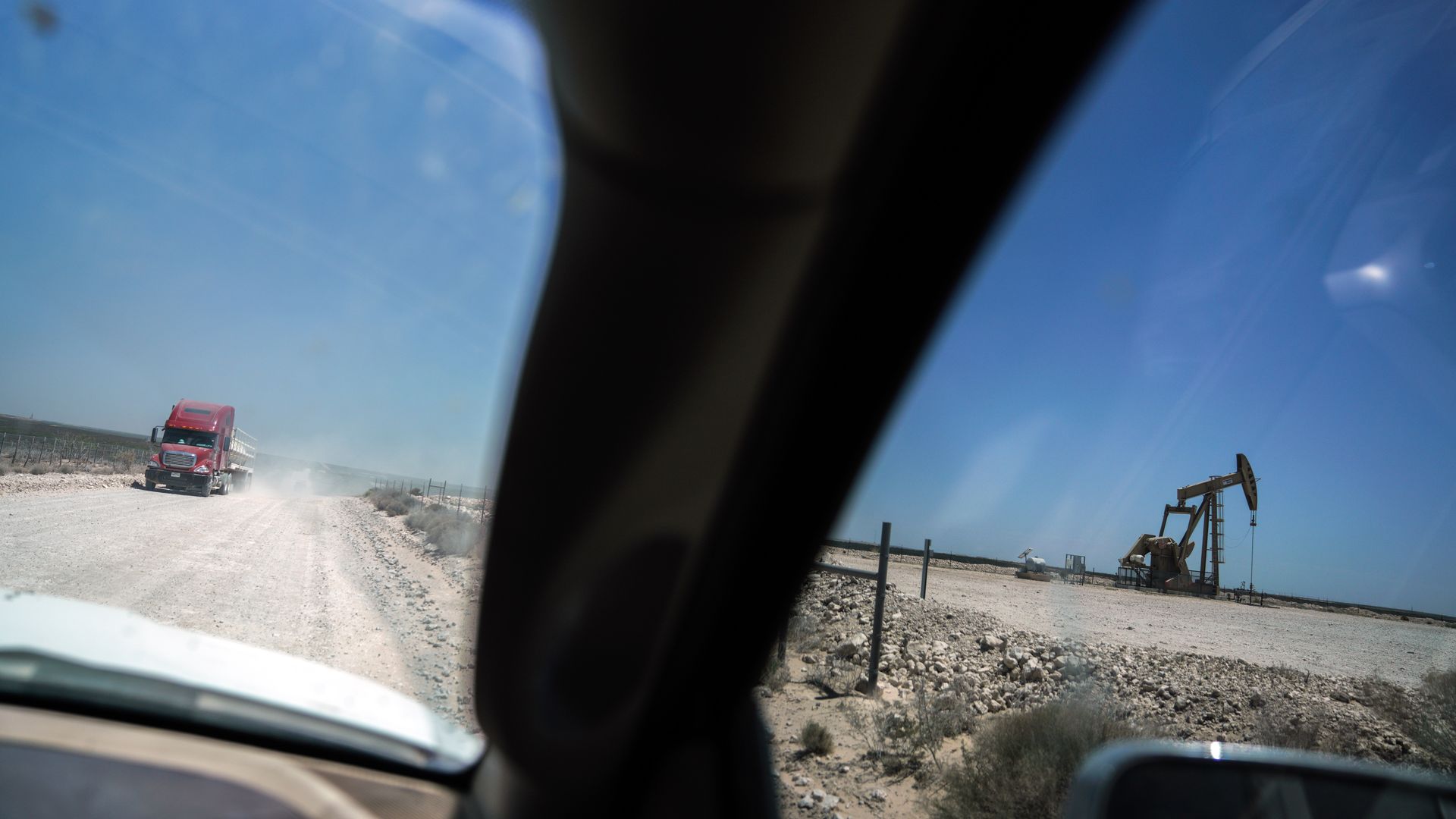 Remember the old days of very early October? That's when rising prices were spurring talk of oil climbing higher and higher and maybe — maybe— reaching $100 per barrel in coming months?
But now, just hours away from the formal reimposition of U.S. oil sanctions against Iran, the world looks very different. Oil prices have been on a generally downward path for a month, with more significant declines this week.
West Texas Intermediate yesterday traded at it lowest levels since mid-April and Brent, the U.S. benchmark, was at it lowest level since mid-August.
In early trading this morning, WTI was slightly lower at $63.55 and Brent ticked up to $73.99.
Several forces have been driving the decline:
Supply: There's plenty of oil sloshing around, with the latest evidence coming Wednesday when federal data showed U.S. production reached an eye-popping 11.35 million barrels per day in August. Surveys by Bloomberg and Reuters show that OPEC output climbed to over 33 million barrels per day (mbd) in October.
Policy: U.S. officials have signaled that there's some wiggle room for countries that are moving to cut Iranian imports to avoid immediate sanctions against their buyers (more on that in a moment).
Vibes: Saudi Arabia, which has the most spare capacity in OPEC, has sent reassuring supply signals of late as the kingdom has been under pressure over the murder of Jamal Khashoggi.
Headwinds: The International Energy Agency trimmed its 2018 and 2019 global demand growth forecast in a mid-October report, while trade friction with China also erodes confidence in the extent of global economic growth.
The latest: Via Bloomberg this morning, "The U.S. has agreed to let eight countries — including Japan, India and South Korea — keep buying Iranian oil after it reimposes sanctions on the OPEC producer on Nov. 5, a senior administration official said."
What they're saying:
Over at Barclays, analyst Michael Cohen — who has been skeptical about the idea of a price surge for a while — summed things up in a note this morning: "Although the price decline seems counterintuitive as concerns about Iran and Venezuela mount, market sentiment has shifted markedly from just one month ago, in line with our view."
Yes, but: Don't expect oil to remain this low, some analysts caution.
"Fundamentally, we do think that the prices should move higher from here," says Paul Sheldon of S&P Global Platts Analytics on a new episode of the Platts Capitol Crude podcast.
"There has been a lot of noise and a lot of bearish headlines lately, from a lot of demand concerns and trade war headlines to weakening growth in potentially Europe and the developing world," Sheldon says.
But he adds that sanctions actually kicking in and other forces will impose pressure in the other direction.
Hedgeye Risk Management's Joe McMonigle tells me: "I don't think the market has really priced in the full amount of sanctions yet."
McMonigle, in our interview and a research note yesterday, says that despite the recent news about flexibility, the Trump administration will ultimately take an aggressive approach on sanctions.
His note also predicts that the Saudis and some other producers will ease off their production boosts after the midterm elections.
What's (maybe) next: McMonigle sees prices back in the $85 range by mid-December, thanks to a number of forces. But Barclays' Cohen sees Brent prices averaging $77 in the fourth quarter of this year and averaging $72 overall next year, albeit with risk "skewed to the upside."
"If the Saudis aspire to $90 because of recent events and if Nigerian or Venezuelan output falls more than we assume, then we could be back above $80/b sometime next year," Cohen writes.
Be smart: There remain hurdles facing the White House as it reinstates sanctions, Atlantic Council's Barbara Slavin writes for Axios. These include:
"Trump's sanctions against Iran will be less successful than those imposed in 2012, when the Obama administration had near universal international support and the sanctions were backed by both the UN Security Council and the EU," says Slavin, who directs the Future of Iran Initiative.
"Iran will try to wait out the Trump presidency in hopes that a successor will return to the 2015 nuclear deal or seek new negotiations based on more realistic premises," she writes.
Go deeper