Trump seeks ally in Brazil against "Troika of Tyranny"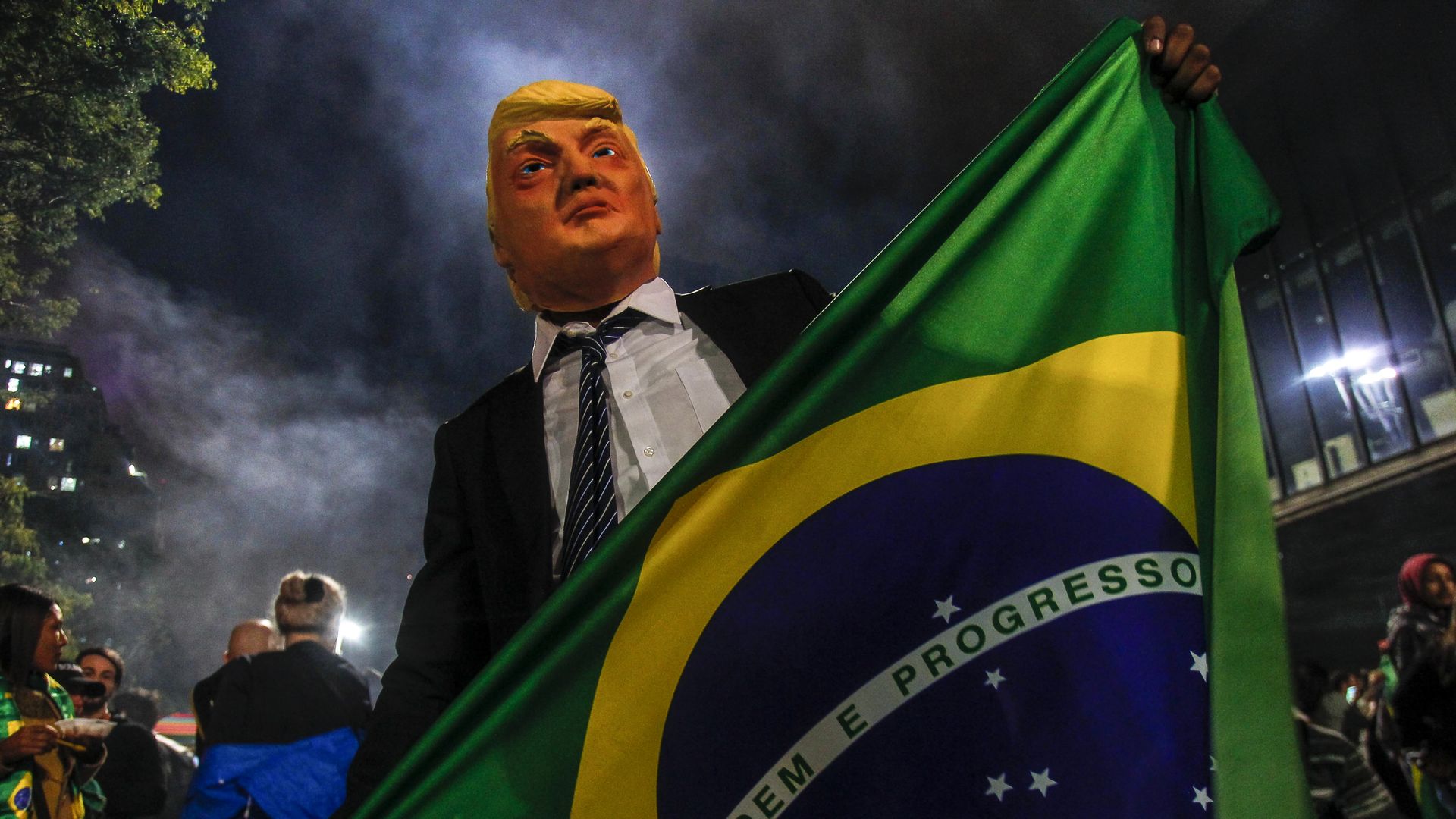 President Trump is going on the offensive against the oppressive regimes in Venezuela, Cuba and Nicaragua — and he sees Brazilian president-elect Jair Bolsonaro as an ally in that quest, national security adviser John Bolton said in a speech today in Miami.
The details: The speech was accompanied by fresh sanctions on Venezuela and Cuba and pledge of action against Nicaragua — where President Daniel Ortega has ruthlessly cracked down on protesters demanding his ouster. Bolton's Manichean vision for the region included an "Axis of Evil" equivalent for the Western Hemisphere — the "Troika of Tyranny." It was also among the most thorough statements of the administration's Latin America policy to date.
From the speech: "The recent elections of like-minded leaders in key countries, including Ivan Duque in Colombia, and last weekend Jair Bolsonaro in Brazil, are positive signs for the future of the region, and demonstrate a growing regional commitment to free-market principles, and open, transparent, and accountable governance."
Between the lines: That's a clear embrace of Bolsonaro, who has a long history of offensive comments and an affinity for military rule. Perhaps we shouldn't be surprised. Bolsonaro and Trump don't just share populist instincts, says Jason Marczak of the Atlantic Council, they're both fiercely opposed to the Maduro regime in Venezuela.
Trump is intensely unpopular in Latin America, and his approach to the region has largely been defined by immigration. He recently threatened to cut funding to countries like Honduras, which works closely with the U.S., over the migrant "caravan" heading toward the U.S. border. Hours after Bolton's speech, Trump gave an address on immigration in which he suggested U.S. troops should fire on anyone in the caravan who throws a rock.
As the Guardian's Julian Borger points out, "The speech was delivered among rising tensions in Latin America. Earlier this week, Colombia's foreign minister denied reports that Colombia was conspiring with Bolsonaro to use force to topple Maduro."
What to watch: This might just be a short-term rhetorical offensive tied to a get-out-the-vote effort in Florida. But if the administration really is placing new emphasis on Latin America, there are major opportunities both for cooperation with allies, and confrontation with the "troika."
Go deeper: Bolsonaro could ramp up deforestation, environmentalists warn
Go deeper